Disruption is here. And Vijay Balki, a 2015 graduate from the MBA at Copenhagen Business School (CBS), is seeing the impact first-hand at Maersk, where he is chief product owner.

Maersk is the largest container shipping company in the world, which is expanding to the End to End Container transport to logistics space.

It's a critical situation for the company, he says. If large corporations like Maersk don't adapt to the digital age, they'll no longer be relevant.

He's supporting the exploration of diversifying the company's revenue stream. He's looking at using technology to give customers more visibility on End to End supply chain, including what is happening inside Maersk's shipping containers.
---
Why an MBA?
Vijay came straight out of university into a consultant role for an IT firm that helped companies refine their user experience.
He was helping startups grow while learning on the job. He moved into another consulting role with an IT firm in Chennai, India, in 2009, before becoming a user experience architect in February 2013.
Then he finally had a break, some time to return to school and refine his knowledge. A formal business education would equip him with a solid foundation to push on with his career in business.
He opted for the MBA at Copenhagen Business School. A decision that came down to the shorter, one-year program option available in Europe, as well as the opportunity to live in a cosmopolitan, international city, he says.
---
My career after the MBA
The MBA allowed Vijay to deep dive into entrepreneurship—one of the concentrations available to students. He didn't have a clear post-MBA career in mind; gaining knowledge was his primary motive. But he knew he wanted to go into something around digital transformation.
The Copenhagen MBA also has a specialized digitalization concentration that prepares students for the digital economy. Courses cover digital platforms, managing the digital workforce, and digital delivery models.
Vijay says the digital transformation underway in every organization has put emphasis on making money out of commercializing data.
After the MBA, he landed a job with sustainable energy company, Vestas, as part of a small team selling digital tools to customers. He was there for nearly two years before moving into his current role with Maersk.
Nowadays, you can't ignore digital disruption. Every department in every company is being affected, Vijay explains.
"Digitalization has improved the ability to do, but has also brought challenges, which people need to embrace."
Being able to enter his roles with Vestas and Maersk was dependent on his ability to understand how every facet of a business worked.
"When you want to go into a position where you need to have a broader knowledge of all aspects of a business, that's what an MBA will give you."
---
What skills do CBS MBA students learn?
Stefan Henningsson is a professor at CBS in the Department of Digitalization.
The digital concentration on the MBA gives students the chance to deep dive into the subject. They don't become technical experts, Stefan (pictured) adds, but experts on how to leverage the power of technology to drive business.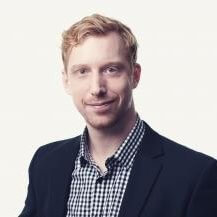 The Department of Digitalization at CBS is the largest of its kind in Europe—there are 45 researchers working on a daily basis.
Students on the concentration learn how the strategic rules of business are changing, how to move innovation processes from the physical to the digital world, and how to organize and lead organizations undergoing digital transformation.
They also dive into how corporate IT platforms and systems may impede or enable you to move faster with digitalization.
Stefan echoes Vijay: digitalization is an existential matter for organizations today.
It's essential to be part of the conversation, to "master the lingo", Stefan says. Not understanding can bring profound impairments to your business.
"Because there's such a massive need for this knowledge in business, and a low availability of people who can do this, this is probably the greatest place to build a career today," Stefan explains.
"The salaries are higher, and digital jobs are plenty. Taking an MBA focused on digitalization in my perspective is the best way to build a career."
Related Content: