By the time Tandra Bidyananda stepped into the working world, she was already fluent in six languages. Growing up, her father was in the Indian army and her family moved around a lot. Everywhere she went, she learned a new local language and culture.

When it came to choosing an MBA program then, Northwestern University's Kellogg School of Management, with its enviable roster of global student experiences, stood out.

40% of Kellogg MBAs pursue two or more global opportunities during their time at the school, with students choosing from Kellogg Worldwide Exploration Student Trips (KWEST), courses like Global Initiatives in Management (GIM), and a comprehensive study abroad program.

Tandra worked in India and the US for an agricultural machinery manufacturing company before business school. Coming from an engineering background, the Kellogg MBA was the perfect opportunity, she says, to further broaden her international experience, strengthen her business acumen, and experience something new.
---
Global Experiences On the Kellogg MBA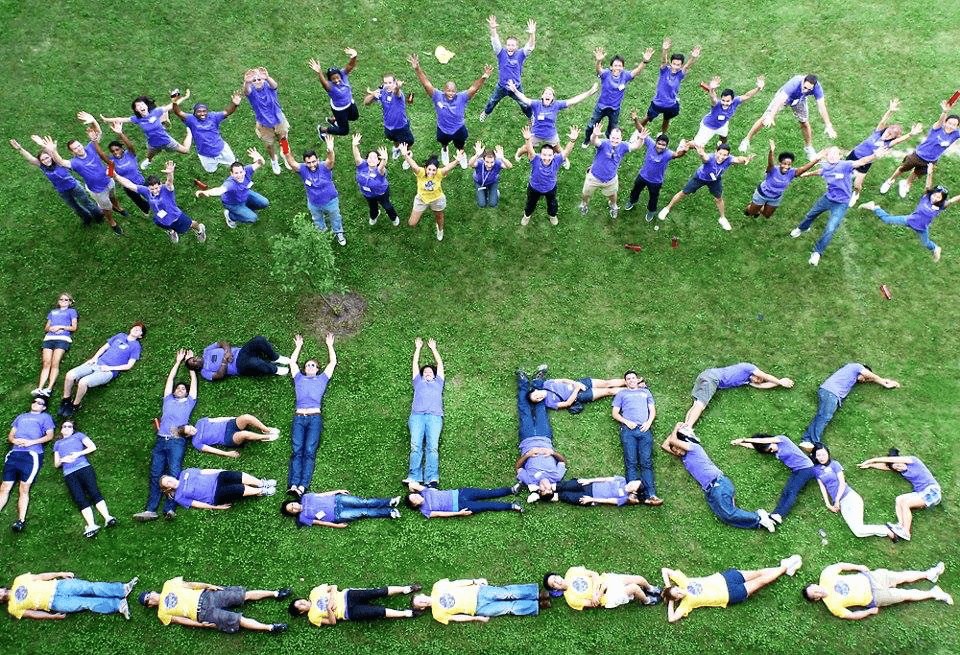 ---
KWEST
Even before classes start at Kellogg, incoming MBA students can get their first experience abroad through KWEST.
Planned by second-year students for the incoming first-years, these week-long trips are designed to help students form bonds which go beyond just business. Around 1,000 students travel to nearly 40 countries each year. More than 85% of MBA students participate in KWEST.
Tandra visited Norway in the August before her first year, where she spent her days visiting beaches, hiking, and biking around the country. She says she loved her KWEST experience so much that she rushed to organize a trip to South Africa for first-year students the following year.
From the trips, Tandra says she learned how to interact with people from all walks of life. The Kellogg MBA class is diverse, with the class of 2021 boasting 43% women, 32% international students, and 26% US minority students.
Tandra now wants to actively advocate for gender, social, and cultural diversity in her future places of work. "I think I am more mindful of diversity than I was before," she says.
"KWEST has helped me build relationships with people I normally wouldn't have met."
---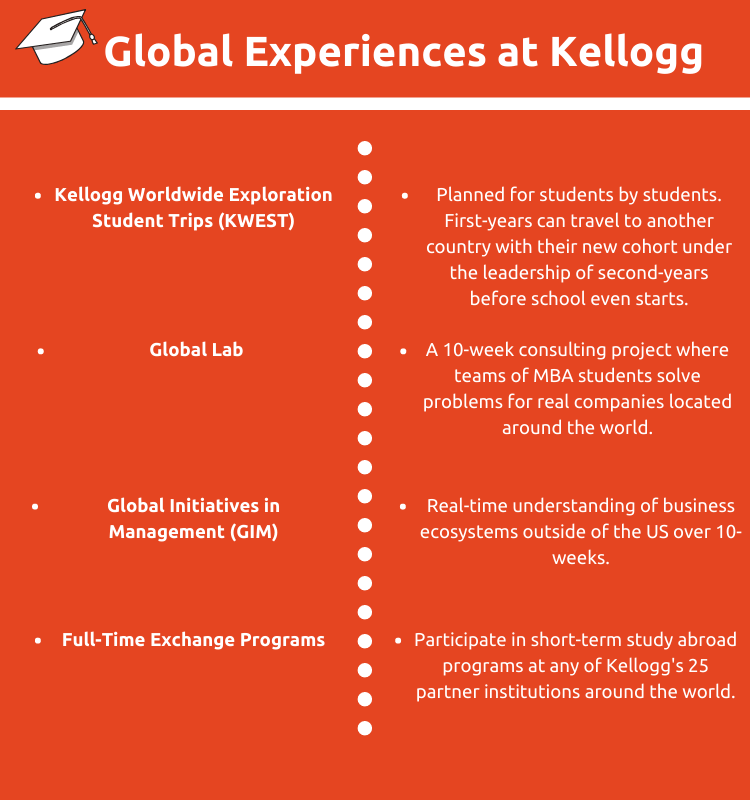 ---
GIM
As well as an opportunity to form close bonds with classmates and just have some fun, international trips are a key part of the MBA curriculum at Kellogg.
Tandra chose to study the flagship Global Initiatives in Management (GIM) program as part of her MBA, where students spend up to 10 days over Spring Break deep-diving into the business and culture of a foreign country.
Through GIM, Tandra travelled to Latin America—Mexico and Colombia—building her understanding about the development of entrepreneurial ecosystems in emerging markets.
"We talked to managers, c-suites and entrepreneurs in private equity firms [in Latin America], which is something I previously haven't had the opportunity to do," she says. "Kellogg makes sure you can connect with the right people and build your own network throughout GIM. They make sure you ask the right questions and get valuable answers from the professionals."
Linda Darragh, a Kellogg professor who taught Tandra for the GIM course, says MBA students are tasked with obtaining a deep understanding of the history, culture, political and economic climate of a country and explore how that can create a climate for entrepreneurial activity.
"It seems that every country and major city in the world is trying to become the next Silicon Valley. However, it is almost impossible to recreate the unique history that allowed for the creation of Silicon Valley. So, the question is: How can an emerging country spur entrepreneurship and innovation?"
GIM participants in 2020 will travel to China, Cambodia and Vietnam, South Africa, Rwanda and Kenya, Ghana and Morocco, Colombia and Ecuador, and Brazil and Mexico to learn more about topics including branding, climate change, and entrepreneurship.
---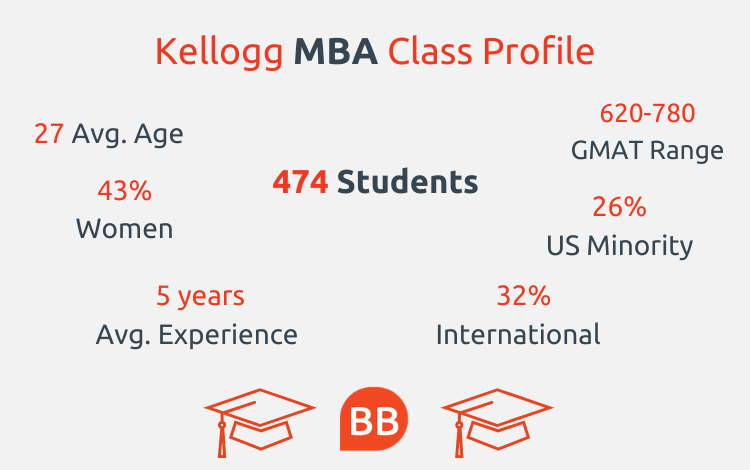 ---
Study Abroad
Like at many schools, MBA students at Kellogg can take part in international exchanges at other business schools across the world. What makes Kellogg's exchange program different is its size.
Around 80 full-time MBA students study abroad each year at 25 partner schools in leading global cities like Paris and Beijing. Since the program was started in 1980, more than 2,000 Kellogg students have studied abroad.
For students, studying abroad is a chance to take a unique path in their career. "Studying abroad serves as a great way to build a network in a location where you might want to live and further your career someday," Linda explains.
"Whether providing consulting services for a small, family-run business in South Africa, studying luxury retail marketing in France, or taking finance courses in London or Hong Kong, students who participate in exchange are uniquely positioned to explore global leadership opportunities."
Tandra will be jetting off again in January 2020 to study in Fontainebleau in France for three months, with the ambitious goal of adding another language to her repertoire.
---
Benefiting from the Kellogg MBA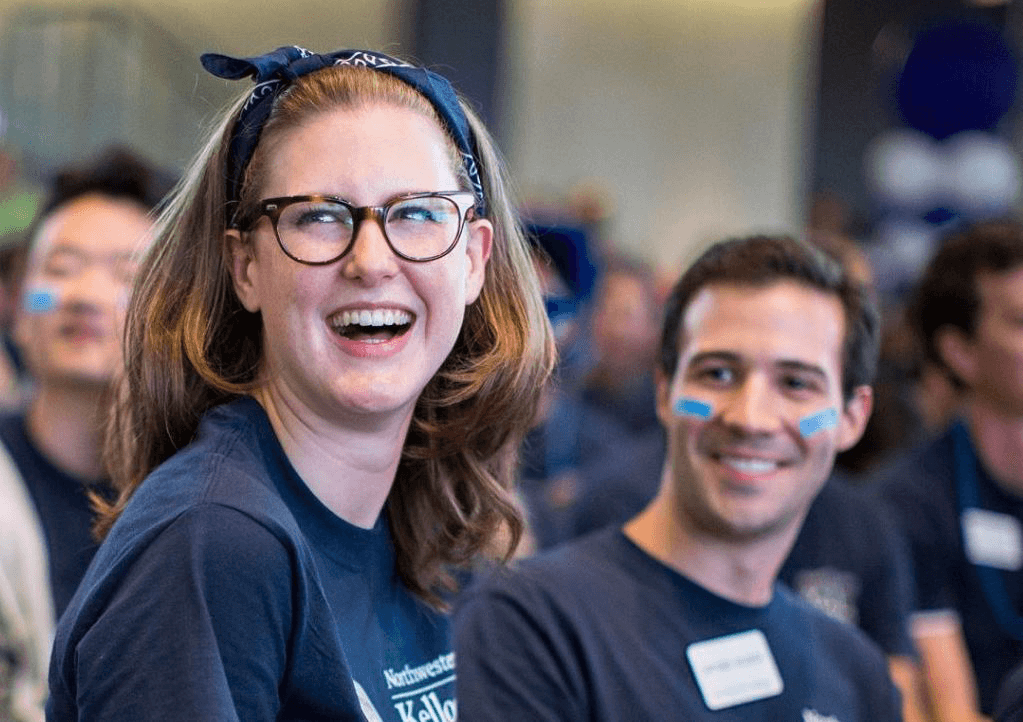 ---
Tandra knows her global experiences won't stop after she graduates from the Kellogg MBA. Multinational companies like Bain, McKinsey, Google, and IBM are regular employers of Kellogg MBAs.
Tandra is also a student on the Kellogg MMM Program, a dual degree program which provides a traditional business education combined with a strong foundation in design innovation. Once she completes the program, she'll get an MBA from Kellogg and an MS in Design Innovation from Northwestern's McCormick School of Engineering.
That MS degree is STEM-designated, meaning Tandra, as an international student, can apply for a 24-month STEM-extension to her 12-month Optional Practice Training (OPT) period which allows her to work in the US on a student visa. She can then stay and work in the US for up to three years after graduation, without an H1-B visa.
For now, Tandra wants to keep pushing herself out of her comfort zone and gain as much international experience as she can.
Reflecting on what she's gained from the the program so far, Tandra says she's been able to apply her newfound global experience in ways she hadn't expected—during her summer internship at accounting firm Ernst & Young, for example, when she was approached with the task of helping a client company looking to expand its customer base and geographic footprint.
This, Tandra feels, is how the Kellogg MBA Program sets her apart. "Throughout my whole life I've enjoyed understanding a different culture or different perspective in the context of business," she says.
"I think I'm now the person in the room who comes in with an experience that is uniquely different from what people are used to today."
Related Content: