With the world's highest growth rate of 6.8%, and a population second only to China, India is poised to become a global superpower in the next decade. For top MBA colleges in India, like Shiv Nadar University (SNU), the pressure is on to produce the next generation of leaders to guide India through this exciting growth.
For Dr Shubhro Sen, dean of SNU, this is a challenge his willing to take on. The school, set up as a billion dollar philanthropic gesture from one of India's wealthiest businessmen, is preparing India's next generation of leaders for business.
The school's cutting edge technological curriculum, with a focus on responsible management, is giving students the tools to transform India's booming economy.
---
A cutting-edge curriculum
A future-minded approach requires a forward thinking curriculum. The i-Global MBA incorporates cutting-edge technology and developments into its curriculum, ensuring that students have access to the most up-to-date tools.
"It's about a deep alignment, in a program context, to the future of industry, technology, and work," Shubhro illustrates.
Shubhro, as dean, introduced a course in vanguard technology. This educates students in everything from cryptocurrency and blockchain, to 3D printing and biomaterials.
Data analytics, one of the fastest rising trends on MBA curricula around the world, is another central element to SNU's program. Every student learns web language Python, for example. This is a great advantage of the interdisciplinary approach of the school, which houses not just a business school but top technology and science departments. Students have access to facilities to explore courses in computer science and engineering, as well as human and social sciences.
---
Reflective, responsible leadership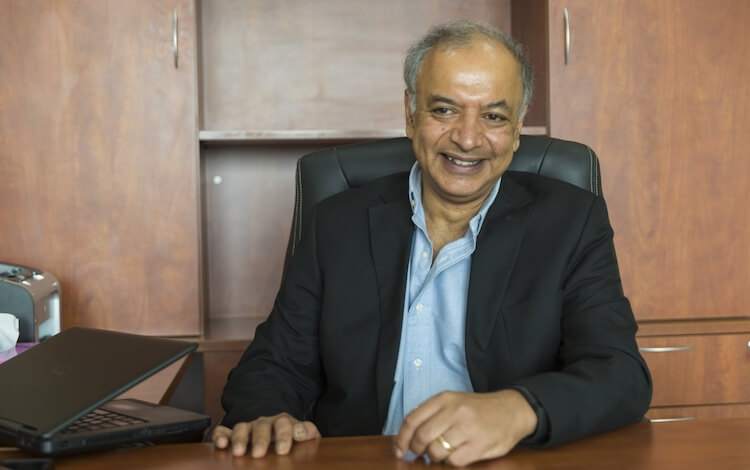 Shubhro Sen, co-founder of the Conscious Capitalism Initiative, and dean at SNU
While the 'i' in i-Global MBA clearly reflects the technological approach of the school, it also represents a certain self-reflective, conscious leadership model that SNU wants to impart to its graduates.
A significant part of this is the value of responsible management, something which isn't found at business schools around the world.
"We're looking at some of the central fallacies in what we're teaching," Shubhro explains.
Students are taught to understand the importance of increasing value for all stakeholders, not just the shareholders. This was the original intention of capitalism, Shubhro insists, not a system that creates wealth for only a small section of society, but for everyone.
"The profits are an end result of a purpose, and that purpose has to bring something of essential value."
For the learning environment, this means going beyond the confines of business education, and learning outside of the classroom. As part of the Rural Impact Immersion, students spend six weeks at rural NGOs around the country, applying what they have learnt to non-profit organizations in India's less developed areas.
"We don't want just urban, sheltered individuals," Shubhro underlines.
---
Building leaders on the world stage
As India steps up to lead on the world stage, it is demanding leaders that have a global mindset. CEOs like Sundar Pichai at Google and Satya Nadella at Microsoft are showing how Indians are taking a lead in the world's top companies and industries.
Shubhro has the same ambitions for his MBA graduates. India, he insists, has already shown it can serve the world through IT services and manufacturing: now, it is ready to lead it.
"India is the next frontier for business education," he stresses.
SNU exposes its students to a global way of doing business. Students have the choice of global immersions, at top schools including UC Berkeley Haas School of Business, Warwick Business School, and HSBC Business School at Peking University. These trips are fully paid for, as a part of the school's bursary fund.
Students also have the opportunity to learn Mandarin and Spanish as part of their education.
---
A get-it-done approach
The emphasis for Shubhro remains on turning his students into leaders. The i-Global MBA, true to its name, stresses the transformational aspect of business education. So what sort of applicant is he looking for?
"I'm looking for a positive, fearless attitude," Shubhro says, "A 'get-it-done' kind of approach."
It's this 'get-it-done' approach that's put his school on the map, and is looking to transform India's economy from industrial engine room to business superpower over the coming decades.
Related Content: