When Amy Ly picks up the phone to discuss her time studying an MBA in China, she's over 10,000 miles away from home working with one of her company's clients in Peru.

When she's not out in the field, Amy works out of Shanghai as a business designer for IDEO, a global design company, in a role that she landed after graduating from the Tsinghua Global MBA Program.

The MBA program is a collaboration between Tsinghua University School of Economics and Management (Tsinghua SEM), one of China's most prestigious business schools, and MIT Sloan.
Amy, who grew up in Hong Kong, studied at Yale University and spent three years working for a technology startup in the United States before her family ties and curiosity for the "opportunities in Asia and China" led her back home.
She says the Tsinghua MBA, with its East-West focus, stood out. "I was looking for a soft landing back in Asia. An MBA was a great way to learn to get a good education and to start developing a network in China."
---
MBA Application Round 3
Tsinghua offers a range of scholarships to incoming MBAs, aimed at high-potential future business leaders, women in business, entrepreneurs, students working in family businesses, and students focused on science and technology or social welfare. There's also a Chinese government scholarship which includes free on-campus accommodation.
Tsinghua has five MBA application rounds, with deadlines from November to May. To apply, you'll need an undergraduate degree from a recognized university, a competitive GMAT, GRE, or Tsinghua MBA Alternative Entrance Exam score, and a completed Tsinghua MBA online application.
While it's generally more difficult to get accepted and get access to scholarships in the later application rounds of any MBA program, Amy, who applied in round three, got in to Tsinghua and secured a full-tuition scholarship.
So what's the trick? "I think they liked that I had a different profile," Amy suggests. "I came from the technology startup world, as opposed to the more traditional world of large corporate firms."
---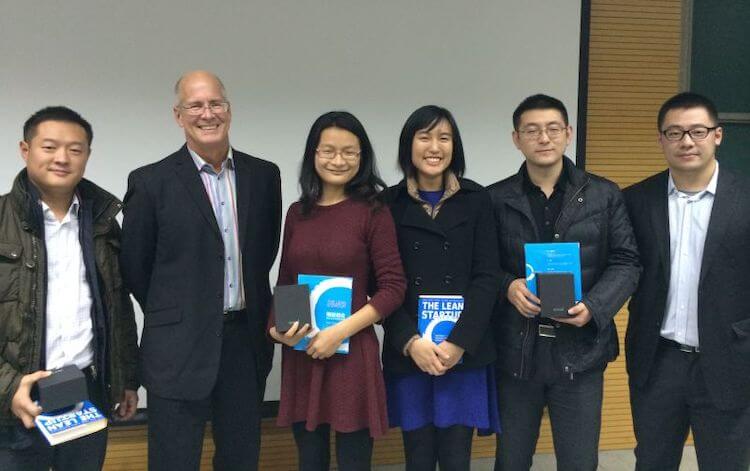 Amy with MBA classmates and professor at Tsinghua SEM

---
MBA life in China
Amy's mom is a Tsinghua graduate and she grew up hearing a lot about the school. "My main takeaway was that Tsinghua's alumni network isn't just strong, but very open to helping others," she says.
The MBA alumni network is the largest at Tsinghua SEM, with over 11,000 members in 30 different countries. And it was alumni who helped Amy get her first-year summer internship working for early-stage venture capital firm Legend Star in Beijing. Although Amy soon realized venture capital wasn't for her, she was grateful for the experience. "Even now, I'm part of WeChat groups with alumni," she says.
"I really enjoyed living on campus at Tsinghua," Amy continues. "The university itself is extremely Chinese in every aspect and I really got to connect with the greater Tsinghua community."
---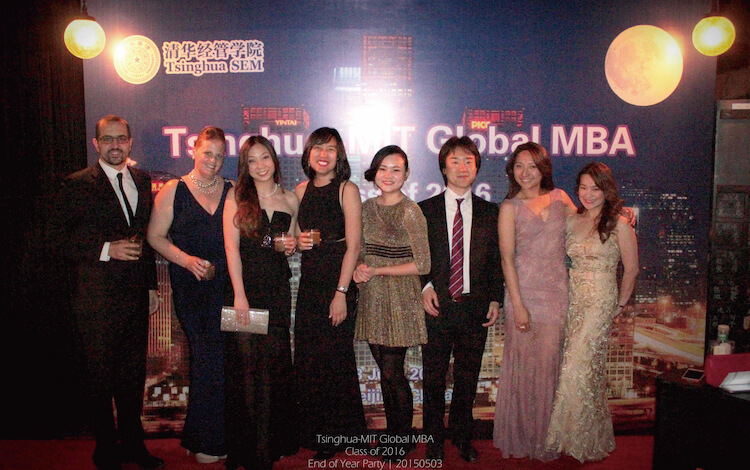 Tsinghua MBA students at their end of year party

---
During her MBA, Amy played on the school badminton team and made some close friends within the student community. Her immersive Chinese experience is paying off now—Amy says that international firms in China, like IDEO, look for people who are bicultural, "not just from a purely cultural perspective," she adds, "but who are also able to understand the professional world in China."
Offering MBA students a look into the unique world of Chinese business is one of the program's strong points. Required MBA courses include China's Institutional Environment and Business Law and the Chinese Economy, while the Integrated Practical Project allows students the chance to solve business problems for top Chinese firms.
"Even though I am culturally Chinese, there was an aspect to business culture in China that I had to learn," Amy says. "Two years in the Tsinghua MBA program helped me gain a much richer understanding of how business in China works."
---
Amy with her badminton team at Tsinghua SEM

---
China future
For now, Amy is enjoying her role at IDEO. "I'm someone who loves thinking up new ideas," she says, "so I like to be part of teams that have a mix between the creative side and the business side."
Whatever her future career path looks like, she says she'll retain her new found business links to China. "If my future role isn't Asia-based, it'll be a role that involves building bridges back to China and Asia.
"Doing an MBA in China, you learn a lot outside of the classroom—it's that social content that has helped a lot in working with Chinese clients."
Related Content: