Top MBA programs are still the most popular type of business education. In fact, according to research by the Graduate Management Admissions Council (GMAC), MBA programs account for two thirds of all business school applications.
One key reason why the MBA has remained so popular over the years is its ability to adapt to the changing business landscape.
By responding to new technologies and the changing demands of employers, MBA programs have held onto their spot as a powerful career booster.
Here are five key ways the MBA is changing to keep up with the ever-shifting business landscape.
---
1. More specializations
---
According to Stephanie Adam, associate professor of business and economics at the California University of Pennsylvania (Cal U), today's applicants want to balance their general management skills with more specialized knowledge. Meanwhile, more general MBAs have lost some of their appeal.
Stephanie is closely involved with updates being brought to the Cal U MBA, and her research has found that greater specialization is something of a trend.
"We are seeing that specialization is where the market is going," she comments.
In response to this growing demand, the MBA program at Cal U is also changing. Upcoming MBAs can choose to specialize in Applied Economics, Management, Business Analytics, Healthcare Administration, or Social Work.
By taking a specialization, students can stand out to employers in their field. "Students still have a broad MBA, which is applicable to any field, but they can now tailor it to a specific career focus," Stephanie explains.
---
2. Adapting to a global workforce
---
In 2020, 59% of the world's population has access to the internet, making far-flung colleagues and clients feel closer than ever before.
According to Stephanie, MBA programs have had to change to ensure their graduates can successfully navigate this new landscape.
In Cal U's MBA classes, students have the chance to work with these new technologies, Stephanie explains, taking on challenges such as online group work.
"This is what will happen when they graduate: they're going to have to work in different time zones, and with people from different backgrounds," she says.
"There's probably no better thing we can do for our students than prepare them to be businesspeople in today's workplace," Stephanie concludes.
---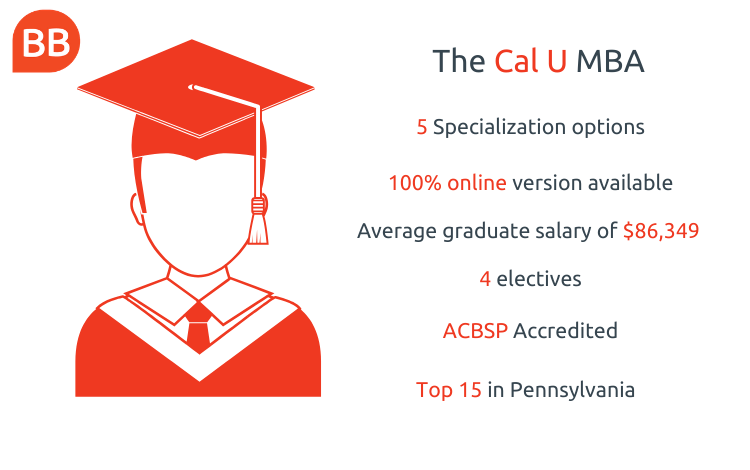 ---
3. Blended learning is becoming more common
---
These technological developments haven't just changed what's taught in top MBA programs— it's also changed how the courses are delivered.
Wholly online MBAs have been on the market for some time, but more recently, 'blended' programs have become a popular option. These MBAs allow students to split their time between learning in the classroom, and independent online study.
"A lot of students enjoy the classroom feel, even if they're not always able to be here," Stephanie notes.
Next academic year, Cal U will offer their students this hybrid learning option. "If they're not able to be on campus, students can log in via virtual conferencing software," Stephanie explains.
In the coming years, she expects this format to keep on gaining traction, as students take advantage of the flexibility that virtual conferencing software and other online tools have created.
---
4. Greater emphasis on soft skills
---
When Stephanie asks her students what they think employers are looking for, they usually mention degrees or technical skills. However, multiple studies have found that soft skills are equally valuable for job hunters.
One recent survey by LinkedIn found that 57% of senior leaders believe soft skills are more important than hard skills.
"Really, employers are looking for communication skills, the way you conduct yourself, and the ability to act ethically in the workplace," Stephanie explains. "No matter who you are, you have to have those soft skills."
The MBA program at Cal U has adapted to these shifting demands, Stephanie adds. Ethics are incorporated into the core of the MBA, covering subjects including communication skills, and handling tricky situations.
---
5. General management skills still matter
---
Even as MBAs become more specialized, general management skills have retained their place as the backbone of most programs.
This is certainly true at Cal U, Stephanie reports. In each class, leadership and decision-making skills are integrated, rather than being taught as separate modules.
"Even people who know they want to specialize will still get those managerial and leadership skills [from an MBA]," Stephanie explains. "At Cal U, our ultimate hope and goal is to offer students the best of both worlds."
Related Content: