The case study method is an established teaching method at dozens of business schools, putting the student in the shoes of companies and CEOs, forcing them to make effective decisions.
On some MBAs, students will take over 500 cases over the course of the program. But cases have their limitations, and business schools are seeing the rise of a newer more interactive form of classroom learning—case simulations. At IE Business School, in Spain, these are becoming part of the learning experience that students are getting on their MBA.
So what do simulations offer that the case study method lacks?
---
Case simulations offer more than analysis
---
The traditional case study method puts students at the center of real life scenarios that companies have experienced. It then follows that students make recommendations about the best course of action.
It's a dynamic learning environment, where debate and disagreement is as important as the subject matter itself. But the experience is mostly analytical.
"The student is not experiencing the situation, they are analysing it," insists Eduardo Pedreno, professor at IE Business School. "It doesn't really put you on the spot in the same way."
Conversely, case simulations are all about the actual experience of each scenario. They are interactive in that they respond to the decisions that the student makes and demonstrates the outcomes of each decision.
"These simulations come up with as many variables as possible that can be applied to a decision making process in a business," Eduardo explains.
One of the simulations Eduardo uses for the International MBA class at IE puts students at the center of a cyber security attack. This is something that happens to thousands of companies a day, and is a very real consideration for any student going into business.
First, they think through what they have to expect for a real time crisis. Then it's about gathering as much information as possible to make a decision. Then they have to implement the decision, while considering the impact it'll have on different stakeholders and shareholders in the company.
Students can then bring these findings, and this method of understanding, back to their other cases.
"It gives you a fresh perspective that you can then relate to the people who made bad decisions in previous cases—suddenly it can make sense," he says.
---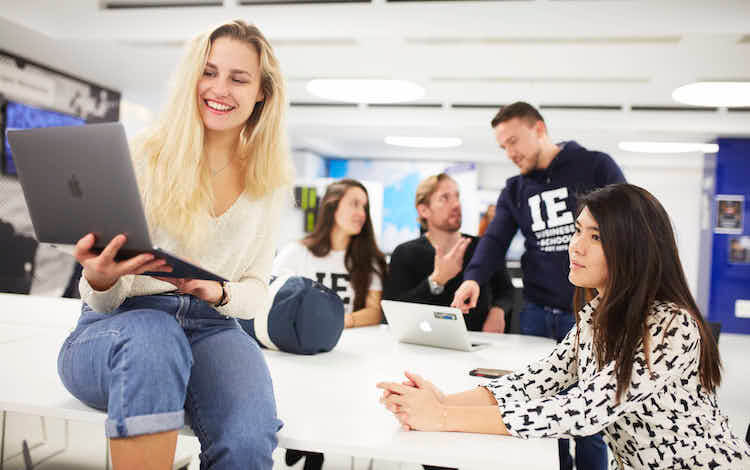 (c) IE Facebook
---
They are as close to practical experience as possible
---
The case method poses that it puts students in real life scenarios and forces students to make decisions. But it doesn't prompt how a student might respond in a real time crisis under real time pressure.
In this sense, simulations are as close to the real thing that a classroom can offer.
"It's the closest to learning by doing without actually implementing a business, launching a startup, or launching a product," Eduardo says.
In learning about strategy, this is hugely important. Eduardo's focus area is in innovation and strategy, particularly through technology. He believes that innovation isn't just a simple buzzword, it's a complex strategy, and simulations help students think through different important considerations.
While learning about Amazon's 20 year innovation strategy is interesting, IE MBA students learn about innovation through a simulator in which they have to drive innovation with a limited budget and resources.
"You really have to decide [which strategy] you're going to bet on that can bring you the best results in the long term," Eduardo emphasizes.
---
Opportunities to fail—and try again
---
As well as mapping out long term strategies over a 20-year time frame, simulations also help students to set short term targets and goals. They have to be able to prove they are delivering something within a two or three year time frame—or they get fired.
"When you get fired for the first time, it's incredibly frustrating!" he adds.
But unlike the real world, simulations enable students to have a second chance, to see and understand what they did wrong, to adjust their strategy and implement something more successfully.
They differ from the traditional case study method in this respect. Case discussions are more subjective, with multiple arguments offering different perspectives on the 'right way' of doing things. Simulations are more complex than this—certain outcomes do yield bad results, regardless of how rigorously a student might pursue them.
"Failing is an outcome I really value," Eduardo insists, "By putting you on the spot, you have to make decisions, you have to fail, and you have to make mistakes."
Learning how to bounce back from these failures can be invaluable to MBA students—a practical and tangible solution which cases often lack.
"It's not about looking at why or how people are underprepared. It's about giving you different elements and perspectives so that you are prepared."
Related Content: