Franz Heukamp has been involved in business schools for the best part of 20 years, and he's seen a lot of changes.
He joined IESE Business School in 2002 as an assistant professor, gradually climbing to the top of the school and being appointed as the school's dean in 2016. In this time, the MBA landscape has changed vastly—online programs are on the rise, Asian and European schools have stood up to prestigious US schools.
But one thing hasn't changed—demand for leaders with MBAs.
"In turbulent times like these, the world needs managers who, when faced with uncertainty and ever-changing new trends, have the tools and capabilities to make broad connections across disparate fields of knowledge, and can apply that to making smart, responsible business decisions," Franz emphasizes.
---
What real diversity looks like
---
One of IESE's biggest achievements in the past decade has been its cementing itself as a top 20 MBA program—in the Financial Times, The Economist, and just about every other top rankings body.
"It's a nice validation that our unique approach to teaching the MBA (and business education in general) is working," Franz admits.
But he's quick to add that doing well in the rankings isn't an achievement in itself—more that it's a constant impetus to do the things that sets them apart, and to do those things better. For IESE, this is a hybrid of what European and US programs offer.
On the one hand, it has the diversity and internationality of European programs, which gives students a rich experience that will serve them well in their future careers. This goes beyond just "simple box ticking", he insists.
"On its own, having international students or faculty is not enough."
"We think carefully of the mix of students (so no one region, nationality, or background predominates), and combine this with course materials and experiences relating to international business. It is about helping students develop a global mindset."
---
WATCH: How To Get Into IESE
---
---
Re-emphasising a general management approach
---
US schools, however, still provide the precedent and structure for the way the course is delivered at IESE. Namely, the general management approach to education.
This is the belief that their leaders should have general skills, spanning different industries, functions, and competencies, rather than specializing or focusing on certain areas. Franz believes this is equipping students with durable skills.
"The issue is that specific skills can quickly become obsolete."
"What general management does is help equip the leaders of tomorrow—who might have to switch companies and sectors many times in their professional careers—to also have the transferable skills needed that can help them thrive in this new context."
This doesn't mean that the school isn't focused on providing up-to-date, relevant skills to their students. Artificial intelligence, for instance, is one such area that's disrupting and changing the way companies do business, and is an important area for any future leader to understand.
Franz points to the recently launched AI Initiative at the school, a multi-disciplinary research center driving understanding in this area, in the plan to develop how it is used and taught in the classroom.
"[This is something that], if managed correctly, has the potential to bring enormous societal benefits."
---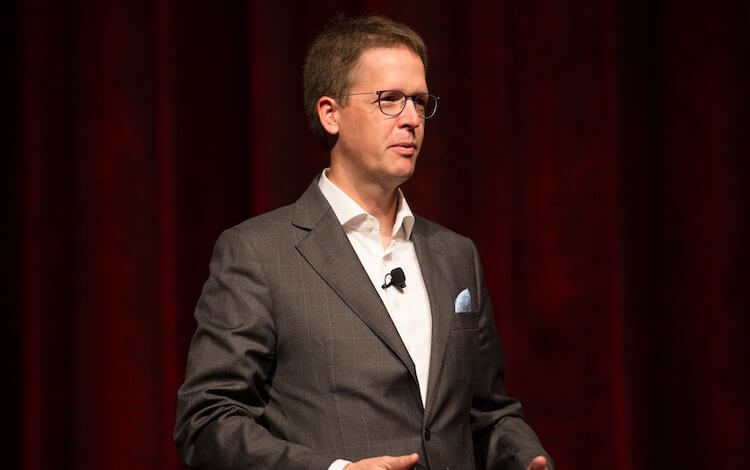 ---
Creating responsible leaders
---
Where the school really sets itself apart, Franz believes, is in its commitment to corporate social responsibility (CSR) values.
IESE topped the FT's CSR ranking in 2020, with environmental and social responsibility forming a key part of the ethos of the school.
"This is about caring for the well-being of people and the overall environment in which we inhabit. We only have one planet, and one life," Franz says.
He sees the school at the forefront of a movement in business towards responsible management. "Rightly, more and more business people are recognizing this and integrating this into their way of managing businesses."
A big part of this is focusing their programs around a human-centered approach. Not one where the highest salaries or biggest job titles are a measure of success, but where impact and being community-minded is. This is a belief that runs through all levels of the school.
"Whether that is through an emphasis on working in small groups, the open door policy of our professors, or the sense of community fostered by our MBA."
"We really want to create the best learning experience possible for our students, one that will help them develop as responsible leaders not just professionally, but personally too."
It's these outcomes that make, and will continue to make, business education relevant to the world in times of uncertainty, instability, and crisis.
"The world is very turbulent. There will always be these shocks and dips. Our challenge is to help our students be properly prepared to manage them, specifically in a way consistent with our mission—putting people first as important decisions and choices are pondered."
---
The BusinessBecause Big Interview series showcases the thoughts and lives of some of the world's leading business figures.
---
Read More Big Interviews: Coursera CEO On The Future Of Online MBAs
---
Related Content: