Traditionally, the one-year MBA has been popular outside of North America, where the two-year MBA remains the default qualification. But this is changing, with many US and Canadian schools now offering one-year options too.

In the interest of flexibility and cost-efficiency, MBA applicants are going after programs that can fast track their success.

The Prospective Students Survey from the Graduate Management Admission Council (GMAC) shows that for the last two years running, one-year global demand has overtaken two-year programs—47% of all MBA candidates now consider a one-year program, up from 39% two years ago.

So if you are considering a one-year MBA, here are five key benefits:
---
1. It will be more cost-effective
One of the most important benefits is cost-effectiveness. This is notable both in lower tuition fees, but also the overall running costs of the program.
For example, the full-time MBA at Ivey Business School costs $82k (USD) in tuition for international students, or $58k for domestic students. Two-year programs can range from $60k all the way up to $146k at top US schools in total tuition fees.
Alongside the typically cheaper tuition, one-year MBAs are also more affordable in terms of cost-of-living. Living expenses including accommodation, food, and travel add to the overall cost of any program, so halving the time you're studying can produce a significant saving.
At Ivey, the student campus is based in London, Ontario. Compared with Toronto or Vancouver, living expenses come in cheaper, further adding to affordability. The school also offer a calculator to help estimate return on investment.
---
2. You'll be able to quickly restart your career
With a one-year program you can take advantage of moving quickly back into your career. Despite an MBA being a great career booster, taking time out of work to study means a costly pause in earnings. 66% of prospective students express some concern that an MBA will delay attractive job opportunities, according to GMAC research.
The quicker you're back into work, then, the quicker you'll start seeing a return on your investment. At Ivey, the average salary for graduates three months after completing the program is $115,000. Moreover, 91% of grads from the latest cohort were employed three months after the MBA, with graduates receiving on average an 85% increase in salary.
For domestic students who want to combine career and study, Ivey also offer an Accelerated MBA, where online learning and weekend classes ensure students can continue their career simultaneously. Similarly, if you're an experienced and busy professional, an Executive MBA allows you to maintain your career whilst studying for a qualification which can enhance your prospects.
---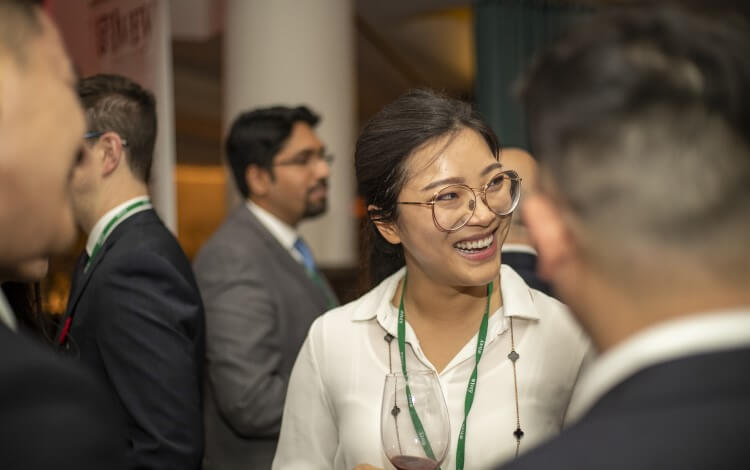 A one-year MBA course means you'll be able to quickly restart and advance your career © Ivey Business School
---
3. Possibility to make a career switch
It is still possible to make significant changes to your career after a one-year MBA. While the one-year MBA offers career acceleration, many students also see major career changes after the program.
At Ivey, for example, 91% of MBA graduates make at least one major career transition. Whether that's industry, job function, or geography, one-year MBA students have the opportunity to make big transformations in their careers. This careers focus has helped Ivey remain number one in Canada for both student and recruiter satisfaction, according to Bloomberg Businessweek rankings.
---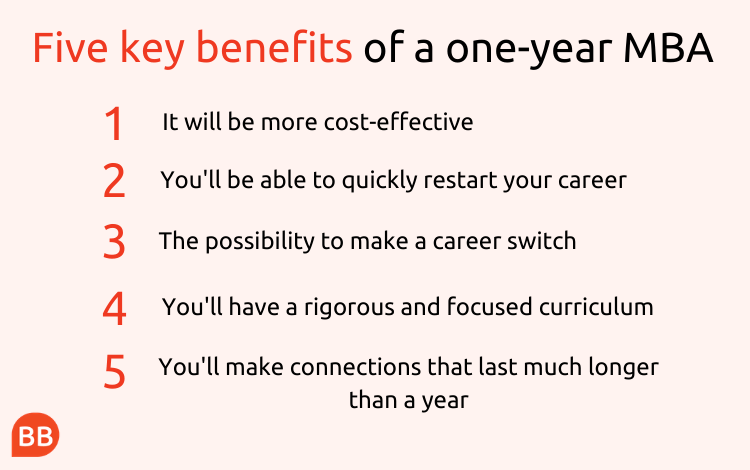 ---
4. You'll have a rigorous and focused curriculum
Just because one-year programs are more condensed doesn't mean that you'll miss out on any key content. You'll still have the same rigorous introductory courses to sharpen your economic and business skill set, but with a more immediate focus on your career.
The Ivey curriculum uses a case study method to prepare students for the world of work, where they're exposed to around 300 individual cases. Instead of lectures, students use an action-oriented approach that mirrors the challenges of the business environment—putting students in real-world scenarios. It's a dynamic approach where you'll be fully immersed for one year, aiming to maximize results over a shorter time frame.
---
5. You'll make connections that last much longer than one year
You might think that with less overall time spent with your classmates, the bonds may not be as strong. But this isn't necessarily the case. With the intensive nature of a one-year program, students quickly form a camaraderie that keeps them close. It may be over quicker, but the connections you make over the year will last a lifetime.
At Ivey, there were 150 students in the most recent cohort. This smaller class size can breed a more intimate atmosphere, where living on campus with your classmates means the development of a cohesive and tight-knit network.
Once graduated, students join an alumni network of 29,000 Ivey grads—providing a wealth of knowledge and opportunity across dozens of countries and industries.
Related Content: