The revelation about the amount of waste from the beer brewing process came to Marc Wandler during one of his MBA classes. For every 1000 tonnes of beer produced, there's between 130 and 170 tonnes of waste—well over 10%.
"One of my classmates came from the beer industry, and he tipped me off to the problem, and also the fact that beer waste has no sugar and all fibre and protein," Marc remembers.
Something clicked. From his time working in nutrition for the Alberta Health Services, he recalled that high fibre and low sugar was exactly what many people (particularly diabetics) needed.
Susgrainable was born, baking delicious snacks from the spent grains leftover from brewing. The company brings together Marc's passion for healthy living and sustainability, along with a business toolkit and network assembled during his MBA at UBC Sauder School of Business in Vancouver.
---
Steps into entrepreneurship
---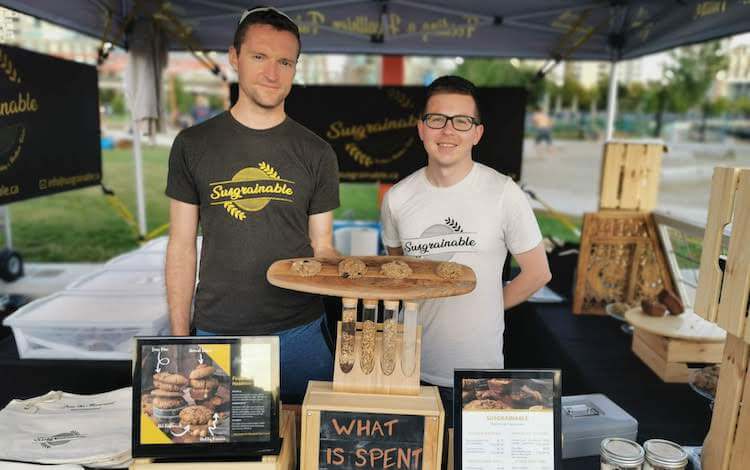 Marc with co-founder Clinton at Riley Park Vancouver Farmers Market, July 2019
---
For Marc, entrepreneurship dates well back into childhood.
His parents, both formerly oil and gas engineers in Calgary, left the industry mid-career to set up their own small beer and wine making store. This was a passion that quickly caught flight, and was a successful business which they ran for many years.
As for Marc and his siblings, this was an early insight into what it took to run your own business.
"We all worked in the store and learned lots about running a business through it," he recalls. "In that sense, entrepreneurship's an idea that's always been on the backburner for me."
But he didn't launch his own business straight away: he had his own passions he wanted to pursue. Sports was chief among these. Marc was a varsity soccer player, while also taking his bachelor's in kinesiology (the study of movement) and exercise science.
He took up a job at Alberta Health Services as a kinesiologist and active living specialist, advising on projects including tackling childhood obesity; he did this for seven years, alongside working for Canadian airline Westjet, which, he says, "got the travel bug out of my system".
In the latter stages of these roles, Marc saw himself as somewhat of an 'intrapreneur'. He'd go around, seeking out problems that he could offer creative solutions to. This desire led him to taking a number of business courses, and ultimately enrolling in the MBA at UBC Sauder due to its focus on sustainability and innovation.
---
Setting up Susgrainable
---
---
Fast forward several years, and Marc is now CEO of Susgrainable, responsible for the company on all levels. It's now that he really understands how he benefited from his MBA.
Core to this was holding onto sustainability as a value, and as a foundation on which to build a business. Ethics and sustainability are a core theme which runs through the UBC Sauder MBA, and taught Marc everything he needed to know about how to make decisions while considering the impact on the environment.
"Even our name shows this—sustainability speaks through everything we are doing," Marc says.
Never content to rest on his laurels, he's constantly driving the business to be more sustainable. This is now extending to impact reports, which review the entire brewing process and help the partner breweries that Susgrainable work with to refine their processes.
One example he gives is transporting the 'mash'—the grain excess that they use to make flour—from the breweries to the facility where they process and dehydrate it. Around 70% of this is water, meaning that the trucks which transport it are carrying immense amounts of unnecessary waste.
"There's a lot we can do a lot better, but we're also a small team. As we grow we can take these on a lot better."
In terms of the culture at UBC Sauder, Marc benefited greatly from the sense of community, and the idea of helping and being responsive to others. The network he built from his MBA—both the professors and his classmates—has proven to be one of his greatest assets.
One of his teachers is now a principal advisor to Susgrainable, while he regularly drops his classmates a line to ask for their expert advice on everything from social media to events planning.
"One of my biggest takeaways was about building a network as you go along. You can't just focus on yourself, you should be focused on a community."
---
Embracing flexibility
---
Learning to be flexible and adapt to change was one of Marc's biggest takeaways from the MBA to his own business. This is about being agile in a competitive market, and about learning to adapt with adversity.
"You can plan as much as you want, but you're still going to get thrown curveballs," he says.
One curveball that few could have seen was the COVID-19 pandemic, an on-going scenario that Marc and his team are grappling with at time of speaking. It's forced a total lockdown in Vancouver, and has forced Marc to move his entire business online: something he hadn't planned on doing for a few years.
Rather than following what everyone else was doing—quickly piecing together an online store—Marc invested time in leveraging their partnerships, and strengthening their marketing, to make sure that, when they did go online, Susgrainable and their products stood out.
In a sense, it was an opportunity to fast track progress on an area of their business that needed improving anyway. This is Marc's glass-half-full analysis of the pandemic.
"Yes, it brought about a ton of problems, but also a ton of opportunities. People have more time on their hands, they're looking at more media online. We're seeing it as an opportunity."
Related Content: