When Dominic Barton, former global managing director of McKinsey & Company, kicks off the Leadership in a New Era course at Tsinghua University each year, the capacity of the Weilun building is put to the test.

MBA students, alumni, and professors from Tsinghua University School of Economics and Management (SEM) crowd into the packed auditorium for the opening address. Those who can't get a seat, stand at the back. Outside, students look in through windows or listen in via WeChat.

Big Three consulting firm McKinsey is one of the most popular companies on business school campuses, hiring thousands of MBAs globally each year. The generalist MBA degree is the ideal training for future consultants—who operate across geographies, industries, and functions—and McKinsey is invested in working with business schools to train students up.

On the Tsinghua Global MBA Program, a collaboration between Tsinghua SEM and MIT Sloan, students get direct exposure and access to McKinsey's expertise through the unique flagship MBA course.

How do you lead in a time of crisis? How do you drive innovation? What makes a good leader? McKinsey's global leadership course, Leadership in a New Era, is designed to answer those questions, and improve students' understanding of leadership through real-life case studies presented by some of the world's leading business figures.

Here's everything you need to know about McKinsey's global leadership course at Tsinghua SEM:
---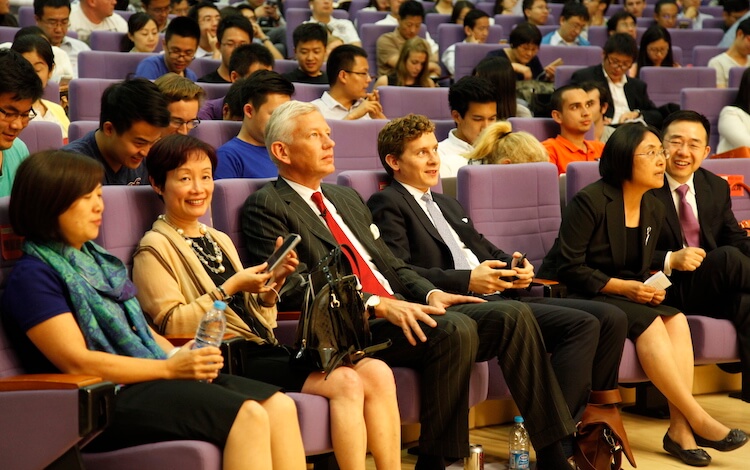 Dominic Barton awaits the start of the McKinsey global leadership course at Tsinghua University © Tsinghua University
---
McKinsey's global leadership course | An overview
The McKinsey global leadership course is co-designed by McKinsey and Tsinghua SEM and has been held as a flagship elective MBA course at Tsinghua since 2012. The course is open to MBA and master's students at Tsinghua and takes place in the fall semester each year.
It's structured around eight speaker sessions. For each two-hour session, two speakers—one from McKinsey and another a top company executive—talk through a critical business topic.
These topics include global business trends, transformation, people, technology, operations, marketing, finance from an investor's perspective, and trisector leadership which considers leading in the public, private, and social spheres.
McKinsey consultants provide an analytical framework for the discussion while the industry executives talk through their own personal experiences. After the speaker sessions, students go directly into a live Q&A.
The idea is that the sessions trigger a lively debate among students and business leaders in the lecture hall. Students are then graded for the course based on a team project—where they take part in a case competition or write a report based on a question posed by one of the speakers—as well as reflection journals on their key takeaways from three chosen sessions, session attendance and preparation.
For the operations session, there's also a formal seminar where students explore how to improve operations efficiency. McKinsey has its own operations workshop at Tsinghua which is set up like a mini replica factory on campus.
---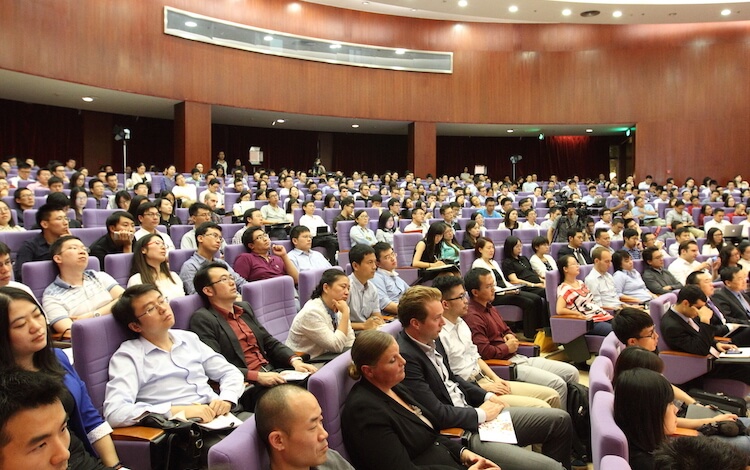 Tsinghua MBA students in the packed-out Weilun Building auditorium © Tsinghua University
---
McKinsey consultants, CEOs & other top speakers
Who are the top businesspeople heading up the McKinsey leadership course at Tsinghua?
Dominic Barton set the course up with the dean of Tsinghua SEM back in 2012. Now the Canadian ambassador to China, Dominic was managing director of McKinsey from 2009 to 2018, previously working as chairman of McKinsey in Asia and the managing partner for McKinsey's Korean office. He also previously sat on the advisory board of the state-run China Development Bank.
Dominic's father was an Anglican missionary who developed a theology college in Uganda. Dominic was born there before moving to his native Canada after Ugandan dictator Idi Amin's rise to power.
He graduated with a bachelor's degree in economics from the University of British Columbia before completing a master's degree at the University of Oxford. After a stint at Rothschild & Co, he was first hired by McKinsey in 1986.
Over three decades, Dominic built up unique knowledge of global business trends and how to lead people across industries, cultures, and locations, diving deep into these topics during the global leadership course.
The course's all-star speakers come from a variety of different industries. Past speakers include: Tom Albanese, CEO of Rio Tinto Group; Doug McMillon, CEO of Wal-Mart International; Alan Mulally, former president and CEO of the Ford Motor Company; Mark Wiseman, former CEO of the Canada Pension Plan Investment Board and senior managing director at BlackRock; and Michael Spence, recipient of the 2001 Nobel Memorial Prize in Economic Sciences.
---
Session plan and speakers from 2019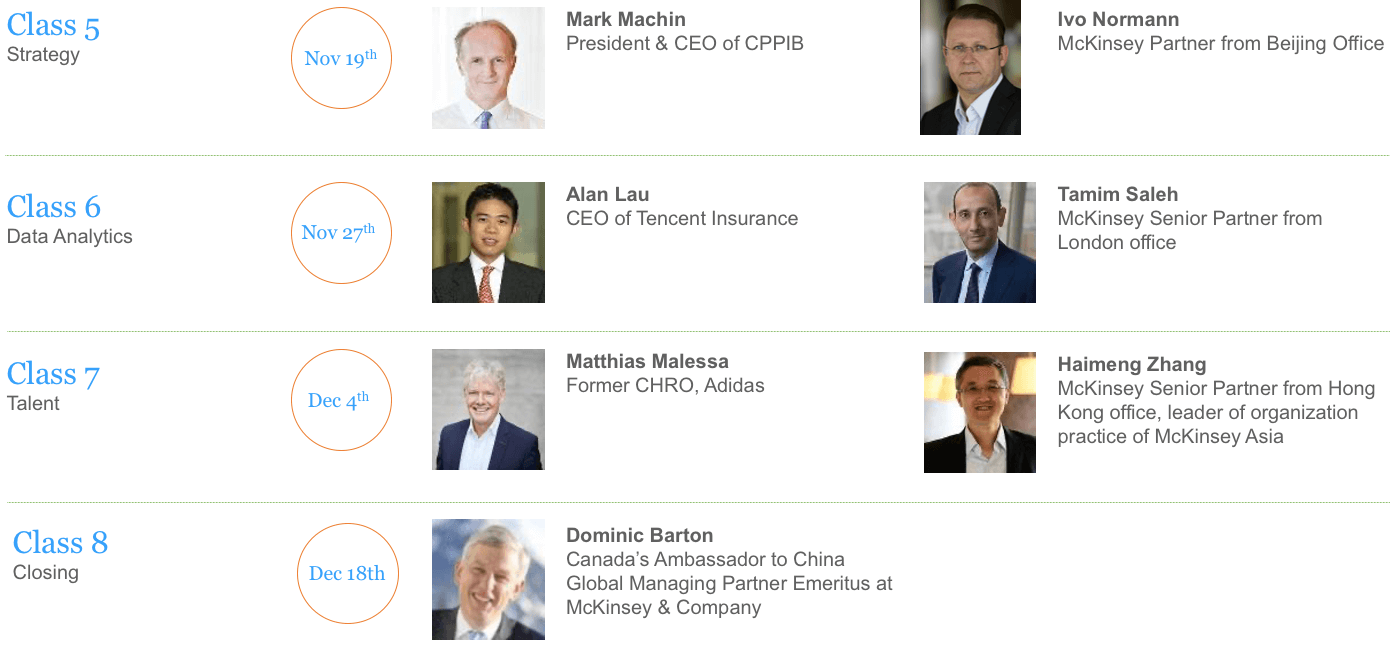 ---
McKinsey global leadership course | What will you gain?
When it first launched, Tsinghua wanted to offer the McKinsey course to the whole school, but quickly had to restrict it to graduate students. "It was too popular!" explains professor Zhirong Duan, who coordinates and teaches on the course alongside the McKinsey consultants.
What students gain most, Zhirong says, is an understanding of leadership in context. "It's not just about talking about leadership," she explains. "It's important for students to understand who leaders are as people and the journeys they've been through.
"Through the course, they meet leaders, see how they think, and listen to them reflect on how and why they've made important decisions. We focus on both the hard skills and the soft skills—what leaders do and who leaders are—together."
---
Read: 4 Things McKinsey & Company Can Teach You About Leadership
---
Tsinghua's MBA students get unprecedented access to the business leaders, with informal networking opportunities before each class. Each year, several students get job offers from McKinsey or other participating companies.
Many of the companies bring recruiters to Tsinghua to find talent on campus, says Zhirong. The Canada Pension Plan Investment Board, for example, has hired from the school every year since former CEO Mark Wiseman joined the course.
In the past few years, Zhirong says she's focused more and more on digitization and the role of people and relationships in business across the session topics. She's now planning 2020's course curriculum, with plans for a hybrid—part online, part offline—format this fall.
"People sometimes say you cannot teach leadership, but everyone has the potential to develop him or herself," she says. "The McKinsey leadership course is a way to reach your full potential."
Related Content: