The Power MBA is an online business qualification, with a curriculum developed by business leaders from companies like Shazam, Waze, and Airbnb.
It can be completed in 15 minute chunks from the comfort of your own home, and costs a fraction of the price of a traditional MBA. Unlike typical MBA programs, you can study The Power MBA without having to fill out an application. The course is open to anyone who wants to try it.
The program first launched in Spain back in 2017, and has since opened to students worldwide with an English language version. There are currently 35,000 students and alumni in program's network, and around 3,000 new students start the program each month.
Although The Power MBA has its advantages, it does not offer the same experience as a more traditional MBA. Below we outline a few important things to know about the program, so you can work out if this business school alternative is the right choice for you.
---
The Power MBA vs a traditional MBA
The main difference between a traditional MBA and The Power MBA is the way it's delivered. Traditional MBAs, whether online or in the classroom, are usually synchronous. This means students can interact with each other and with their instructor in real time.
The Power MBA works a little differently—more like a MOOC (massive open online course) than a typical business school program. When students sign up to the program, they are given 15 months of access to an online library of interactive lessons, which are broken down into 15 minute slots and can be studied at your own pace.
This model helps to keep costs down. In fact, undertaking The Power MBA costs just $1,000, compared to the $100,000 or more that a highly ranked MBA program in the US would set you back.
---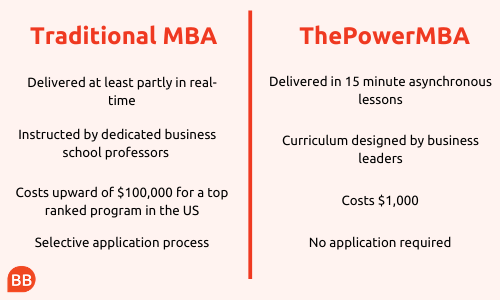 ---
Another key difference between The Power MBA and its traditional counterparts is that its curriculum is designed by full-time business leaders rather than professors. The program's pre-recorded classes are delivered by figures including The Lean Startup author, Eric Ries, Shazam Co-Founder, Chris Barton, and Girlboss founder, Sophia Amoruso.
Despite the differences between The Power MBA and a traditional MBA, the programs do share some similarities. Both feature a broad business curriculum that covers topics including finance and accounting, leadership, strategy, and marketing. On The Power MBA students take modules in business model innovation, the lean startup, strategy and business fundamentals, entrepreneurship, and disruptive tech in business.
Both curricula also make heavy use of case studies to help students understand how business concepts play out in the real world. In the case of The Power MBA, these case studies often feature the companies founded by the instructor themselves.
---