Meghna Harjani is approaching the end of her MBA at IE Business School in Madrid.
Before she enrolled, she was a project manager in the retail space, mainly working within change management, retail, and digital transformation. "It was all related to change, about bringing the business into something new," Meghna says.
Doing an MBA was not an ambition she'd always had: rather, it emerged out of many conversations she'd had with her peers and colleagues, and she felt like it was a good opportunity to go back to education and build on the skills she had developed over her career.
Now, nine months into the program, she can really see the tangible results of the MBA. As she starts to focus on applying for jobs, at a range of organizations from big tech companies to burgeoning startups, she can see how her MBA is helping her realize her ambitions as a product manager in the technology space.
---
1. Integrating entrepreneurial thinking
For the first decade of her career, Meghna found herself almost entirely focused in the Middle East, aside from a few years studying her bachelor's in the UK.
Dubai, where she had been born and raised, is a particularly international city, she admits, but she still felt limited in her exposure to new, diverse cultures and industries.
"Up to that point, I'd only worked in the Middle East, so how could I be a manager who was more open to more different cultures," she says.
IE stood out to Meghna for the very reason that she felt like it would be more diverse than most programs. Not just internationally diverse, but in terms of background and ways of thinking. She knew instantly it wasn't just a place where everyone would go into finance and consulting.
For her, one of the main takeaways has been starting to think more like an entrepreneur. After her first two terms, she entered into the Venture Lab, where teams of students take up an idea, and through the help of a mentor, start to build it into a business. Her team worked on 'Banana Bread', a platform connecting home bakers to consumers.
"It was perhaps the most intense four weeks of my MBA. It was super exciting because I really felt like an entrepreneur—every day we were doing validation, building websites, and trying to take a product to market."
While the team chose not to launch the business idea at the time, it taught her a holistic view of what it takes to be an entrepreneur, something that will serve her well as she deals with new products in the tech industry.
---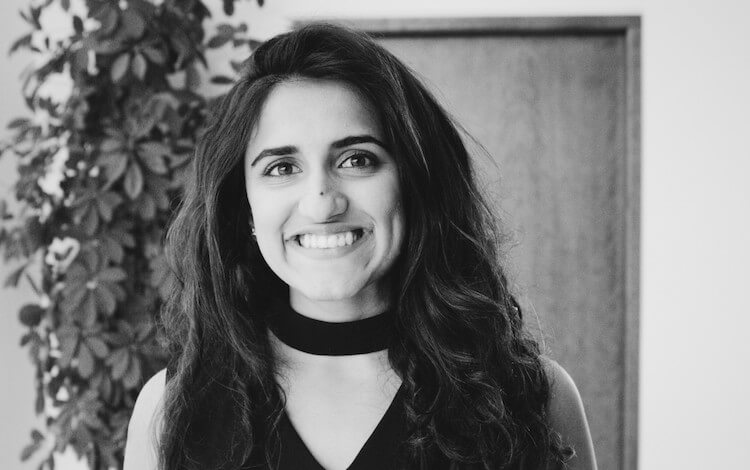 ---
2. Building tech understanding and proficiency
Part of looking for a diverse program meant looking for an MBA where she could explore various career paths. With Meghna's aspirations to go into tech, the IE MBA has given her many opportunities to take a deeper dive into the industry and build on her digital skill set.
From courses on e-commerce strategy to managing with data, Meghna found the opportunity to study different aspects of technology, and how it was becoming more of an integrated part of business.
This is primarily down to the professors who are teaching the courses, all experts or practitioners in their own right. "They've run their own company, they've been product managers at huge scaleups. When we learn, it's not just theory, I really understand the workings of it in an organisation."
Meghna also celebrates the growing tech scene in Madrid, with a growing number of organizations and events in the city for people looking to build their understanding and network—although COVID-19 has put many events on pause.
She has benefited greatly, however, from the Women in Tech mentorship program which IE organizes. This pairs aspiring female students with female role models in the tech industry, who offer guidance and advice on establishing a tech career.
---
3. Strengthening leadership skills
While Meghna had amassed plenty of experience in the project and change management field, she felt like her leadership skills may hold her back from progressing into more managerial positions.
"I was diving more into team management, and the strategic part of management. For me, to get better and have more impact, I want to go back to learning."
In terms of soft skills, she's had two key takeaways from the MBA.
First, learning to adapt and prioritize given a high volume of work and time pressure. "An MBA is super hectic and fast paced. I learned to prioritise and adapt all the time—especially with COVID, where we had to adapt even more."
Secondly, and most importantly, she was able to develop a broader mindset which would help her to approach challenges from new and varied perspectives.
"It showed me a new side of how people think, and why they think like that. It was about gaining new views on management, or leadership, or success, and being able to have that perspective is helpful."
As she prepares to apply for roles at tech companies that could see her working in Europe, Asia, or the rest of the world, having this diverse, open-minded approach to business will prove to be an important asset.
---
Related Content: