Europe remains one of the most popular and exciting places to do an MBA. Across the continent, you'll find over 40 countries, with dozens of languages and cultures between them. Moreover, it hosts some of the world's business capitals, from London's financial center to Paris' hub of luxury business.
For Jaya Oswal, Europe proved to be the perfect destination for an MBA, allowing her to fast-track her career, meet a diverse group of people, and to build experience across countries. And now, having landed a job there after graduating, the possibility of staying there long term is becoming a reality.
---
Studying in multiple cities
---
---
The first part of Jaya's career was spent working in Dubai, where she was exposed to a global way of doing business. "Dubai is an expat country, so I met lots of people from different countries, and it was a great experience."
She saw how much she could learn from the people she was meeting and working with. This was a big influencing factor in deciding to do an MBA in Europe where she knew the class would be more diverse.
"In Europe, there's such a mix of different perspectives. This is a chance to learn a lot more, because your upbringings and education are very different. What might be appropriate to me might not be for others."
At ESCP Business School, she found an MBA which was diverse both in class profile and in setting. ESCP MBA students can choose to study in two different locations in Europe, choosing between the school's campuses in Berlin, London, Paris, Madrid, Turin, and Warsaw.
Jaya opted for Paris in her first semester, and London in her second semester. The multicampus approach was one of her primary reasons for choosing ESCP, and remains one of the biggest highlights of the MBA.
"From a student experience, this is great. A student wants more exposure, to meet more people from different backgrounds, to get to travel, and to meet two groups of professors and students."
---
Learning from a European angle
---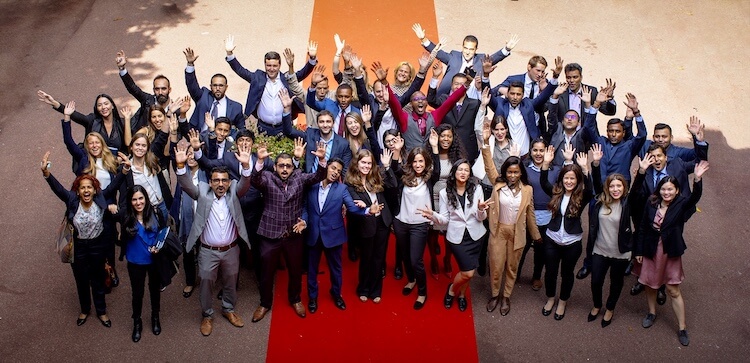 ---
Given Jaya's limited experience in Europe, her MBA at ESCP was a great opportunity to start to build an understanding of business from a European angle.
The multicampus approach was a huge asset to this, ensuring that she had both a French and English perspective to her studies. For this, she really praises her professors for giving her a sophisticated grounding in business.
She benefitted particularly from a dynamic approach to teaching. "They chose really good case studies on [European companies like] Zara, Ducati, Ferrari."
"It showed that if you pick the right material for case studies, classes become really interactive."
Her knowledge is now highly relevant and up-to-date. "Because I did my MBA right now, I know right now what is going on in the business world. What practices there are, what are the relevant business jargons."
---
Getting work experience across two countries
---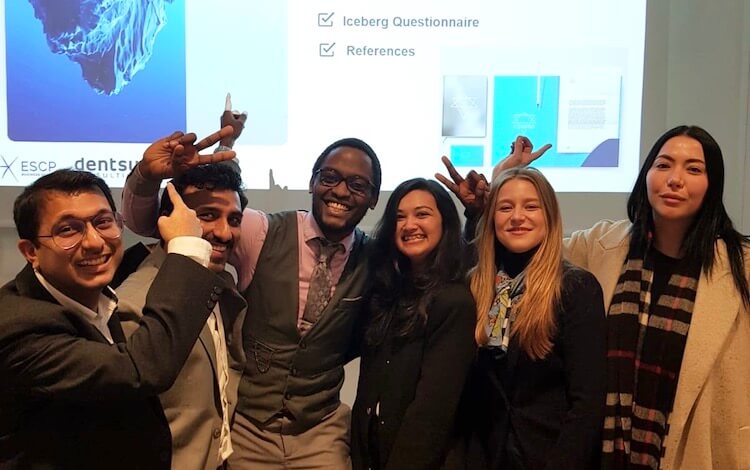 ---
Paris and London. Two of Europe's business hotspots, and now both places Jaya can say she has worked.
This is a result of company consulting projects which ESCP students undertake during each semester. In groups of five or six, students work with real companies to advise on problems or challenges they are facing to deliver actionable solutions.
During her Paris semester, Jaya consulted with Dentsu, a large Japanese media company. The project was to help the company to value their intangible assets, which until that point had just relied upon research. Jaya's team adopted a creative, out-of-the-box approach, actually building a tool that could help with the valuation.
Her second project, during her time in London, was a digital transformation project with a haircare and beauty brand.
These experiences have made her resume light up, as employers can now see she has experience across both countries.
"It was actual work I had to deliver—an actual project, which had an end goal, with several deliverables," she says. "And I can now put on my CV that I have worked in London and Paris."
---
Using her network and experience to find a job
ESCP assisted Jaya greatly with finding a job, particularly given the turbulent post-COVID job market that Jaya graduated into. She used Jobteaser, a portal specifically aimed at ESCP graduates, to network with employers and find roles that she was a good fit for.
She saw an internship role at AXA Climate, the branch of the insurance multinational dealing with climate risks. She is now working as a digital marketing and international business development associate in Paris.
Having already studied and worked in Paris, her transition to the working culture was fairly seamless.
While the work is demanding, she feels her MBA has definitely prepared her for the role. "My elective in digital marketing has given me a lot of tools for this job, so I'm now confident in my work. It's given me a really good snapshot of the whole business package."
Related Content: