"A 16-month live leadership simulation which reflects the real-world." That's how Teresa Pan, assistant dean at the Robert H. Lee Graduate School at the UBC Sauder School of Business, describes the school's full-time MBA program.

The program, Teresa explains, focuses on transforming students into effective leaders who are not only skilled at their role, but possess the capabilities to elevate and inspire their teams to succeed.

Some of this comes down to natural ability; the other part is about experience and learning. The UBC MBA is designed to bring a diverse cohort of students together; working, challenging, and motivating each other towards the pursuit of their career goals.

MBA students gain experience working across a variety of business and global contexts so that when they graduate, they're able to reach top management positions and lead effectively.
---
The traits of an effective manager
---
"You need to practice humility, ask for help when you need it, open the door for others to contribute and shine, and intentionally ask people for feedback," Teresa explains.
Effective managers are humble, admit to what they don't know, and ask for help—"If someone is operating from a place of ego and pretending to know something they don't, they're going to make a poor decision," she continues.
The best leaders make space for others. They make their peers feel valuable and encouraged. That can sometimes be difficult for MBA students, Teresa admits.
Stepping back can be a challenging one for some high-performing individuals, but it's a key to being a successful leader and building up your team.
---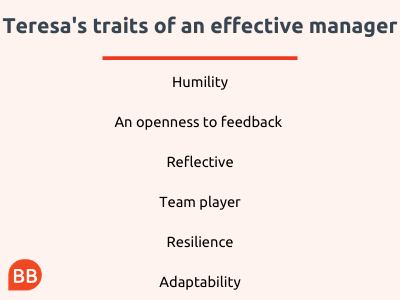 ---
How an MBA makes you a more effective leader
---
The MBA classroom
MBA programs start by giving students a platform from which to develop their leadership ability. "[Then] it's what you do with the MBA and how you engage with other people [that's important]," Teresa says.
In the UBC MBA, students are tested on their openness to feedback and ability to reflect, with regular feedback from professors on assignments, or live cases with clients, as well one-on-one feedback from career coaches throughout the program.
The UBC MBA Class of 2020 was 42% female, 48% male, with an average age of 29. Students had an average of five years' work experience, 78% spoke two or more languages, and 45% had international work experience.
Such diversity forces students to adapt to different personalities and cultures, which in turn builds their managerial capacity. "You have to manage all of these different people in your professional life, and it's exactly the same in the full-time MBA," Teresa explains.
"We have this mix of backgrounds, intentions, beliefs, and approaches to work, and it's up to each individual to work out how they contribute their highest ability to group work, and inspire and encourage their teammates. It's really no different from the workplace."
The UBC MBA is kept small, typically 100-to-110 students per cohort. The more intimate class size allows for close collaboration. Students put on tutorials for each other, they introduce peers to representatives from their previous companies, and give industry talks to build out their fellow students' knowledge bases.
"Our most successful students don't simply see their relationships with their classmates as transactional; they invest in two-way relationships," Teresa says.
---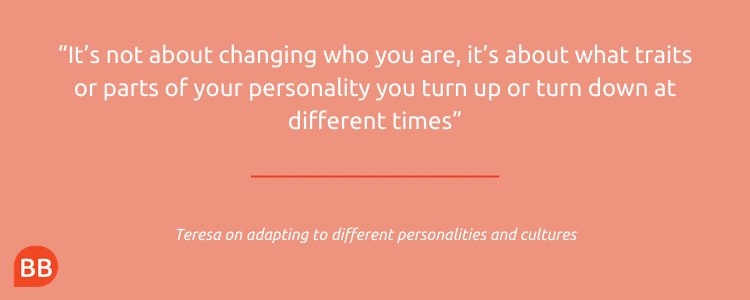 ---
The MBA curriculum
The UBC MBA curriculum gives students comprehensive learning opportunities inside the classroom and out, so they graduate with the experience to succeed across different business environments. These include:
- Experiential Learning either involves an internship where students work with a company as a strategy consultant, or an entrepreneurial project where they create a detailed business plan for a new venture or identify new business opportunities.
- The Global Immersion Experience takes students abroad to consult in groups with an overseas company on a real business challenge.
- The Capstone project tests students on market, financial, and operational challenges facing businesses.
- There are also live client projects throughout the program where MBAs work in teams to solve real-life business challenges for local as well as global companies.
Global Immersions, live projects, and case cracking competitions give students the chance to test out their teamwork skills and learn how to collaborate and communicate effectively. Students are pushed to solve a problem in a limited time frame with limited information.
"Sometimes, not making a decision can be more damaging than making a less-than-optimal decision," Teresa notes. "It's stressful, as a group of people you have to make a decision and there are risks. It gives students an experience similar to the real business world."
These experiences put students' management capabilities to the test. The key is being able to adapt to the variety of peers you work with. "In one project you might turn on the trait of humility a bit more, for example, and deliberately ask questions of others who have a lot to contribute but might be quieter," Teresa says.
"It's not about changing who you are; it's about what traits or parts of your personality you turn up or turn down at different times."
Since the coronavirus outbreak, UBC MBA students have adapted to studying and working together online, fueling new conversations around building resilience, optimism, and adaptability in an online learning environment.
Developing leadership skills doesn't stop in a virtual setting, Teresa says. "It's an opportunity for students to learn how to develop their digital presence, as well as trusting relationships, over Zoom. These are important things they can practice during the MBA program."
COVID-19's changing impact on the workplace, how and where we work, requires managers equipped with resilience, optimism, and adaptability. To succeed, professionals will need to work effectively in equal measure across both the physical and digital office spaces.
Through its rigorous approach to leadership development, graduates of the UBC MBA are trained to do exactly that.
Related Content: