Three Spanish entrepreneurs founded IE Business School in the 1970s and a spirit of entrepreneurship and innovation persists today in the school's highly customizable International MBA (IMBA) program.

As IE celebrates the 50th class of the IMBA in 2021, BusinessBecause spoke with Paula Robles, IE's executive director of MBA programs, about her plans for the future of the MBA.

The answer? A customized curriculum centered on sustainability.
---
A highly customizable curriculum
Students in the IMBA program can currently customize almost half of their experience with a wide range of electives and specializations on offer.
The school introduced immersion labs to the program in 2015, offering students the chance to specialize in four key areas and work with world renowned companies like Microsoft, IBM and Iberia, over a five week period.
In the labs students choose between developing their own startups, learning about disruptive technology trends, building their strategic thinking or developing ideas to create a social impact while working with nonprofits. If those options aren't appealing, students can choose to take an internship during the period instead.
A four month elective period follows the immersion labs, which sees students able to choose between as many as 120 elective courses, in topics varying from technology to accounting.
The wide variety means each student is able to tailor the program to suit their interests, which will be beneficial when they look for jobs after graduation, Paula explains.
"Recruiters are looking for the general skills an MBA will provide you with but they are also looking for a certain degree of expertise in a particular area.
"We have made changes in the curriculum to allow for concentration areas so that students can actually specialize during the course."
---
Plans for more personalization
Despite offering a strong level of personalization already, IE has plans to expand its choices even further in future.
Concentration areas in fast growing sectors like healthcare are being explored, and there are also plans to add content in more specified areas like family business.
"We actually have a lot of people from family businesses in our program, so we want to be able to cater for them," says Paula, "there are certain things that are particular and important to them and we want them to be able to specialize if they wish to."
Another key feature IE has recently added is the business extension module. The standard IMBA program lasts for 11 months, and students can extend this by enrolling in a module post-graduation offering additional components such as an internship, another concentration, corporate projects or an exchange program. Offering further choice ensures all students get the maximum benefit from the program.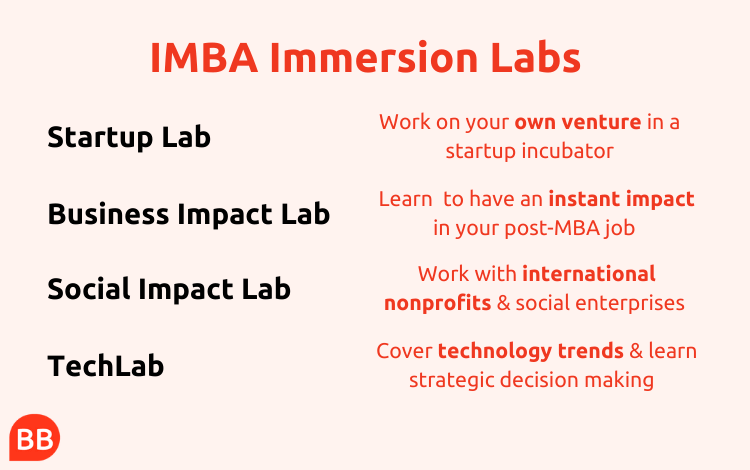 Some students may take longer to decide which area they would like to specialize in, or may change their mind midway through a concentration area, Paula says. In those cases students would be able to extend the program so they could complete all of the content in their chosen specialization without missing out.
"It's just about opening up lots of different possibilities for students, that's what the IMBA is all about," she explains. "What's important for us is to really design journeys for all of these students even before they arrive on campus."
---
Developing sustainable business leaders
As well as providing students with a wide variety of options during their time on the program, IE has also focused on ensuring students are prepared for the current job market with a renewed focus on leadership and sustainability.
As well as offering specialist sustainability options like the business, government and sustainability core course, every IMBA course now contains sustainable learning objectives meaning students learn about different aspects of sustainability throughout the entire program.
"The hope is that in the future we won't talk about sustainability, we will just live, breathe and understand it, and embed it into our everyday," Paula explains. As a mark of its commitment to sustainability, the school has also announced a 10 year sustainability challenge, looking to rethink its own practices and uses of plastics and paper.
Being able to promote sustainability in the companies they work in after graduation requires students who are strong leaders, and the school has sought to promote this with a new specialist leadership program, designed in collaboration with a board of senior executives in industry, as well as faculty members.
The Transformational Leadership Program takes place over six months, and begins before students even set foot on campus. New students are sent assessments to complete which analyze their skillset, leadership style, and sector interests. The program is then delivered through a mixture of group coaching sessions and soft skills training, covering subjects like agile thinking and managing complexity.
For Paula, this has been another chance for the school to innovate the program, while adding further personalization to the students' experience,
"IE has always had big dreams," she says, "innovation, entrepreneurship, and sustainability have always been a part of us."
Related Content: