MBA case competitions are a mainstay of the business school experience. These events challenge teams of MBA students to tackle real-world business problems within a strict time limit, and reward successful competitors with recognition and cash prizes.
They also make excellent training grounds for the skills you'll need in a post-MBA career. To find out what you'll get out of an MBA case competition, BusinessBecause caught up with the Nanyang case competition team from Singapore's Nanyang Business School at Nanyang Technological University, Singapore.
Lyla Wang, Sai Krishnan Sundaram, Muthamma Ganesh Malanda, and Julia-Adrienne Leuchtgens placed third at the John Molson School of Business International Case Competition (ICC) in 2020.
Here are five ways they say their MBA case competition experience made them more employable.
---
1. Strategic problem-solving
Training for an MBA case competition is a great way to test and develop your problem-solving skills.
During each case, you and your team will be challenged to create an inventive solution to a business problem, testing the strategy skills fostered by your MBA.
"The case competition is essentially the culmination of everything you've learned at business school," notes Sai. "You need to think of everything you've learned—and there are a number of ways to approach a case."
During the ICC at John Molson, Sai and the team grew their problem-solving skills in a very short space of time. After losing their first round, they were inspired to take a step back and trouble-shoot their performance.
"The initial loss was unexpected, but afterwards we reflected as a team on what we could have done differently—so failure early on made us a stronger team," Lyla recalls.
"We even developed a bit of a fan base among people who had seen our growth," says Muthamma with a laugh. "It felt like we were the underdog story."
---
2. Working with uncertainty
During a case competition, teams must develop a solution using only the materials provided—with no access to the internet or the outside world. This means learning to work with considerable uncertainty.
"Everything you recommend has to be based on limited data," explains Julia. "This changes your perspective. You have to pay attention to every single detail and think on your feet."
This attention to detail is an important skill in her current role as business designer at digital innovation consultancy MING Labs, where bringing together information across functions is crucial.
Having access to limited information also mimics certain real-world business scenarios, Sai notes.
"Being able to capture fine details and respond accordingly is an important ability you take from the competition," he says.
---
3. Communication
Communication is a crucial skill for MBA grads today. According to research from the Graduate Management Admission Council, 80% of employers rank interpersonal skills as the most important ability a business school grad can possess.
For the NBS team, giving presentations in the high-pressure environment of a competition was a steep learning curve.
When they first began practicing, Julia recalls, they paid little attention to details like pacing and which team member would address each audience question.
"But over time, we developed so many small signals between the team—from where we stood on stage to who spoke when," she says.
"Developing that stage hygiene freed our minds to focus on the content of our presentation."
Lyla adds that these presentation skills come in handy day-to-day in her post-MBA role as product localization manager with tech giant, Apple.
"It definitely helped me to communicate and influence others more effectively," she says.
---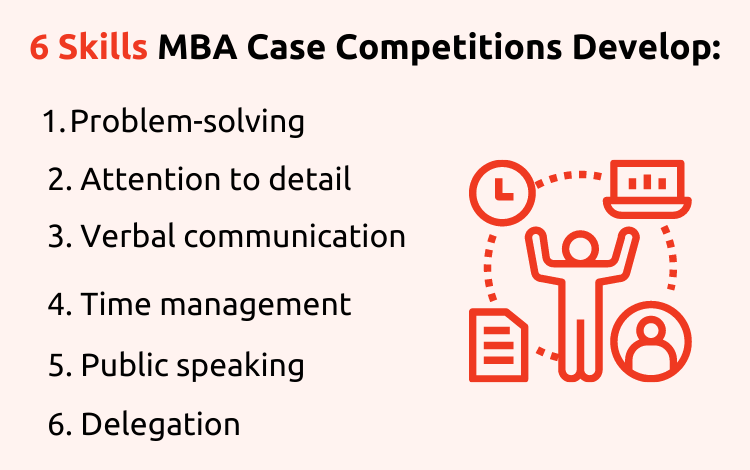 ---
4. The ability to thrive under pressure
The high-stakes environment of a case competition also gives you the chance to practice working under pressure.
Teams have three hours to familiarize themselves with a case, develop a solution, and decide how to present this solution to a panel of judges.
The ability to work well under pressure helped Sai land his post-MBA role of product manager with Workato, an automation integration company in the Saas B2B space.
"The case competition gave me practice working under pressure within strict time limits—and this experience came through during job interviews," he says.
---
5. Confidence
Taking part in a case competition can equally support your personal development, Muthamma reflects.
"For me, the biggest takeaway was confidence," she says. "Now, I believe in my ability to work closely in a team, structure my thoughts, and be articulate when I present."
This is vital in her current role in product strategy with crypto trading startup, Zipmex. In this startup environment, Muthamma must communicate across functions, and with key stakeholders, on a daily basis.
Being supported by your team and receiving positive feedback from judges is a great way to give your confidence a boost. And confidence is a crucial attribute for leadership success post-MBA, Muthamma believes, helping you hold your own in discussions with senior leaders and experts in your organization.
For Muthamma, Lyla, Sai, and Julia, taking part in the case competition was a highlight of their MBA journey.
"It's a great opportunity and I'd definitely recommend it," Lyla notes. "If you participate and put in the effort, it can help you grow in more ways than you can imagine."
Related Content: