Traditionally, full-time MBA programs in the United States are completed in two years. But one-year MBA programs are on the rise in the US, targeting candidates with clear career goals who don't want to spend too much time out of the workplace.

Nearly 70% of full-time one-year MBA programs in the US reported growth in applications in 2020 according to the Graduate Management Admission Council's (GMAC) Application Trends Survey.

So what makes the one-year MBA a good alternative to a two-year program, and who can benefit the most from it?
---
Who is a one-year MBA for?
While one-year MBA programs in Europe and Asia are designed as equivalents to the two-year MBAs in the US, one-year and two-year MBA programs in the US target different profile students.
Aside from the length of the program and more time available for engaging in activities on campus, the main difference between a one-year and a two-year MBA is the summer internship between the first and second year for students on the two-year program, which allows them to explore various career options.
As a result, the typical profile of a one-year MBA student is someone who doesn't want to make a dramatic career shift that would require work experience over the summer, but rather progress within their current field.
"Summer internships are really there for students who are making large pivots between sectors or between functions," explains Brian Mitchell (pictured below), associate dean for full-time MBA programs at Emory University's Goizueta Business School. "One-year MBA students are trying to accelerate the career path that they're already on, and therefore bring their experience with them."
---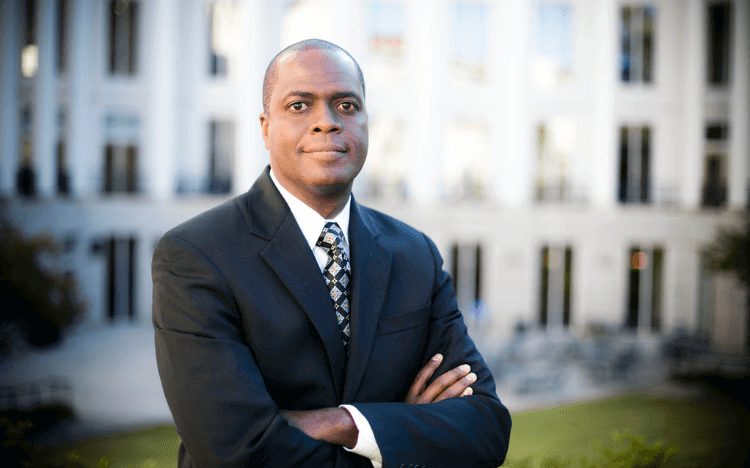 ---
Kritesh Patel fits that profile perfectly. A consultant in the real estate industry prior to his One-Year MBA at Goizueta, Kritesh wanted to refine his skills and expand his horizons, while building on his existing experience in the consulting world.
An Atlanta native, Goizueta was an obvious choice for Kritesh. Atlanta is home to various Fortune 500 companies including Coca-Cola, Delta Air Lines, and The Home Depot. "I felt it was great to go to business school in a city that had such a strong corporate presence, and a strong corporate relationship with the school," he says.
Kritesh now works in management consulting at EY-Parthenon, focusing on corporate strategy and mergers and acquisitions in healthcare.
---
One-year MBA networking opportunities
For Kritesh, one of the best aspects of the program was the close-knit cohort. "I think Emory does a really good job of recruiting like-minded people from diverse backgrounds that they know will mesh well in the classroom together," he says. "That really enhances the experience."
Goizueta's one-year MBA class of 2022 is 51% women, 22% international students, and 39% of students identify as African-American, Hispanic, or Native American.
Collaborating with people with such different perspectives and aspirations helped Kritesh (pictured below) develop his teamwork skills, which are essential in his current role as it involves working with multiple teams on various projects simultaneously. "I've really learned how to work with different people and personalities, and that's been very helpful for me thus far in my career," he reflects.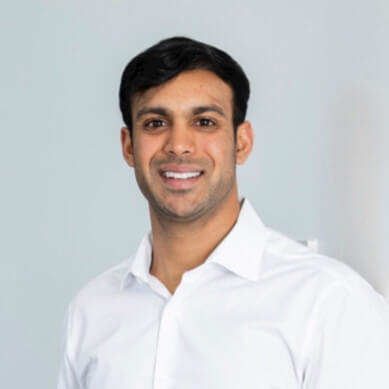 Although in a one-year program you spend less time with your classmates overall, Kritesh still feels he was able to create lasting bonds. "It's a small cohort, somewhere between 50 and 60 students in our one-year MBA program, who get to know each other extremely well," Brian adds.
"You may not have tens of thousands of alumni out there, but the alumni who you do have access to are going to call you back, they're going to reply to your email."
One-year MBA students at Goizueta also get an additional opportunity to network with fellow classmates and recruiters over the summer, while their two-year counterparts are pursuing internships.
This is known as the 'Summer Experience', an intense summer program of networking sessions, company field visits, and leadership training, which Kritesh describes as a sort of 'bootcamp'.
"While all of the two-year students were off at their internships, we had free rein over the entire campus and access to all the professors," he recalls. "That personalized attention was very valuable in our development."
It's during that time that Kritesh got in touch with Goizueta's Career Management Center, which helped him develop a career roadmap. He credits this service with helping him secure his current role.
---
One-year MBA: The most cost-effective option?
The cost-effectiveness of a one-year MBA is also a major selling point.
"The first benefit is obvious, it's the price tag," Brian says. One-year MBAs are much cheaper than two-year MBAs, and the opportunities post-graduation are very similar, which means you get the same kind of salary for reduced out-of-pocket price.
---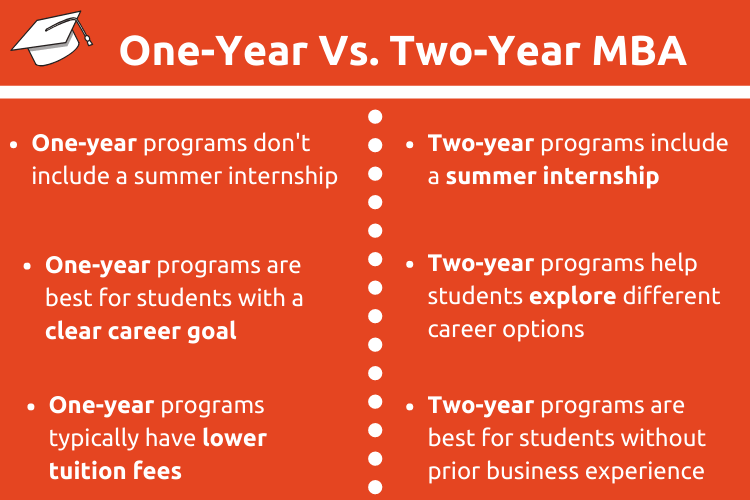 ---
The average base salary of the one-year MBA class of 2020 at Emory Goizueta was $126,463 and 85% of students received job offers within six months of graduation; which was significantly lower than normal due to the pandemic. Three of the most popular career paths for graduates of the one-year MBA program are corporate finance with companies like Amazon and Coca-Cola, strategy consulting at firms like Bain and PwC, and marketing analytics for corporations like Delta Air Lines or UPS.
"The second important component is opportunity cost, or the time out of the workforce," Brian continues. "When you combine that opportunity cost along with the lower out-of-pocket costs, the return on investment for a one-year MBA program is phenomenal."
For those looking to quickly and efficiently boost their career, while building a solid network in the process, a one-year MBA is more than worth it.
Although two-year programs remain the most popular option in the US, Brian is hopeful that the one-year MBA will continue to grow and provide talented professionals a viable alternative to the traditional two-year MBA.
"I wish we were not such a well-kept secret in the US," he says.
Related Content: