Business innovation is at the heart of the success of tech giants like Apple and Amazon. Meanwhile, companies that have failed to innovate in the face of rapid digitalization, like Blockbuster and Kodak, have failed.

So what is business innovation?

Business innovation is an organization's process for introducing new ideas and driving change. It's about spotting gaps in the market or creating new products to address a business issue.

Learning the fundamentals of business innovation is also helpful if you see yourself leading a startup or launching an entrepreneurial venture one day.

Whatever your path, here are four reasons why learning about business innovation is important for your career—and how an MBA degree can help you master it.
---
1. Learning about business model innovation sets you up for the real business world
Business model innovation is when a company adjusts their business model to meet customer or market needs—it's something that happens every day as companies adapt to a fast-changing environment.
On MBA programs, you learn the theory behind business model innovation while getting the chance to put these new-found skills into practice.
In fact, gaining practical business experience was what Val Salomaki (pictured), University of California, Riverside (UCR) MBA alum and co-founder of tech startups EDGE Sound Research and Free Logic Inc., valued most about his MBA degree.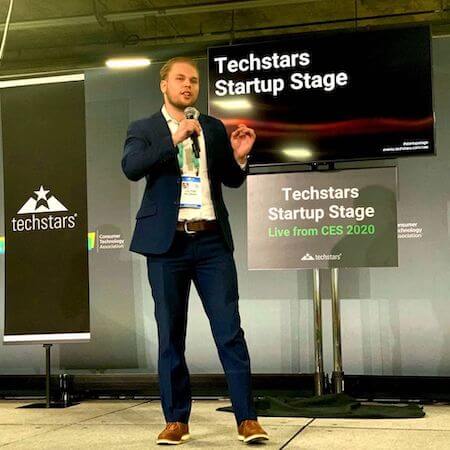 After learning about business model innovation in MBA elective courses like Entrepreneurial Management at UCR, he was able to experience it for himself during the International Collegiate Business Strategy Competition (ICBSC), where teams of graduates from different universities are challenged to develop the best business model.
"The competition allowed me to operate as the CEO of a simulated business, making decisions on finances, operations, human resources, marketing, product positioning, pricing, and more," says Val.
Val continued to develop his understanding of innovative business models while working as a student technician at Esri, a California-based geographic information system software company, alongside his MBA.
---
2. By learning about business innovation, you'll appreciate how innovation enhances all business areas
By learning about business innovation, you'll build a strong understanding of the different areas of a business and how they can interact to drive change. And marketing, operations, and finance—these are all core MBA courses.
Val explains that through MBA courses in Operations Management and General Management at UCR, he learned about the key elements of these areas and how business innovation can enhance operations and management of teams.
Under the supervision of his professor, he even designed two directed studies courses on blockchain application and full stack development. These courses helped Val understand emerging technologies and how to apply technology in a venture.
"When starting a business, it's also important to understand all key business fundamentals from financial modeling, marketing, data analytics, accounting, and business development to be confident in growing from an idea to scale," he says.
---

---
3. You can use your knowledge of business innovation to launch an innovative company of your own
Understanding how bigger organizations use business innovation methods can also help you when launching your own startup.
In fact, while most MBA grads from University of California, Riverside land jobs at bigger companies like Disney and Amazon, almost 10% of UCR MBAs become entrepreneurs launching their own businesses.
Using the UCR Launchpad service, Val was able to get mentorship and access to funding and networking events via TechStars, a world-leading startup accelerator, to help build his startup, EDGE Sound Research.
"Launchpad led to the opportunity to participate in the Blackstone Launchpad Summer Fellowship powered by the Techstars program where I gained advice from entrepreneurs in the Techstars ecosystem," he notes.
Plus, Val works closely with UCR's Entrepreneurial Proof of Concept and Innovation Center (EPIC) to gain funding for EDGE Sound Research.
---
4. By learning about business innovation, you'll engage in innovative entrepreneurship in teams
Business innovation involves leveraging people from across an organization to work in teams and drive new ideas and processes forward. Learning about business innovation on the MBA can, in turn, help you understand how to better work in teams to drive change.
MBA programs too are centered on teamwork and collaborating with people from diverse backgrounds.
Using the networking skills learned through his MBA, Val met his EDGE Sound Research co-founder, Ethan Castro, through his wider UCR alumni network.
Ethan, who is a hard-of-hearing music PhD candidate at UCR, introduced Val to an innovative audio technology system that transforms sound into vibrations to enhance the audio experience. Conversations between Ethan and Val quickly turned into the pair presenting the business at CES, one of the largest tech shows in the world.
What's more, both of Val's tech startups, Free Logic Inc. and EDGE Sound Research, are mainly comprised of UCR alumni.
Whether it's launching a venture or practicing intrapreneurship, understanding business innovation will help you reap success in your future career.
MBA programs offer a great route to understanding how business models and operations work, while providing access to real-life learning experiences where you can see for yourself how important business innovation is for any organization.
Related Content: