You'll probably recognize Copenhagen—the city is famous for its colorful houses and picturesque harbor—but while the Danish capital is renowned as a tourism destination, it also offers a unique study experience for MBA students.

Every year people from across the globe flock to Copenhagen to study. At top institutions like Copenhagen Business School, the typical one-year and full-time MBA cohort is comprised of students from Europe, North America, South America, Asia, and Africa.

Anne-Sofie Rasmussen was born in Copenhagen but grew up in Australia before moving back to study her MBA. "I wanted to explore what the potential opportunities would be and figure out if my life was going to be here going forward," she says.

Now a CBS graduate continuing to live in the city, Anne-Sofie has identified five key reasons to study an MBA in Copenhagen.
---
1. Copenhagen is a city of culture
It's no surprise that Copenhagen offers a vibrant cultural life. It's the reason why millions of people flock to Copenhagen every year—almost 15 million pre-pandemic.
The city is home to a wealth of food and drink spots, museums, and even excursions including boat tours and visits to nearby castles.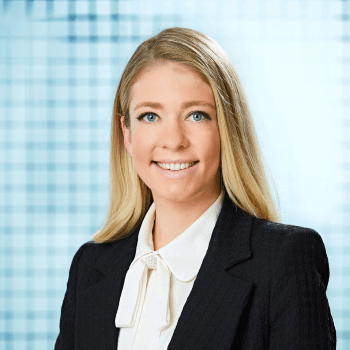 Anne-Sofie (pictured) took advantage of her free time while studying to immerse herself in the local arts and sample the city's drinking culture—Copenhagen is famously the home of Carlsberg beer.
"As the CBS MBA was a one year full-time program it was quite intense and usually you'd be in classes for most of the day," she explains.
"But you do get a lot of flexibility and you have the evenings to spend how you want, that's when you can explore the city and get those classic Denmark and Copenhagen experiences."
---
2. Copenhagen has a thriving business sector
For many MBA students, a key thing to bear in mind when choosing a study destination is the level of opportunity available to gain work experience in the local business sector.
For Anne-Sofie it was no different. She felt studying in Copenhagen—which houses the offices of top companies like IBM, Accenture, Microsoft, and Deloitte—would help her gain experience that could help launch her career.
While studying, she landed an internship with a healthtech firm where she focused on virtual reality (VR) technology. She also had various other opportunities to gain experience during projects and business simulators.
"While studying I had experience working on projects with large companies as well as helping smaller startups to grow, so I got exposure on both ends," she says.
"There's a big learning opportunity while you're in the program, whether it's through advising companies or listening in to board meetings."
---
3. Copenhagen is a sustainability hub
Copenhagen regularly ranks among the world's most sustainable cities. Just 29% of residents own a vehicle, with the vast majority choosing to cycle instead. City officials have also launched an ambitious plan to become the world's first zero carbon capital city by 2025.
Studying in Copenhagen allows you to experience this forward-thinking ecosystem. You can also land opportunities among the many green startups nearby.
That includes firms like Lokalist, which specializes in creating a circular economy for unwanted mobile phones; and Carcel, a slow fashion label employing marginalized women in prison.
"Copenhagen is very big on sustainability and so it's a big focus in the MBA program. There's also a really big focus on entrepreneurship and digitalization, with lots of startups and incubators in Denmark," says Anne-Sofie.
---
4. Copenhagen offers great career prospects
With internships and practical in-company experience available, it's no surprise that Copenhagen offers strong career prospects.
Within three months of graduating from the CBS MBA, 70% of students are employed. That number rises to 100% after six months, with the majority of students landing roles in Denmark.
Anne-Sofie was one of the many students who landed a top job after graduation, working as an associate for big three consulting firm, McKinsey.
"I was pleased I got a good job afterwards, but I think a lot of people landed really great jobs [after graduating]," she says. "A number of my classmates have ended up working with startups."
---
5. Studying in Copenhagen means good ROI
With a host of top companies offering employment opportunities nearby—as well as the opportunity to study in locations across Europe and further afield—MBA students in Copenhagen tend to go on to earn impressive salaries after graduation.
According to the Financial Times, the average MBA graduate from CBS sees a 47% increase in their salary between enrolling and leaving the program. The program ranks among the top 50 worldwide for value for money.
While a key factor in this are the employers who recruit from the program—Amazon, Bain & Company, KPMG, and Nestle, for example—the program's relatively low tuition fees mean you can expect a strong return on your investment.
The CBS MBA costs around $50,000 for tuition, but within three years of graduating from the program, alumni average salaries sit at around $102,000. That means you can expect to pay back the cost of tuition in a relatively short amount of time. Additionally, the school offers a range of scholarships to assist in financing your MBA.
For Anne-Sofie, enrolling in the program was worthwhile. "You might not reap the benefit in terms of making the money back in the first year after the MBA," says Anne-Sofie, "but it will give you benefits that will be ongoing throughout your career."
Student Reviews
Copenhagen Business School (CBS)
Related Content: