Pursuing an MBA is a significant step towards advancing your career and gaining a global perspective in business management.
However, the MBA application process can be highly competitive, requiring careful preparation to build a compelling application.
BusinessBecause spoke to Cristian Giraldo, a current International MBA student at emlyon business school IMBA in Lyon, to learn more about the application process and his tips for future candidates.
---
1. Research thoroughly before applying
Before diving into the MBA application process, it's best to research potential universities and their respective programs.
Cristian explains how thorough research will allow you to find the right school, and help you curate the best application possible.
"I looked at the Financial Times, Economist, and QS rankings, and used information, like [fees], the average salary of the post-MBA graduate, and the percentage of students employed three months after finishing the MBA," he says.
His research led him to the emlyon IMBA, ranked third for Global MBA in France—and a top 20-school globally for new career opportunities—according to The Economist, with 86% landing a job within three months of graduation.
When selecting a business school, it's important to determine whether the university's programs, teaching methods, resources and values align with your academic and career goals. This research will help you identify the universities that resonate with your aspirations.
"I downloaded all the brochures; checked the criteria, the requirements, and the intakes. And once I had the index, and all the criteria, I planned my application."
---
2. Assess your strengths and weaknesses
Preparing for the MBA application requires a holistic approach to your personal goals, and allowing time to evaluate your strengths, weaknesses—and to work on improving them.
This involves prepping for the various aspects of the application, including the GMAT and the IELTS English-language test, which Cristian had to sit as a native Colombian.
Cristian studied for the GMAT using online resources, including the GMAT club.
"GMAT club is free for any student that wants to prepare for business school. You get the preparation, the books, and a huge database. It's about more than just the resources and quantities. It's about preparing effectively."
Once completed, Cristian supplied his scores to emlyon.
---
3. Align your goals to the business school
As well as acing the tests, to stand out in the MBA application process, it's crucial to showcase how your personal and professional goals align with the university's values and the program.
This is particularly important in the application essays that allow candidates to illustrate their uniqueness to the school.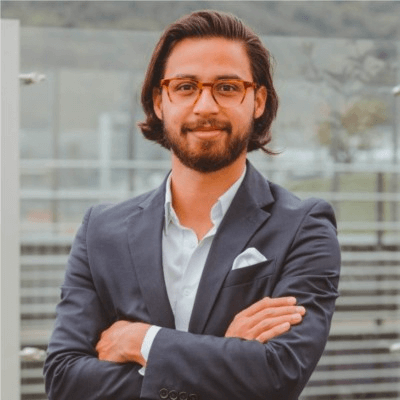 Cristian (pictured) was aided in these essays by emlyon's MBA program recruiter. He reached out to Cristian after he downloaded the brochure, and stayed in contact with him all through his application journey.
"Throughout the process, the recruiter planned frequent meetings with me and replied to any question I had," Cristian says.
Cristian completed three essays to explain why he wanted to do MBA, why at emlyon, and to describe his future professional pathway.
He used these essays to show how the MBA program would complement his existing skills and experiences, and help him to achieve his long-term career aspirations. He conveyed his commitment and motivation to the program.
---
4. Showcase substantial experience
Just as with MBA programs, the MBA typically requires students to have a few years' work experience. During an application, it's important therefore to share your professional achievements, emphasizing leadership roles, projects, and—especially for the emlyon MBA—international exposure.
As a part of the application process, emlyon requires that candidates take a business scenario-based digital test to showcase their managerial and leadership skills.
"The digital test examines your managerial skills in stressful situations," Cristian explains. "You are receiving emails and calls, and you have to handle different stakeholders simultaneously."
For Cristian, this exemplified how important it is to apply to an MBA with the relevant experience, and not before you have built up a strong professional skillset.
"If you didn't have previous experience of managing people or working in stressful situations for a company in the corporate world, the test would be very tough," he says.
---
5. Be specific about why you want to join the program
One of an MBA application's most critical aspects is articulating why you want to join the program. For this, it's best to avoid generic statements and focus on specific aspects of the program that appeal to you.
During the digital test for emlyon, there are four questions that candidates have to answer within a set time that focus on these specifics.
Cristian says: "The four questions in the test were: 'Why me?'; 'Why an MBA?'; 'What are my long-term goals after the MBA?'; and, 'How is this MBA going to help me to achieve them?'"
The questions are designed to show how much thought you've given the program, and are your opportunity to demonstrate your interest in the specific course.
Additionally, when answering, you can explain how the program will bridge any knowledge- or skill-gaps, and can contribute to your long-term career vision.
"It's a well-designed screening process to check that the candidate has the right motivations to apply," says Cristian.
"Before applying, I questioned if the school was the right-fit for me, and if I was going to get the best out of the program. In my case, it was clear. So, my advice is: before you apply, take your time to reflect on why you want to not only study an MBA, but this specific MBA."
Related Content: