HEC Paris, a global top 10 MBA, is an international cohort of professionals with 94% of the current MBA class hailing from abroad, and a growing source of talent for recruiters from the world's best consulting firms—27% of 2019's graduating class entered the consulting sector.

The school was founded in 1881 by the Paris Chamber of Commerce and Industry and is one of France's oldest elite higher-education Grandes Ecoles.

In recent years the school has shot up the Financial Times' Global MBA Ranking too. HEC Paris has been floating around the top 20 for the past five years, placing 16th in 2015, and 20th in 2017. This year, the school broke into the top 10, placing ninth.

Nearly 4,000 graduates from the school are currently CEOs, CFOs, or have founded their own companies. HEC Paris has graduated more CEOs of Fortune Global 500 companies than any other university in Europe, according to the 2017 Times Higher Education Alma Mater Index.

So, what kind of return can you expect from the HEC Paris MBA?*
---
Companies hiring HEC Paris MBAs
---
Top companies hiring HEC Paris MBA graduates included McKinsey & Company, Amazon, Bain & Company, Schneider Electric, Uber, and L'Oreal. Grads also landed jobs at AstraZeneca, GE Healthcare, Deliveroo, and Google.
MBA consulting jobs in particular are hot property in the world of graduate management education. An industry that takes graduates around the world, boasts huge salaries, and is an amalgamation of everything MBA students have learned during their studies often offers the best return on investment for business-school alumni.
It's a sector that the HEC Paris MBA class of 2019 flocked to, with 27% of graduates entering the industry—up from 18% in 2017 and the most popular destination in 2019. Those that did choose consulting joined the 92% of students who found employment within three months of the MBA.
---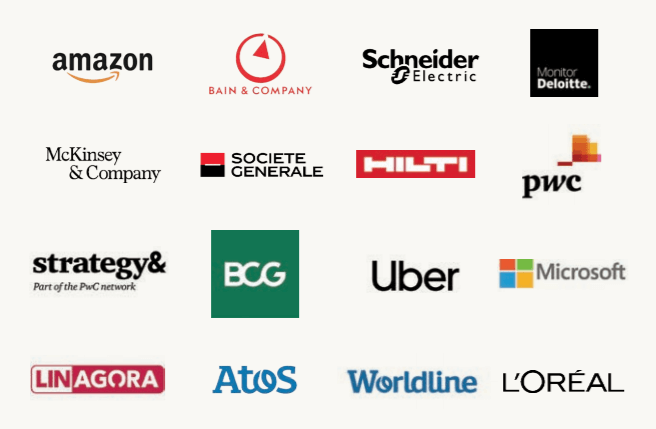 ---
The knock-on effect of a growing number of students entering consulting is that the HEC network within the industry is broadening. A strong consulting network means the HEC Paris MBA can offer students who are keen on entering the industry guidance and connections that could help propel them in the right direction.
Consulting jobs weren't the only thing on the agenda though, as 19% of graduates entered financial services and 16% the technology sector.
---
HEC Paris Class Profile 2021
---
HEC Paris: Popular MBA jobs
---
After the traditional triumvirate of consulting, financial services, and technology, 7% of students in 2019 entered both manufacturing and retail, with 6% entering the energy and healthcare sectors.
The consumer packaged goods sector snapped up 4% of the HEC Paris MBA's class of 2019, with real estate and transportation & logistics taking 2% each. 1% of the graduating class entered government or non-profits.
The most popular MBA job function was also consulting, with 30% of the class finding a consulting role. Following closely were marketing and sales (23%) and finance and accounting roles (20%).
14% of the MBA class entered a general management role, 6% started working in IT, 4% in operations or logistics, and 2% in human resources.
HEC Paris is the MBA for career changers. Out of the 239 graduates, 82% changed the sector they were working in after the MBA, with 70% of students changing their function, and 64% changing location. Over a third (39%) completed the fabled MBA triple jump, changing all three.
---
Average MBA Salaries
---
The year-to-year average salary increase for graduates is also a strong magnet for prospective students, with financial return on investment one of the driving factors behind school choice.
Return on investment in the form of a salary increase is high on the agenda for prospective MBA students when choosing where to attend business school. If a salary boost is high up your MBA checklist, then HEC Paris could be the school for you.
On average MBA graduates from HEC Paris doubled their pre-MBA salaries in 2019. The overall mean annual salary for graduates has increased over the past three years from $112,800 in 2017, to $120,700 in 2018, and $128,206 for the most recent graduating class of 2019. Last year's class also received an average sign-on bonus of $24,423.
HEC Paris MBAs who entered the healthcare sector earned on average the most compared to their peers, with the mean annual salary for grads hitting $157,575. The median salary was $130,933 and average sign-on bonus was $50,278.
---
HEC Paris MBA graduate job destination (%)
---
The median salary for grads entering consulting was $120,046, with an average annual salary of $127,816 and a sign-on bonus of $22,383. Finance paid graduates an average annual salary of $113,858, with the median $115,350, and a sign-on bonus of $23,815.
The technology sector, which hired the third-highest number of graduates from the MBA class of 2019, paid students an average annual salary of $104,258, with the median salary being $100,430, and average sign-on bonus of $19,856.
There were also strong average annual salaries for graduates entering the consumer packaged goods industry ($117,043), energy ($112,937), retail ($106,472), and manufacturing ($104,527).
Graduates who left France after their MBA and landed jobs in North America earned on average $186,922 per year, more than any other region. The median salary for students who landed jobs there was $147,360. Asia was the next most lucrative region for graduates, with students who took jobs there earning on average $143,376 per year.
That was followed by the Middle East/Gulf region, where students earned an average annual salary of $132,028, South America ($122,603), France ($103,465), and the rest of Western Europe ($102,519).
---
HEC Paris MBA Success Stories
---
If you go to HEC Paris, you have a good chance of ending up in a well-paid role at one of the world's biggest companies, as was the case with Shakti Sanspeur (pictured below), who landed an MBA job in marketing with Netflix after graduating.
Shakti, who grew up in Mauritius, says she was raised to be tolerant and open minded, and to strive to understand the differences between people, cultures, and beliefs—therefore tailor made for the HEC Paris MBA.
"[The MBA] prepared me to understand the different aspects of a business, and to have a broader view of the business world, which is very important," she adds.
It took two roles after graduating before Shakti ended up at Netflix—first as a marketing intern at Orange for six months, and then a year as EMEA marketing project manager for ZOO, Google's creative agency.
Six months after her now husband Johann landed a job in Amsterdam with Deloitte, Shakti began looking there for a new challenge—she soon came across her current role and has been with the company since February 2018.
---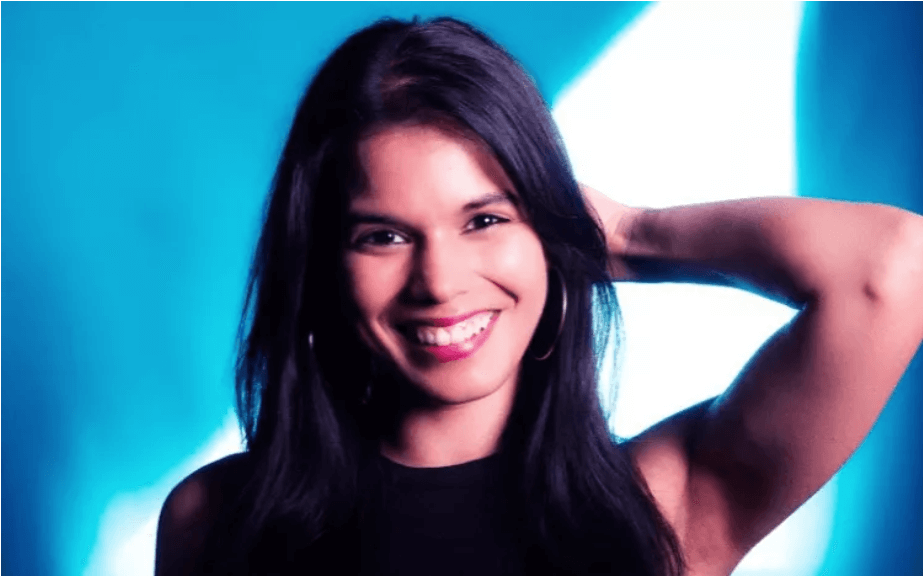 ---
Sometimes the MBA can bring quite a dramatic career shift, as was the case with Shakti's fellow MBA alumna, Jessica Poteet. She swapped a pre-MBA career as a field geoscientist for Chevron in the US, for a role as a program manager for Mice & Men, a software company located in Iceland.
Jessica's interest in business was sparked when she took a business-development role for Chevron, and eventually ended up in their Asia Pacific headquarters in Singapore.
Wanting to make the jump into business permanent, Jessica decided to pursue an MBA from HEC Paris. Find out how the MBA allowed Jessica to change careers.
---
Who is the HEC Paris MBA for?
---

One thing's clear: if you want to change the sector in which you're working, the HEC Paris MBA is for you. This career changing MBA puts 82% of graduates into a different sector than they were working in before business school. Combined with the 70% of students who swap function and the 64% who change location, you'll be surrounded by a cohort of likeminded career changers at the HEC Paris MBA.
There are an array of industries into which HEC Paris MBA students chose to enter after graduation, so don't worry if the traditional triumvirate of consulting, financial services, and technology isn't on your radar.
The HEC Paris MBA will benefit professionals who crave a network of peers across Europe in particular—61% of grads from 2019 landed a role on the continent—but there is definitely a global advantage of studying at the HEC Paris MBA, as students enroll in the program from all over the world. If you want to change sector and launch a career in a new country, the global top 10 MBA from HEC Paris is a no brainer.

*The data in this article is based on the HEC Paris MBA 2019 careers report
Related Content: