IE Business School's International MBA
takes place in the heart of Spain's capital city: Madrid. The school ranks among the 10 best business schools in the world according to the QS Global MBA Rankings.
IE was founded in 1973 and is triple-accredited by AMBA, EDMD, and AACSB.
Notable alumni from IE Business School include Claudio Aguirre, the President and Founding Partner of Altamar Capital Partners, and Karan Gupta, the founder of the Karan Gupta Education Foundation (KGEF) in Mumbai.
The school's focus on business management, entrepreneurship, technology and innovation, strategy, sustainability, and economics and finance makes it an excellent choice for students from a wide array of backgrounds. The one-year IE International MBA program, for example, attracts students with backgrounds in business, engineering, economics, sciences, and humanities.
The program's accelerated, full-time course structure also enables students to personalize up to half of their modules and apply their newfound expertise through practical experiences. To apply, students must have a bachelor's degree and at least three years of professional experience.
So what are your career prospects after graduating from the IE MBA? Here is a breakdown of key industries and locations where IE MBA grads work, the salaries they earn, and the companies who hire them.
---
Popular industries for IE MBA graduates
---
After their MBA, 27­% of graduates from the class of 2022 entered the technology industry, 20% favored financial services, and 17% went into consumer, luxury, and retail.
A further 15% of students landed jobs in consulting, while 14% went into industrial roles.
The IE MBA experience is built upon three key pillars: 'Your Career', 'Your Impact', and 'Your Purpose.' A key focus on helping students launch both successful and responsible careers is reflected in the growing number of students who take jobs in international development and social impact, which amounts to 5% of the most recent graduating class.
The program helped students both advance in their pre-MBA sectors and pivot into new industries. A total of 54% of grads were sector changers, with the remaining 46% advancing vertically.
As part of the International MBA at IE, students can enroll in IE University's Start-Up Lab. The Lab is taught by experienced entrepreneurs and professors, who help students make progress with their startup projects. More than 40% of students enlisted in the Start-Up Lab, and 8% of alumni have started their own businesses after graduating.
As a globally-focused program, grads aren't just limited to Spain when it comes to career options. While 35% of students took roles in Spain, a further 27% landed jobs across Europe and 14% entered roles in Latin America. Students also took jobs in the US (9%), the Asia Pacific Region (8%) and the Middle East (7%).
In total 35% of students returned to jobs in their home countries while 65% are working abroad.
---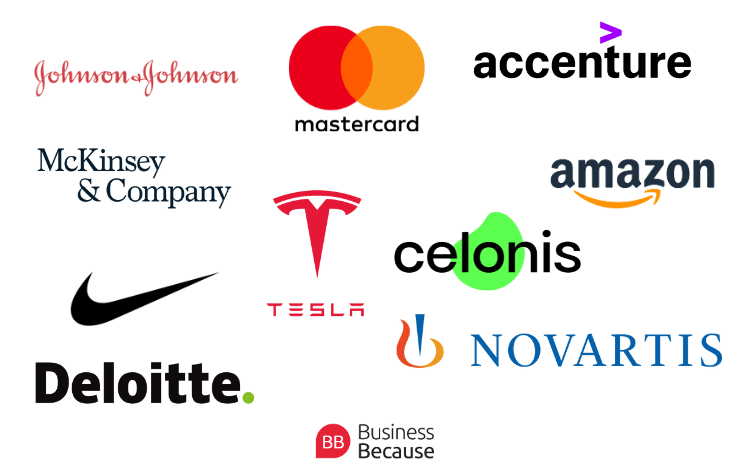 ---
Companies Hiring IE MBAs
---
IE's Talent & Careers Department works closely with recruiters across the globe and provides opportunities for its MBA graduates in industries ranging from finance to technology, healthcare, and consulting.
Some of the world's largest and best-known corporations hired from the most recent graduating class. That included leading tech firms such as Amazon, AWS, and Microsoft. Big Four accounting and professional services companies such as EY, KPMG, and Deloitte. Consultancies including McKinsey and Accenture, and other leading cross-industry firms such as Nike, Novartis, Johnson & Johnson, and Mastercard.
On top of that, students were placed in IE's extensive network of over 70,000 alumni, who span more than 165 countries worldwide.
---
IE MBA Graduate Career Destinations (%)

Average IE Business School MBA salary ($)
---
When considering an MBA, applicants should find out whether they can expect a good return on investment (ROI) by factoring in average earnings from past graduates.
Tuition for the IE Business School MBA costs €82,300 ($89,800). When comparing this with the ROI of alumni, the average annual salary for the class of 2022 is around $113,000.
The highest earners are graduates in architecture and real estate, who take home around $130,000 on average. Those in consulting earn approximately $126,000, while financial services industry graduates earn around $125,000 on average.
Graduates working in consumer, luxury and retail earn just over $119,000 on average, and technology workers earn around $108,000. Those graduates who landed roles in industry, international development and social impact, and legal services typically earn between $93,000 and $95,000.
The highest earning graduates were largely working in roles in the Middle East and Africa ($149,000) or Latin America ($136,000). Many MBAs also have their salaries topped up by performance and signing bonuses which can vary across industries.
IE MBA Success Story
---
David Harlley began his working life as an engineer but decided to pivot into a new career path via the IE MBA. He aimed to learn key business skills that could help him launch a career where he could make an impact.
After graduating, David became a social entrepreneur, launching a company to offer support and coaching for entrepreneurs in Africa while also curating online content teaching business with purpose. He later launched Third Way Capital, an impact investing firm investing in emerging sectors in African countries.
"Coming to IE was key to taking that long-term view towards business," he explains. "A holistic view was definitely set in my DNA and that allowed me to enter the business world with confidence that I could do some good in the world."
---
Who is the IE MBA for?

---
IE Business School's reputation, networking opportunities, and return on investment provide attractive opportunities for graduates entering the program who either wish to progress in their career or pivot to a new industry.
IE is a popular business school among top employers from around the world, and the MBA will prepare you for a strong post-MBA career, in Spain or abroad.
It could be the MBA for you if you're targeting consulting, finance, or tech. More than 60% of grads enter these three industries. However, the school's remit doesn't end there. If you're looking to enter healthcare, international development, or retail, this could also be the MBA for you.
---
The data in this article is sourced from the IE Business School MBA class of 2022 careers report.
Related Content: