When her parent's company lost 75% of its revenue from a withdrawn government contract, Anne Victor used her MBA experience to help rebuild it. Now, she's researching blockchain technology to help drive change in society and give back to her native Haiti.
The first news came while Anne was studying psychology at Purdue University in the US. Haiti's ruling government changed and Anne's family business—a 30-year-old company which runs inspections and quality control at customs which her father started from scratch—took a huge blow.
The company needed a restructure and Anne felt drawn to help her family out. But, at just 23, she knew she didn't have the experience she needed to make a real difference.
"I decided to do a business master's," Anne recalls. "My father is also president of the Chinese Chamber of Commerce in Haiti. He does a lot of business in China and talks highly of the Chinese people. I thought since I already had some experience in the US, I should do an MBA program in China instead."
Anne had a plan. She would go to China for a year and then return home to Haiti. But once she arrived in Beijing for the Tsinghua-MIT Global MBA Program, things changed.
---
---
A change of plan
Anne applied to a number of top schools in China, but everyone recommended Tsinghua University and the Tsinghua-MIT Global MBA—a collaboration between Tsinghua University School of Economics and Management and MIT Sloan.
Anne received a scholarship from both the Chinese government and Tsinghua to cover her fees. Arriving on campus, at a young age and in a new country, Anne felt she needed to prove herself.
"Most of my classmates were 28 or 29 and they all had amazing backgrounds and experiences! I had to prove myself, not only to others but to myself."
Before classes even started, for three weeks of orientation—getting to know Beijing and the Tsinghua campus—Anne was together with her classmates every day.
While mobile payment is prevalent in China, Anne didn't immediately have a bank card to link to her mobile phone, and hardly anywhere accepted cash. "I was completely dependent on my classmates for those first weeks," she recalls.
"The orientation creates a special bond—the school helps people in China for the first time find a new family," she continues.
"Then, once the card on my phone was activated, my life was a breeze! I didn't speak Chinese, but through my phone I was able to go places and do anything I wanted." Anne did lose her phone once while travelling with her classmates. "That was awful—your life stops if you lose it!" she laughs.
In her corporate finance class, she studied like she never had before, inspired by the "amazing" Professor Hoan Soo Lee. She honed her soft skills during a week-long module at MIT in the US. She worked on group projects, went on a class trip to Mongolia, and visited local companies in Beijing. "From my first semester, I learned so much," she says.
Anne decided to stay in China. She'd start her thesis earlier than everyone else and focus it entirely on improving her parent's company. In her second year, she'd work, research for her thesis, and implement changes to her family business remotely from Beijing.
---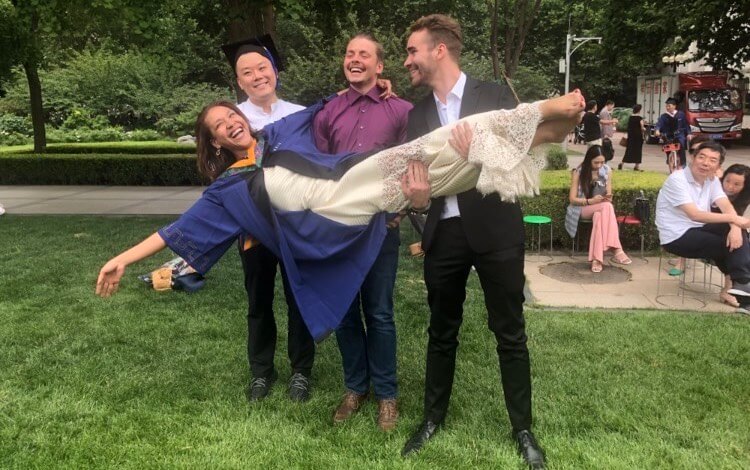 ---
A Chinese revolution
Anne interned at SGS, a global leader in inspection and quality control, while completing her thesis. Using her experience there, she proposed expanding her parent's company's services, across private and nonprofit sectors, to diversify its portfolio. But what she changed the most was the culture.
Haiti is a hierarchical country, Anne explains. Ultimately, the CEO decides everything. From her time at a global company in China however, she saw a different kind of structure; one where the employees had a voice.
She spent a month in Haiti having regular meetings with her parent's company's employees. "They spoke up, shared ideas, and came up with ways of making new business," she says. "We saw improvements to the company that were not expected by me or my parents. They called me and said: 'Your plan actually worked!"
Since her MBA, Anne says the company's profits have increased and they've secured new clients. "When you're in a situation like we were, you can't hire an external consultant; you have to use the internal resources you have.
"I learned that from Tsinghua. Everything is there for you at Tsinghua—the people, professors, the MIT connection, the alumni—but if you don't use them you are lost."
---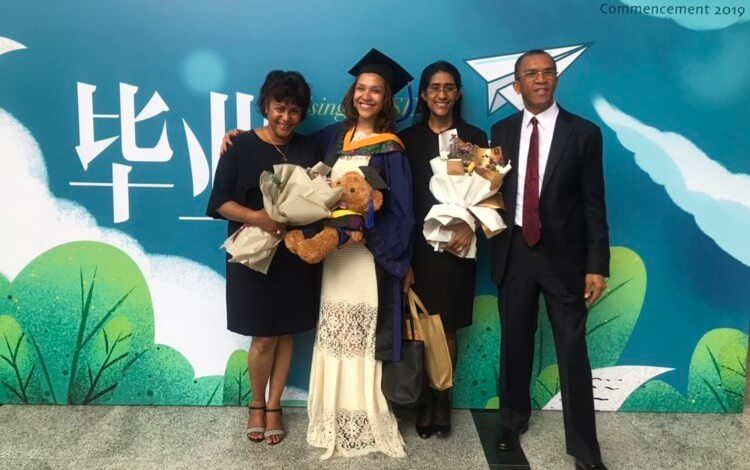 ---
Saving Haiti with blockchain
Haiti is again in a state of lockdown. Political crisis, violence, and protests on the streets are adding to the burden of a country that's the poorest in the Western Hemisphere and still recovering from Hurricane Matthew in 2016 and a devastating earthquake in 2010.
With Haiti in crisis, Anne is staying in China for now. She was one of the first international students in her class to get a job, several months before graduation, when she joined the Oxford-Hainan Blockchain Research Institute as a senior business development analyst.
Anne doesn't speak Chinese, but joined an international team. "There are many Chinese companies who just want international profiles," she says.
Her MBA, the reputation of Tsinghua in China, plus an interest in blockchain helped get her the job. In her first MBA year, she co-founded Tsinghua's blockchain institute. "That raised my credibility," she says. "And when I say to someone in China, 'I go to Tsinghua', the reaction I get is one of admiration."
While her research is confidential, she says it's based on the idea of a digital civilization, exploring how countries like Haiti can use blockchain technology to improve state infrastructure, remove corruption, and foster growth.
Underpinning all her actions, Anne explains, is a desire to use her knowledge to one day drive change back home in Haiti.
"My parents have given me everything that they didn't have as children," she says. "All my life I've seen how much they care for Haiti. If I can help, not only my parent's company but the country, I will do everything I can."
Related Content: