Business schools are determined to create a better gender balance on their MBA programs.

According to the Graduate Management Admission Council (GMAC), women now account for 46.3% of GMAT test-takers, the world's leading business school admission test, up from 39.5% from a decade ago.

The MBA degree in particular is helping women advance their careers, specifically in reaching c-suite and leadership positions, according to non-profit Forté Foundation.

On the MBA at WHU Otto Beisheim School of Management, women made up 48% of the class in the most recent cohort. So how does the program create opportunities for women to ensure that they're getting the same return on investment?
---
"What really matters is inclusion, not just headcount"
---
Improving gender balance in MBA classes is one thing, but diversity isn't just about the numbers, as Christine Menges, director of the MBA Career Center at WHU, explains.
"People talk about diversity, but what really matters is inclusion, not just headcount," Christine says. "It's great that we've got so many women on board, but more importantly we create a culture where they feel appreciated, valued, and included."
Christine focuses on what she's coined the 'Triple M' approach. Firstly, and most crucially for MBA grads, is 'Me'—emphasizing self-reflection for the student to understand their values, interests, personality, and skills. Next is 'Market'—focusing on the industries and the roles available. Finally, 'Match', is the third step that ensures the unique profile and characteristics of each student is matched with the right offering on the labor market.
All students go through this together, and Christine and the team at WHU ensure that they recognize each other's unique strengths and help each other achieve their goals.
This inclusive culture where differences are valued as a learning opportunity is underpinned at WHU by a 'buddy program'. For many woman on the course, this program is an opportunity to focus on their own personal strengths and weaknesses.
"It again comes back to inclusion," Christine says. "Women can be open and frank, including with their buddy. At WHU, every voice can be heard."
---
Diverse career opportunities
---
The industries that MBA grads from WHU work in are diverse, covering automotive, manufacturing, e-commerce, telecommunications, and consulting. But given many of these industries are still male dominated, are women less likely to apply there?
"Some people would think maybe women are less inclined to go into consulting, but this isn't the case," Christine explains.
Consulting accounts for 37% of job functions of all prospective female MBA candidates, according to GMAC—making it the most popular sector. This rings true at WHU, where 29% of MBA graduates go into consulting.
If there's one notable divide, it's technology. One of the fastest growing industries for MBAs, 22% of male MBA candidates intend to go into tech—as opposed to 15% of female MBA candidates. It's a prospering sector with a minimal gender pay gap, and Christine is hopeful the MBA will continue to close the gap.
But regardless of the industry, Christine notes that women are increasingly likely to look for social purpose in their career. In the first week of the MBA program at WHU, all students participate in the 'Future Leaders Fundraising Challenge'—where every day a different student leads a team, generating money for a non-profit.
"The challenge is attractive to a lot of women because it has a social impact, rather than simply profit generation," Christine says.
---
Women in leadership roles
---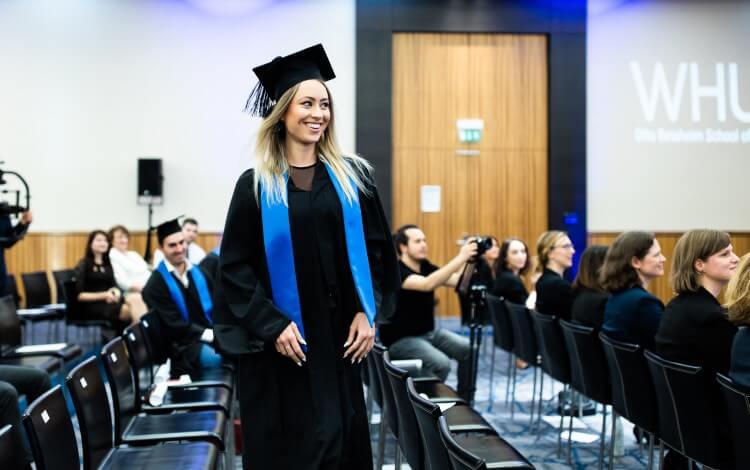 ---
There is still progress to be made, however. As it stands, men earn more from an MBA than women do. Salaries for females increase on average by 63% post-MBA, compared to 76% for men.
This is likely down to men accelerating to leadership positions faster than women, says Christine.
"A lot of traditional corporate structures are very hierarchical," Christine explains. "Studies have shown that women are not as well received as leaders in these environments. One way to change this is to allow both men and women to lead each other as part of their education."
In this sense, equal representation on the WHU MBA benefits the whole cohort. Men and women value each other more as leaders and begin to realize that for leadership, gender makes no difference.
Related Content: