Kevin Leung prides himself on his international upbringing. He describes himself as "made in Hong Kong, reformed in the United States, and transformed in Mainland China."
His China transformation was kick-started by the Tsinghua Global MBA Program, a collaboration between Tsinghua University School of Economics and Management (Tsinghua SEM) in Beijing and MIT Sloan. At Tsinghua, he decided to reinvent his engineering career.
"I had a pretty solid career until 2016, right before I left the US for China," Kevin admits. "But I could see what I'd be doing on the day of my retirement.
"I thought that's nothing exciting! I wanted to do something bigger and create impact on a bigger scale than I thought I could in the United States."
It's partly because of his "transformative experience" on his MBA, that Kevin is now working as director of corporate development at British technology and engineering company Halma, he says, a role which puts him at the forefront of business development in the region.
"As an engineer, I always dream of going where difficult problems are—and those challenges are in China."
---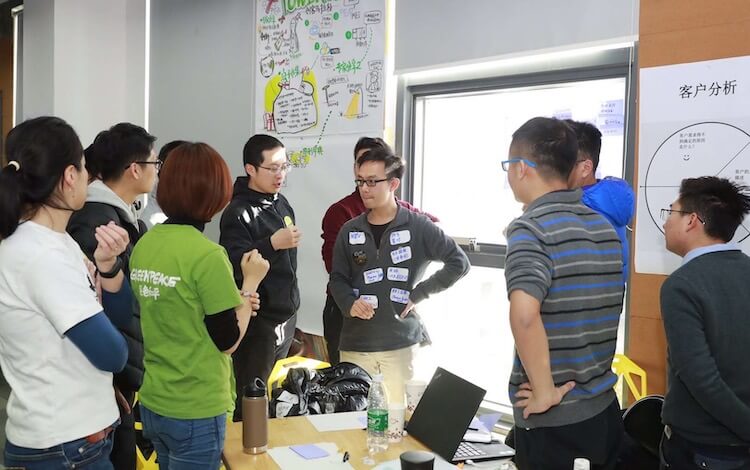 Project work during the Tsinghua MBA
---
Why Tsinghua
Before his MBA, Kevin completed a BS in Chemical Engineering at the University of California, Berkeley and an MS in Chemical Engineering at MIT. He then worked for ExxonMobil in the US as a senior process engineer.
With his background in engineering, it was Tsinghua University's strong technical emphasis that led Kevin to the MBA program.
"Living in China and getting your MBA, you have to learn to become more self assertive, resourceful, self-reliant, and creative," he explains. "Tsinghua is a place that encapsulates this environment."
Tsinghua's MBA is taught in collaboration with MIT's Sloan School of Management, offering students a rigorous academic environment with a focus on Chinese business and economics—a real "immersive environment" which was perfect for Kevin. "I wanted to revitalise my Mandarin and rub shoulders with smart engineers," he says.
During his time on the MBA program, Kevin had plenty of opportunities to get real experience in China—the school even played a part in getting his internship.
"I was able to take what I'd learned in the classroom, including consulting frameworks, and was given meaningful positions to actually lead a negotiation and make recommendations."
---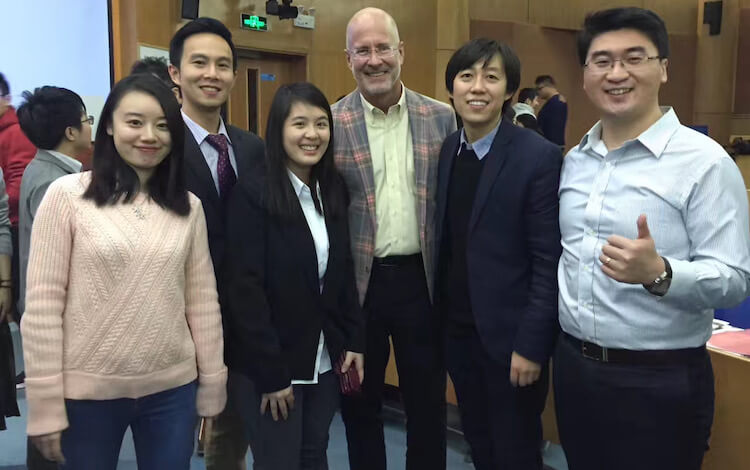 Kevin and Tsinghua MBA classmates with Professor Steven White
---
Aside from an internship, students on the Global MBA program at Tsinghua also partake in an Integrated Practical Project, taking teams of students to some of China, and the world's biggest companies on consulting projects.
"As a team of five, we provided professional consulting services to a German company," Kevin recalls. "That was a very good opportunity to make use of what we'd learned, but under the leadership of a professor at Tsinghua."
Aside from immersive consulting projects, students also get an in-depth overview of global, and local business on the program, following courses including the Chinese Economy in the World and Management of Global Enterprises.
"You've got to keep your head down and work as hard as you can, but this sink or swim environment was really transformational," Kevin says. "I have to say everything I'm doing now, including my mindset, is essentially an extension of my MBA thesis."
---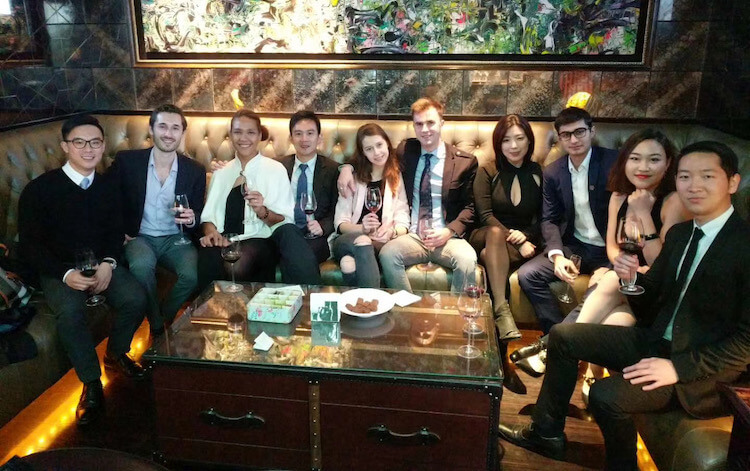 Tsinghua MBA class dinner
---
Revolutionizing global healthcare
At the time of speaking to BusinessBecause, Kevin Leung has just got back from recruiting for his current company, Halma, at Tsinghua.
"This is the first year but will not be the last!" Kevin iterates. "Next year we'll go back and focus on hiring more talent, especially in Asia Pacific."
Halma are a global group of technology companies, who create products designed to save lives. "We actually make devices that help restore defective hearts, but also sell water cleaning devices used in disaster zones to ensure that people have access to clean water," Kevin explains. "These were even used in the aftermath of Hurricane Katrina."
As a director of corporate development for the company, Kevin is responsible for identifying "attractive markets to invest in" around the world—which includes Asia.
"There are several signs that it's a great time to invest in the region," he adds. "In China particularly you have demographics interested in sustainability issues, as well as the rise of the middle class. Halma's unique positioning in the market of health and safety means we're very well placed to ride on the back of these trends.
"We have a very good story to tell the world, which is why I decided to join the company."
---
Tsinghua's x-lab is a startup accelerator for student entrepreneurs
---
What the future looks like
After Kevin's self-described transformation in China, his story in the region doesn't end there. "I'm still trying to figure out the fourth chapter of my life," he says, "but for now I'm in China."
He cites "continuous and pragmatic reform by the Chinese government" as one of the reasons business in the country is sure to boom.
"China is going through this opening up process," he reflects. "The country is now much more committed to increasing foreign access to its market, and creating a level playing field for foreign companies like Halma."
How does Kevin feel having left his engineering career for a much more business-focused role?
"At the core, I'm still a problem solver who believes in science and technology" he attests, "and using technology that enables our world to become a better place.
"Growing up, I was inspired to become a scientist, but science cannot solve all the problems in the world," he adds. "You have to put a scientist, an engineer, and a salesman in the same room to discuss and debate to create robust solutions."
Related Content: