Alex Rudnicki lives in Beijing with his wife and three cats. On conference calls with government officials and executives from top multinational firms for his job at Chinese tech giant JD.com, a stray cat has been known to walk across his video screen.

Alex was in Thailand during the Chinese New Year when coronavirus, or COVID-19, first broke out in China. His boss allowed him to stay, but as the virus spread he returned to join his wife in Beijing. Just weeks later, China closed its doors refusing entry to non-Chinese nationals—Alex still has friends stuck outside the country.

In Beijing, he says, life is basically normal. The city never had a Wuhan-style lockdown. Even at the peak of the crisis, people were still able to leave their homes taking the usual precautions—masks and temperature checks in public places.

If anything, work has gotten busier during the coronavirus pandemic. JD.com is the largest retailer in China and the third largest internet company by revenue in the world after Amazon and Google. Governments and companies across the world have looked to China, and JD.com, to source masks and other personal protective equipment. "It's been a little crazy!" Alex smiles.

As associate director of JD.com's International Corporate Development team, he's committed to driving the company's international expansion. It's a dream job, he says, and one he owes "one hundred percent" to his MBA.
---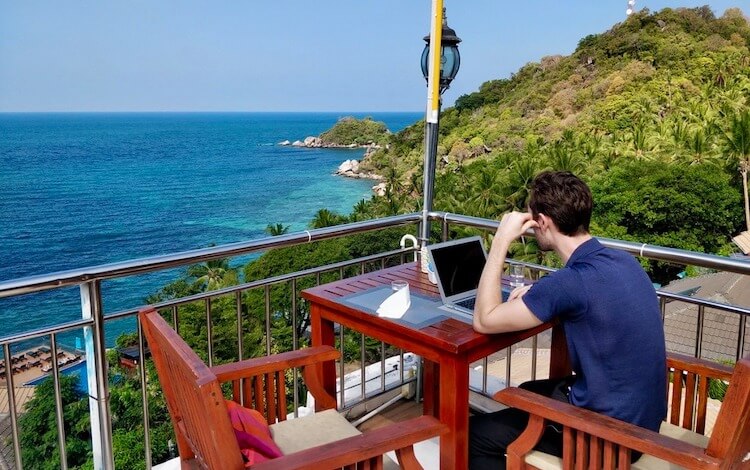 Alex's home office during Chinese New Year
---
Why do an MBA in China?
Like many of his peers, after studying business and economics at undergrad, Alex thought he'd pursue a career in finance and become an investment banker. But in 2012, the US economy was still struggling with the aftermath of the financial crisis, and getting a finance job was tricky.
Alex got into digital advertising sales at reviews platform Yelp in San Francisco's Silicon Valley, where he learned how to sell and managed a team of 14 people. Considering whether to pursue a future promotion to sales director, he decided the time had come to take his career in a different direction. Alex saw an MBA as an opportunity to pivot his career to do what he really wanted to do: take up a strategic role in a technology company.
Alex knew about the Tsinghua Global MBA at Tsinghua University School of Economics and Management before enrolling. His now father-in-law is Steven White, associate professor of entrepreneurship and strategy at Tsinghua.
---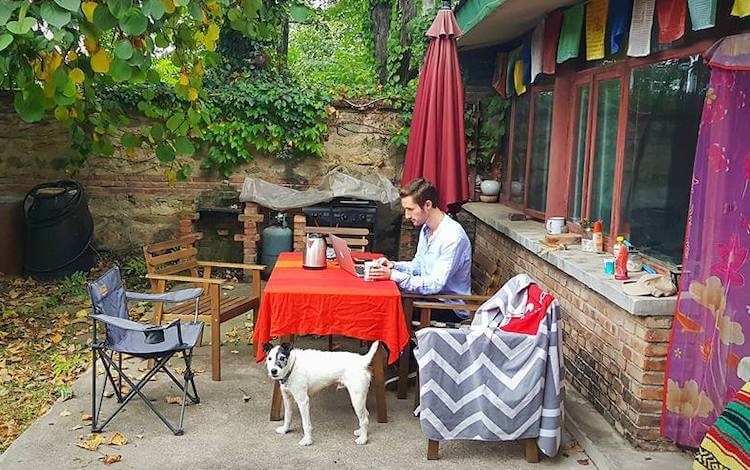 Alex writing his thesis in a small village by the Great Wall
---
The MBA program is also run in partnership with MIT Sloan, giving students the option to go to MIT to complete a dual degree (Tsinghua MBA + MIT Master of Science in Management Studies) in their second year.
Alex compared Tsinghua to other international schools and US schools like Stanford, but with the added bonus of a full tuition scholarship and support from the Chinese government, Tsinghua stood out.
"It was also clear to me that the world's economic center was shifting to Asia," he explains. "At the time, I only really knew about China from reading the Economist and discussions with my father-in-law, so I thought: What would my experience be like if came to Beijing?
"I'd always wanted to live abroad and the MBA seemed like the ideal way to kickstart an international career. My thought was if I go to Tsinghua and China is a terrible fit, I will go to MIT for the second year and I'll be back in the US. I'll have two excellent brand names on my resume; I'll have had an interesting experience; and I'll be able to go back to Silicon Valley and do something more strategic in tech. Any downside was completely capped.
"The upside was: What if this is a game-changing career move and the MBA is the way I can unlock that?"
Three days after getting married, Alex and his wife left their home and jobs in San Francisco behind. "We went straight from our wedding to honeymoon in France," he says, "and literally with the same bags we went to Beijing!"
---
China MBA experience
Alex arrived in China on a tourist visa three months before the Tsinghua MBA program started, using the time to take Mandarin classes five days a week. Even so, his first few months in Beijing, with little Mandarin, were a challenge. "The first time we went to a store, it took us maybe two hours to translate labels and know what the heck we were buying!" Alex laughs.
"Finding communication difficult was the fuel to study every day. I also found the best method to studying Chinese was talking with the Beijing taxi drivers. They are so bored they are willing to humor you even if you're spewing terrible Chinese!"
In the MBA program, Alex quickly benefitted from the close network of MBA students. He says Tsinghua has a good balance of internationals and Chinese students who are both keen to learn from their international counterparts and happy to share their own Chinese cultural knowledge.
"It would take 10 or 20 years for me to learn what I learned in two years from my classmates," he says.
---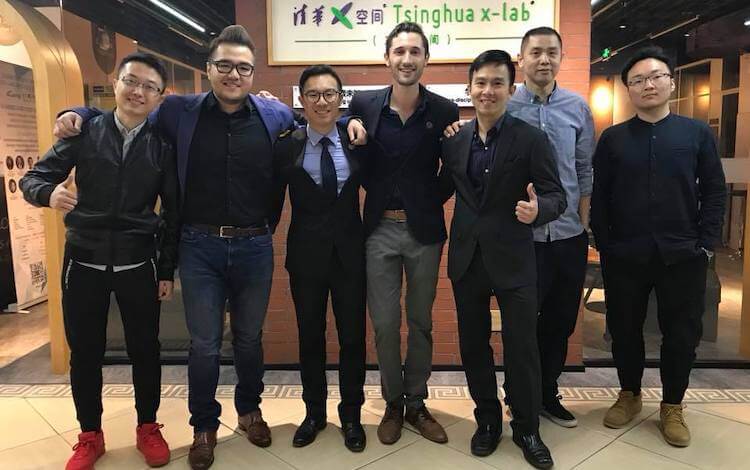 Alex with young entrepreneurs at X-Lab
---
Alex also mentored young Chinese entrepreneurs through X-Lab, Tsinghua's startup incubator, which provides students and alumni with free office space in the Tsinghua Science Park as well as an ecosystem of mentors, professors, industry professionals, lawyers, and investors ready to support them.
He says this experience, plus two MBA classes in particular, set him up for his job at JD.com. One was a class on design thinking by Steven White, which teaches students how to build products and services that meet the consumers' needs by working with social enterprises.
The other was a class on international technology strategy taught by Christopher Thomas, global managing partner of digital strategy at McKinsey and former general manager for Intel in China.
"The first case study we did was on Tencent—known for making the WeChat app—and why they failed to internationalize," Alex explains.
"The takeaway was, to succeed despite the intense level of competition in China they had to gear the entire company towards building products that fit China like a glove, and because China is so different to the West, it's hard for one company to do both well. And, actually, with so many opportunities to disrupt huge industries dominated by the state-owned sector in China, it's still very rational for China's tech giants to be more focused on China than to look at potentially riskier bets overseas.
"That's basically the innovator's dilemma, but for an entire country! I personally experienced that at JD.com as the company refined its international strategy, and Christopher was the perfect person to learn from."
---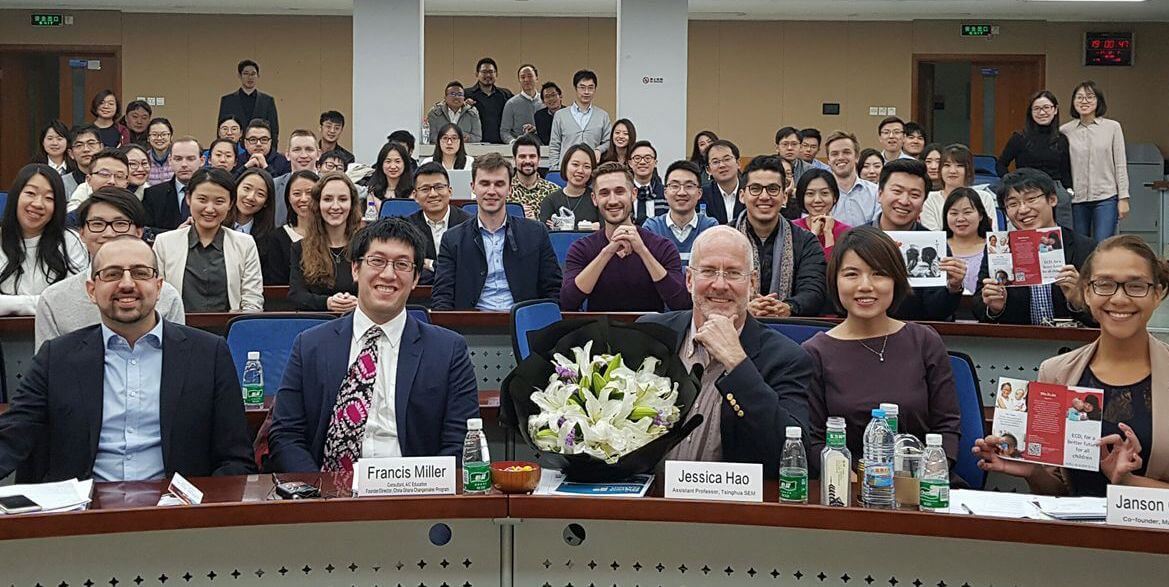 Design Thinking class: Final presentation
---
Dream MBA job at JD.com
Alex knew JD.com was recruiting from the Tsinghua MBA program and, as soon as a job description went live, he was able to get an interview within a couple of days. A week later, he was accepted for an internship.
He started on JD.com's summer MBA internship program, but even as an intern he was leading meetings and working on projects with American Fortune 50 partner companies.
"That showed me that being in China there's a lot of opportunities to level-up your career and do much more interesting things than you would back in America, simply because there aren't that many westerners able to work in the Chinese work environment."
Alex joined JD.com full-time after his MBA, joining their one-year international management trainee rotation program for MBAs. The program gives trainees access to leadership across departments, helps them understand the company's internal structure and motivations of different business units, and eventually to choose the right team and boss to join full time.
In January 2020, he found his dream role in the international corporate development team, where he works with the team to set international expansion strategy, manage strategic partnership launches, and liaise with foreign governments.
---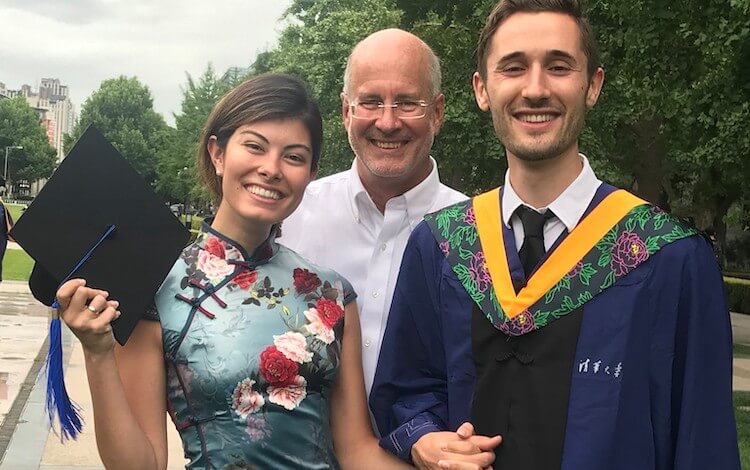 Alex on graduation day with his wife and father-in-law
---
Working in China is different to working elsewhere, Alex says. He's been fortunate that his boss at JD.com—an American fully integrated in China—has helped him to adapt. "I thought people work hard in Silicon Valley; in China it's on another level!" he laughs. "People are happy to make personal sacrifices to make the team goal happen and I am lucky to be working for a boss who respects both hard work and weekends."
For foreigners considering a new career in China, Alex says the decision has to be taken carefully but that the rewards are there.
"This is not the easy way to go about life. It takes a certain type of crazy to pick up from working in Silicon Valley, for example, and move away from that to pursue a career path that requires a large investment upfront in a foreign language and cultural immersion with the goal to differentiate yourself long term," he says.
"But for people with a few years of work experience under their belts who want to build an international career with a focus on Asia, I'm not sure there is a better way to do it than at an MBA program like Tsinghua's. That two-year ramp-up period and network is so valuable to get your feet on the ground."
Related Content: