Living in China means entering a world of digital wallets, QR codes, and paying through your mobile phone. If you're planning an evening out in modern-day Beijing, you can leave your wallet at home.

That's because China is the world's biggest market for financial technology. A record $25.5 billion in fintech deals were made in China in 2018, according to Accenture.

Now, China is increasingly looking to extend its fintech expertise abroad. In late 2019, the fintech affiliate of Chinese e-commerce giant JD.com, JD Digits, partnered with Thailand's biggest retailer Central Group to launch digital wallet app Dolfin.

The Dolfin app allows millions of Thais to make online payments at shopping malls and grocery stores nationwide, invest and take out loans digitally.

Masterminding the app's launch in Thailand is Chen Zhou, part of the overseas business unit at JD Digits and a graduate from the Tsinghua Global MBA Program, offered in collaboration with MIT Sloan.
---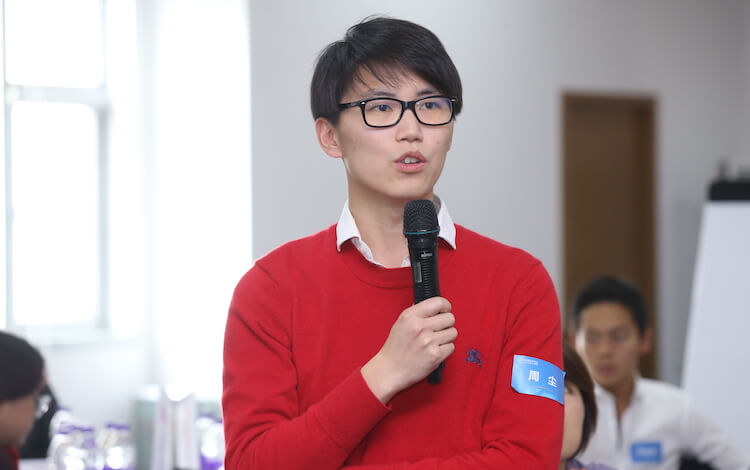 Chen on a corporate visit to Coca-Cola, a Tsinghua SEM advisory board member
---
Getting a top MBA job in fintech
Keen to build on his financial services background and take a step-up to management level, Chen chose the MBA dual degree option at Tsinghua.
After spending his first MBA year at Tsinghua University School of Economics and Management (SEM) in China, he studied for a Master of Science in Management Studies at MIT during his second year, thereby earning the Tsinghua MBA + MIT MSMS dual degree.
In his first year in Beijing, he saw a job posting for JD Digits (formerly JD Finance) posted by a Tsinghua alum. JD had already hired several Tsinghua MBAs, and after speaking to a recruiter Chen saw the company was a perfect match. In his second year, he called the recruiter back.
"They were looking for somebody with international experience, but who also understood Chinese and how Chinese companies operate—and that's basically what I learned at Tsinghua," he says.
"Most people at management level in China have a master's degree. Without it, and the Tsinghua brand and alumni network, I wouldn't have got the job!"
As part of the overseas business unit at JD Digits—also headed up by a Tsinghua MBA alum—Chen's chief focus now is the launch of Dolfin in Thailand. Already, the app has over one million registered users.
Before the coronavirus pandemic, Chen split his time between Beijing and Bangkok, flying out to Thailand regularly to engage with partners and users. For now, he's stuck in Beijing, but the project is still going ahead. The long-term goal is to be like Alipay in China, Chen says; to make Dolfin something everyone in Thailand will have installed on their smartphone.
"We're talking about a cashless society and improving access to money for people in Thailand," he says.
After Thailand, JD Digits is considering expanding to Singapore and Malaysia in Southeast Asia, before looking to the Middle East and the rest of the world.
---

Graduating from the Tsinghua MBA
---
Why Tsinghua MBA?
Chen started his own international adventure aged 16. From his small-town home in Zhejiang province, near Shanghai, he relocated to Canada for high school. He moved by himself and lived with his aunt; a recent immigrant with little command of English. "Everything I did academically and school-related, I did on my own!" Chen recalls.
Chen went on to specialize in accounting and finance at the University of Toronto, before becoming the youngest supervisor at Metrolinx, the Canadian government agency behind PRESTO card. He was involved in various phases of development for PRESTO card—a contactless smart card for use on trains and buses in Toronto and 10 neighboring munincipalities—including product design, testing, and strategy.
"When I first graduated I thought I already knew everything I needed for general business management. But after three years of work, I realized that whatever I learned was not enough," Chen explains.
"When I started looking at MBA programs, I looked at the top schools in the US, but they had a western style which I was very familiar with. After living in Canada for 10 years, I thought: Why don't I go back to China and experience what it's like?
"Instead of going straight into work in China, I needed a bridge—somewhere for me to experiment with different career options, to understand the business culture, and to transition smoothly—and that's why I did an MBA."
Chen says he chose Tsinghua for its reputation in China—Tsinghua is often referred to as the MIT of China—and the fact the business school is closely connected to the wider university. That meant Chen could collaborate with students from the university's other schools, build cross-functional and cross-industry expertise, and develop his network further.
---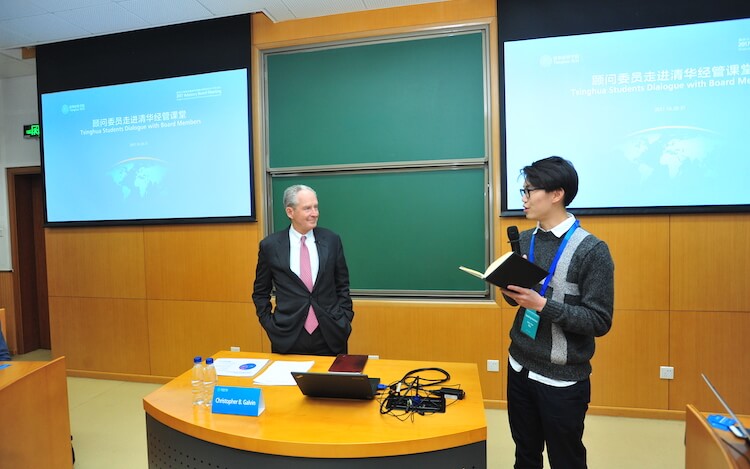 Introducing former Motorola CEO Christopher Galvin at Dialogue with Tsinghua SEM Advisory Board Members

---
Tsinghua MBA | Two Stand-Out Courses
For Chen, two courses stood out most from his MBA experience at Tsinghua:
---
Business Innovation in the Era of Big Data by Professor Chen Yubo
Professor Chen Yubo is senior associate dean, professor, and director of the Center for Internet Development and Governance at Tsinghua SEM. He has a PhD in marketing from the University of Florida, and a master's engineering degree from Southeast University. He's one of China's most cited scholars and has won numerous awards for teaching excellence. His main research areas include the digital economy, big data, and sustainability.
"I still remember the Didi case we studied together in class. The professor was close to the founder and management of taxi-hailing app Didi. After going through the case, he told us everything about the history of Didi in China, the huge promotions and subsidies to change rider behavior, the rivalry with Uber, how the merge happened, and how the company grew amidst regulation changes.
"That was a perfect example of how to combine business theory with real-world business."
---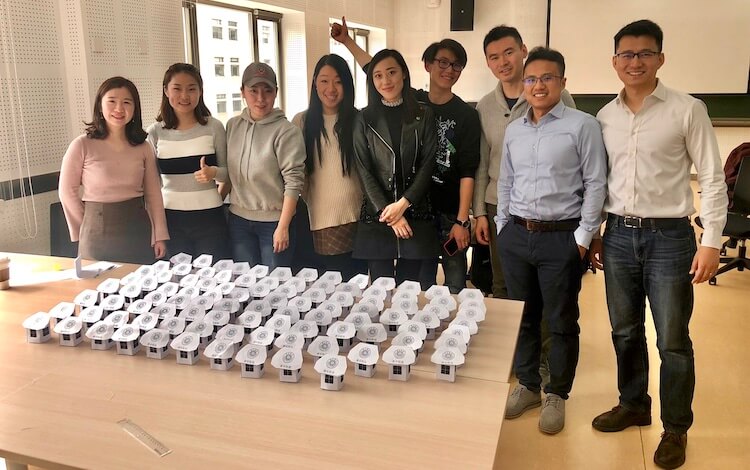 Chen and his MBA classmates win the operation management course in-class activity, setting up a production line for paper houses

---
Business Performance and Sustainability by Professor Qian Xiaojun
Professor Qian Xiaojun is a full professor in the Department of Leadership and Organization Management and a vice chairperson of the Degree Review at Tsinghua SEM. She is a member of the 12th CPPCC Beijing Municipal Committee. She has a PhD and MSc in mathematics from Purdue University. He research focuses on corporate and cross-cultural communication and ethics and CSR. She also teaches Managerial Communication and Data, Models and Decisions on the Tsinghua MBA.
"This course is taught using case-based method with cases authored by professor Qian and teaching team. Every week, the professor invites a leader from the case company to co-teach. Students are expected to read and prepare the case before lecture.
"The three-hour lecture is divided in three parts. First, the case company share with us their recent progress in sustainable development. Then, students ask questions for the case company to answer. In the final hour, the case company shares a current sustainability-related business challenge which students help solve and provide suggestions.
"We solved problems for technology companies like Alipay, manufacturing companies like Flex, the manufacturer for Dell computers and Nike shoes, financial institutions like China Industrial Bank and many more. We learned how good business performance and sustainability can be achieved at the same time in any industry."
---
Outside class, Chen took part in the Asia-Pacific Business Schools Desert Challenge, a 70 kilometer (43 mile) running race through the Tengger Desert in Inner Mongolia. In his second MBA year at MIT, he travelled to Israel, spending three weeks working with an Israeli startup and to understand the "secret sauce" behind Israel's success as a startup nation.
---
---
Tsinghua MBA | Building for the future
It was at MIT that Chen first trialed a startup idea of his own. "This was for an education app where pre-school students explore their cities, complete different missions through scavenger hunt-like games, and learn about sustainability at the same time," he says.
Chen's father runs a major water and waste management company and Chen wants to follow in his footsteps and one day create a business of his own, which both makes money and generates a positive social impact.
From Tsinghua to a job in fintech, Chen's experience to date, he says, is the perfect preparation.
"At JD Digits, I am basically working like a business owner already. I have access to JD resources I can leverage and I'm overseeing the project; from launch, to implementation, to completion. Through my MBA experience, I got that wider exposure to all the different functions in a company, which allowed me to take this project owner role.
"I'm still at a learning stage right now, but from everything I've learned my goal is to one day become a successful entrepreneur."
Related Content: