Lacking in confidence and unsure in which direction to take her career, the person Jenny Huang was before the HEC Paris MBA is a far cry from who she is today.
With no tech experience before she arrived on campus, the 2017 grad is now reveling in an MBA job with Microsoft. She's the customer success manager for Workplace Analytics for Microsoft, in Seattle.
Jenny is tasked with enabling Microsoft's enterprise customers to leverage Workplace Analytics to better understand their employees' work patterns and behaviors, to be more productive, and achieve better business results.
So, how did someone with no experience in tech end up working for one of the biggest technology companies in the world?
---
Start with the HEC Paris MBA
Jenny always had a plan to go abroad and pursue an advanced degree. After multiple conversations with friends she landed on an MBA: the helicopter view of business provided by the degree would open multiple career paths.
HEC Paris prevailed as the school offered strong classroom diversity, a key part of Jenny's MBA checklist. HEC Paris' MBA class consists of 93% international students and 60 nationalities.
When researching the MBA rankings, Jenny adds that the school consistently came out on top for return on investment. HEC Paris broke into the top 10 of the Financial Times' Global MBA Ranking this year—graduates earn on average $164,529 three years after graduation, an increase of 133% on their pre-business school salaries.
Then there was the curriculum, which played an important role in Jenny's personal development.
---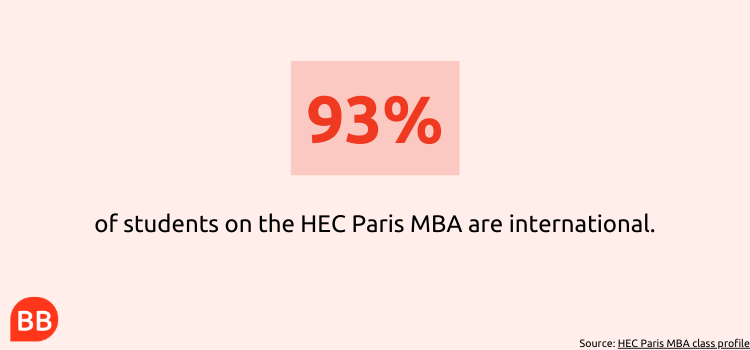 ---
How the HEC Paris MBA prepared Jenny for a career in tech
Before she joined the program, Jenny admits that she was lacking confidence. That changed when she got to business school.
"Coming from Asia we are raised with the mindset to always be humble. The MBA really helped me with my self-awareness and confidence levels," Jenny says.
Two leadership modules pushed her out of her comfort zone and readied her to overcome the challenges she would meet at Microsoft.
First, the program's Off-campus Leadership Seminar led by experts from the French military placed Jenny and her classmates into an environment where they learn to lead a group in situations they've never encountered before.
"We work together as a group to solve problems and overcome challenges in real situations. This really provided us an opportunity to practice what we'd learned in the classroom, as well as accelerate the bonding of our cohort," Jenny says.
The MBA Tournament (MBAT)—or annual MBA 'Olympics'—was another key stage in her personal development. The three-day event brought together more than 15 schools and 1,500 students. Jenny was part of the core organizing team—as the HR vice president she oversaw the event's massive student workforce.
"I learned a lot about leadership, coordination, and conflict resolution through the MBAT, and this is definitely one of the highlights of my MBA."
Constantly working together with peers in the classroom also broadened Jenny's business acumen. She worked with professionals from HR, accounting, finance, tech, and marketing; she developed an understanding of the ins and outs of every business function.
---
Read more HEC Paris stories:
Best MBA Jobs: Uber Hired Me After My MBA At HEC Paris
From Bain To McKinsey: How HEC Paris Is Preparing MBAs For Careers In Consulting
---
Related Content: