When Karan Jain enrolled at HEC Paris, he was keen to switch careers from luxury watches to the technology sector. He's now well into his MBA job at Uber, joining the firm as a project manager in October 2019. The HEC Paris MBA was the catalyst for his career progression.
---
Why MBA: HEC Paris
Karan spent more than four years marketing luxury watches before the MBA. His first role was as Breitling's director for India and South Asia, a career choice he made because the company is renowned for making watches for pilots, and aviation is his absolute passion.
From Breitling he moved to Perrelet as a regional manager for South Asia and the Middle East. All this time though he'd had no formal business education, and that's why an MBA piqued his interest.
Karan was also keen to shift his career in a fresh direction, towards technology and innovation. The luxury watch sector is quite sedate, he explains, and he wanted to work in a more agile, fast-paced environment.
He chose HEC Paris for four reasons. The reputation the school had in Europe impressed him, the 16-month program was more attractive than the traditional two-year programs in the US, and the jobs he saw graduates landing were very appealing.
"Finally," he adds, "the price to performance ratio beat everyone else hands down."
---
---
MBA Jobs: Launching a career with UBER
It was at the start of his fall semester in 2018 that Karan began to target the big tech companies.
He spoke to Microsoft, Amazon, and Apple, but it was during a company presentation that another company truly impressed him. Uber came to the HEC Paris campus and gave students the chance to speak with recruiters and MBA alumni who were employed by the firm.
"Their presentation on campus was eye catching," Karan says. "Then I spoke to the recruiter and he and I clicked.
"A few weeks later I received a message from him to say there were a few roles available with Uber in Amsterdam that might be interesting."
That began the formal interview process, and Karan was successful. He joined the firm in October 2019 as a project manager, and says the opportunity fits seamlessly with what he learned during the MBA.
"When you're in the HEC Paris MBA, you're exposed to so much in terms of innovation and digital transformation. Opportunities where you can apply those skills become really interesting.
"I specialized in digital innovation at HEC Paris, so for me it was the perfect way to use my skills to build something creative."
---
How the HEC Paris MBA prepares students for the tech sector
The big tech companies operate globally and for that reason MBA graduates entering these firms need exposure to diversity, and need to know how to navigate cultural differences. Karan explains that the international classroom at the HEC Paris MBA is "absolutely critical" in preparing students for global careers post-graduation.
The current MBA class of 2021 is 94% international and consists of 50 nationalities. With that mix in the classroom, Karan says that spirited debate is a constant. Students learn to assimilate multiple perspectives that they may not have considered before.
"It leads you to being more open and willing to absorb information from different sources, and that makes you more well-rounded overall.
"At HEC Paris, a lot of emphasis goes into collaboration. We're broken up into groups at the beginning of each semester. The group work fosters a lot of communication and collaboration, because if you don't communicate well, you really don't do well."
Karan adds the key skills he developed and is now using at Uber are project management, problem solving, and soft skills like interpersonal communication and quick decision making.
He was elected President of the MBA Council during the degree program, which helped him refine his leadership and stakeholder management skills, all of which help him in his current role.
---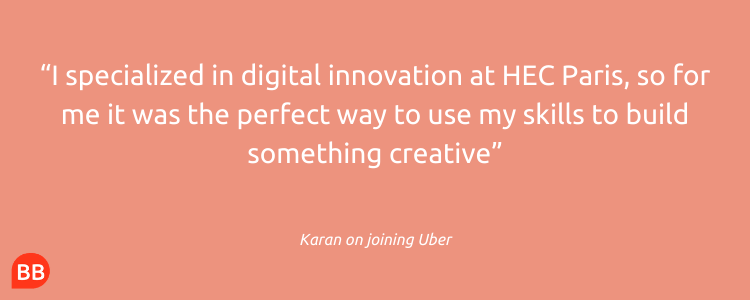 ---
Working at Uber
Uber is "super-fast-paced", Karan says. The culture in which he works revolves around performance, ownership, and taking control of your own projects.
"Nobody is going to come and tell you, 'Okay, here are your tasks for the next six months'. You have overall strategic goals for the company, but if you find something that you can improve, you have to take ownership of it and implement it."
It's customer-focused, and at the forefront of new technology.
"Some of the projects I'm working on talk about communicating better," he explains. "It's about building cultural differences into our communication, creating global guidelines for quality."
Tech has become ubiquitous and is an industry that MBAs have flocked to in recent years. The exposure to project work, multicultural collaboration, and soft-skill development students get during the degree make them a perfect fit for the global world of technology.
It's why companies like Uber are snapping up new graduates like Karan. And it's a trend that is surely set to continue.
---
Read more HEC Paris MBA stories:

From Bain To McKinsey: How HEC Paris Is Preparing MBAs For Careers In Consulting
Best MBA Jobs: Netflix Hired Me After My MBA At HEC Paris