When it comes to MBA jobs in technology, there's San Francisco's Silicon Valley and London's Silicon Roundabout. But have you heard of Silicon Docks?

Located in Dublin's city center near the Grand Canal, the Silicon Docks is home to the likes of Google, Meta, Twitter, and more, as well as a vibrant local tech startup scene. Ireland has attractive options for work visas available which are a big draw for tech superstars and entrepreneurs alike.

Plus, Ireland now boasts six home-grown Unicorn companies, valued at over $1 billion, including Wayflyer, a financing platform for e-commerce brands and Flipdish, an online ordering system for restaurants.

BusinessBecause spoke to Mark Davies, MBA careers manager at one of Europe's leading business schools, University College Dublin's (UCD) Michael Smurfit Graduate Business School, and Caitlin McBride, an MBA alum from UCD Smurfit School now working at Google, to find out four reasons why Dublin is a top choice for MBA careers in technology.
---
1. Big tech recruiters like Meta and Google have made Dublin their home
When Google installed its European headquarters in Ireland in 2002 it sparked a domino effect, and several global tech giants followed to make the move. Facebook, LinkedIn, and Indeed all have their European headquarters in Dublin.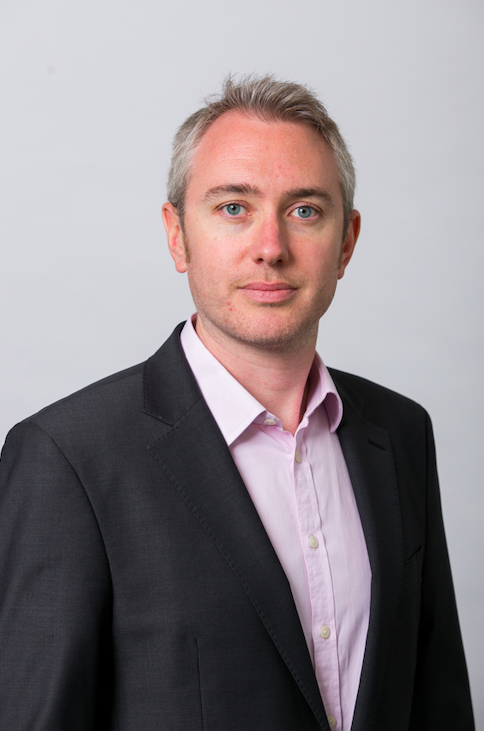 The presence of existing global tech companies has acted as a magnet for other tech-based firms to come to Dublin. There are currently more than 2,300 active tech startups and scaleups in Ireland, with over 400 multinationals and 280+ innovations hubs.
Mark (pictured) calls this the network effect. "There are well-established multinational US tech companies already here in Ireland, which has encouraged smaller and emerging businesses to set up around them," he says.
The tech industry in Ireland is dynamic and energetic, paving the way for sub-sectors to grow and drive innovation, Caitlin (pictured below) explains.
She says the expansion of tech sub-sectors has led to significant growth in AI, robotics, and software engineering, sparking more career opportunities for MBA grads.
"I read a great story last year about researchers at UCD developing AI technology with IBM to support cancer diagnostics at the Mater Hospital. This is just one example of the game-changing developments in improving and advancing society at large, of which Ireland will be at the forefront."
---

---
2. The Irish government invests big in tech innovation, driving MBA careers in tech
A key reason why Dublin is a thriving hotspot in the startup space is Enterprise Ireland—a government-sponsored agency responsible for the development and growth of Irish enterprises in world markets.
Enterprise Ireland invested more than €48 million ($53 million) in 125 early-stage companies in 2020.
"Enterprise Ireland is one of the biggest investors in startups anywhere in the world and the quality of incubators run from Dublin's third-level institutions are second to none," says Caitlin, who works as an agency account strategist at Google.
For budding entrepreneurs, studying an MBA and starting a venture in Ireland could stand you in good stead to receive funding early on in the venture process.
The UCD Smurfit School MBA includes a core module focused on Entrepreneurship, and is designed to introduce students to entrepreneurial thinking and action, helping them nurture their ideas and create new ventures within the country.
"The fact that institutions are investing heavily in education, resources, and research, is indicative of a very healthy technology industry in the country," Caitlin adds.
---
3. Dublin is connected to global tech career hubs
A member of the European Union, Dublin provides a favorable landscape for businesses and startups as it's well connected to Europe and beyond.
"For the tech industry, Dublin is a vibrant city brimming with talent from around Ireland, Europe, and the world," Caitlin explains.
Firms in the city have access to a global, European, and local workforce with friendly visa policies. To get a work permit in Ireland, non-EU residents need a job offer for a minimum of two years or more with a salary of more than €30,000 ($33,000).
MBA graduates earn significantly more—often over $100,000—and recent UCD Smurfit School MBA graduates increased their pre-MBA earnings by an average of 130%* after graduation.
"Brexit has changed things in that Ireland is becoming a more attractive study destination for international students," Mark says. 88% of students in the UCD Smurfit School MBA class of 2021-22 were international.
UCD Smurfit School offers multiple international travel opportunities through its membership of the Global Network for Advanced Management (GNAM)—a consortium of 32 leading business schools from diverse countries, cultures, and economies.
MBA students at UCD Smurfit School are also taught about doing business globally through modules like Global & Corporate Strategy and Doing Business in International Markets.
---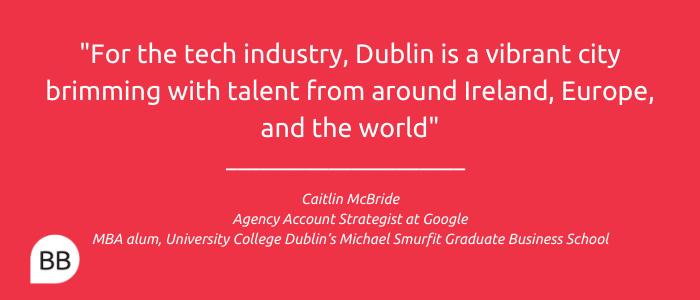 ---
4. Top Dublin business school provides a launchpad for MBA careers in tech
In 2018, Mark says 13% of MBA graduates from UCD Smurfit School entered the tech industry. In 2021, that figure grew to 48%.
Almost half of the UCD Smurfit School MBA class were hired by top tech employers like Amazon, Google, Facebook, and LinkedIn.
"What we've also seen in terms of our alumni career paths over the last few years is people who have gone into something else to start with, and have then gone into tech a few years later," Mark explains.
The alumni network at UCD Smurfit School, he adds, plays a big part in ensuring that students who wish to enter the tech industry are paired with recruiters.
Through networking events and panels, current students have the opportunity to speak with MBA alumni and learn more about working in tech.
"We also pair every student up with a mentor from our alumni pool, according to their industry interest. The alumni give advice, and sometimes even help them get into the company they work in," says Mark.
If you're interested in a post-MBA job in technology, doing an MBA at UCD Smurfit School pays off. 90% of MBA students are employed within three months of graduation and 83% land jobs in Ireland.
(*Based on Full-Time Class of 2021 graduates three months after graduation. Census response rate 89%.)
Related Content: