Engineering tends to go hand in hand with an MBA degree; combining technical expertise with a broad business acumen is often a sure path to success.

That's certainly the case for Sabyasachi Pattanaik. Director of regulatory affairs and market development at Oracle Utilities—part of one of the world's leading software companies—Sabyasachi began his career as a 'shop floor' power engineer.

But after enrolling in the Post Graduate Diploma in Management (PGDM) at Indian Institute of Management Technology (IMT) Ghaziabad—an MBA equivalent program—he was able to put down his tools and launch a successful career in business.
---
From engineering to an MBA at IMT Ghaziabad
Sabyasachi's resume already boasted more than five years of work experience as a power engineer when he decided to upskill with an MBA. He had some limited management experience, but wanted to gain a wider business outlook and develop a strategic mindset.
"I didn't want to spend most of my career on the shop floor," he says. "[An MBA] acts as a catalyst to go to the next level, which is the other side of the table."
Sabyasachi's experience guided what he looked for in a program. Rather than the traditional MBA offering, he wanted to focus on developing his business theory with an MBA program for more experienced professionals.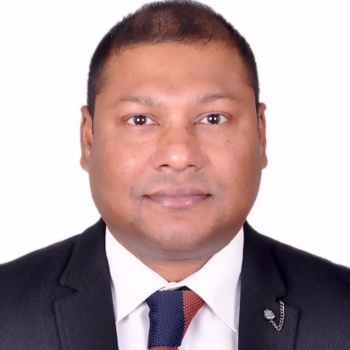 The IMT PGDM was a perfect match: a curriculum which packed two years of content into 15 months, and a reputation as one of India's top management degrees. The program is designed for professionals with five years work experience.
IMT PGDM students cover core subjects like finance, strategy, marketing, and human resources; while they're also able to specialize in topics like sustainability and innovation. IMT incorporates a large focus on soft skills such as communication and agility, with additional classes on how to manage a team.
The wide-ranging, highly theoretical curriculum gave Sabyasachi (pictured) the holistic view of business he'd set out to find. "There wasn't the same industry interaction or summer internship opportunities but we already had those as we came from the industry," he explains.
"That's how I decided this was the perfect course," he adds. "It helped me to grow as a manager and, on the whole, as a person."
---
Career path of an engineer with an MBA
After graduating from the PGDM in 2003, Sabyasachi returned to the energy and electricity industry, taking on a number of business roles where he could implement his new skills.
Beginning as an analyst, he later moved into a management position at Tata Power Delhi Distribution. There, he led a team bidding for multimillion dollar energy contracts and negotiating with companies around the world, including in the US and the UK.
Later roles saw Sabyasachi consulting on regional projects spanning the whole of South Asia, and even leading business development and strategy across the Asia Pacific region for a leading power solutions company in Singapore.
The nature of his work required many of the skills he developed during his degree. "My overall general management skills definitely helped me in articulating things to clients and to members of the team," he says.
"The MBA also gave me exposure to work in different kinds of situations."
In 2018, Sabyasachi was offered the opportunity to join Oracle, the world's fourth-largest software company, working for the Utilities branch where he would lead regulatory and policy strategy across India and the surrounding Asia Pacific region.
"Joining Oracle was a really big high," he says. "From starting out as a power engineer and joining the MBA after six years, and now working in one of the largest software companies, it's definitely an achievement."
---
From MBA to Oracle director
Sabayaschi's role at Oracle has a dual focus on regulation and market development. This involves identifying problems and finding solutions, while also searching and pitching for new business opportunities.
He spends much of his time negotiating with policymakers and ministers on regulatory issues, while he also deals regularly with high-powered clients in the energy sector. This includes the chief experience officers (CXOs) of publicly traded companies like China Light and Power (CLP) Group, and Mercury.
Now approaching his fourth year with Oracle Utilities, Sabayaschi is looking to implement changes within the firm to help the company lead positive change in the energy sector. Reducing emissions and fighting the climate crisis is a key focus.
"I want to lead efforts to reduce emission levels by empowering consumers with the use of AI and machine learning," he says.
Reflecting on his career path, 20 years after enrolling at IMT, Sabayaschi still feels the impact of the IMT PGDM on his career.
"The MBA creates the foundation, and then you work on that foundation and build yourself from there."
Related Content: