MBA students come from a huge range of industries—not just consulting and finance. Whatever your background: graduating from an MBA means you'll have the transferable MBA skills to switch to your dream career.

That's exactly what happened for Megan Justus and Abraham Rusch, two graduates from the MBA program at Michigan State University (MSU) Broad College of Business, who enrolled from seemingly unlikely roles to launch exciting new careers.

By developing new skills and honing old ones, they've now landed top roles at multinational companies, Johnson & Johnson and BCG.
---
Enrolling in an MBA to switch careers
Growing up in a family of teachers, Megan found herself following the same career path. But business school had always been in the back of her mind and after six years she decided to take a risk and enroll in an MBA.
Megan was drawn to the MSU Broad program by the intimate class size of around 65 students and the stunning natural beauty of Michigan State. But leaving her career and moving home was still a daunting prospect.
"Going back to school felt scary at the time, but it's been so worth it," she says.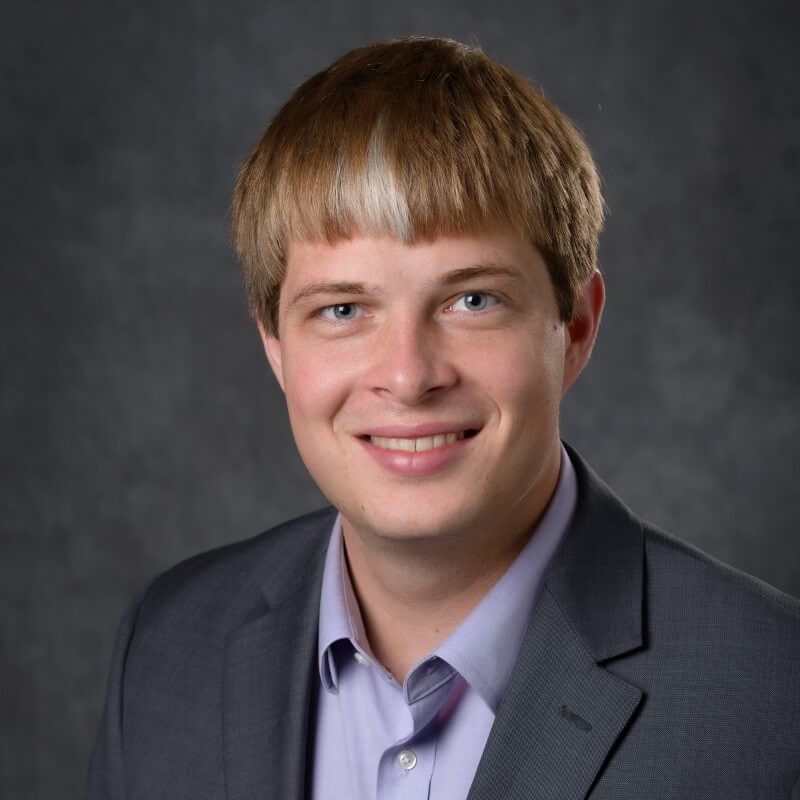 Megan's worries were eased when she realised that many of the students in her cohort were in the same boat. The MSU Broad MBA program typically attracts students wanting to make a big career switch. Take the 2022 cohort: 39% of students were from humanities and social science backgrounds, and only 19% from business.
"With so many other career switchers on the program, I felt less isolated and more confident in my decision," Megan says.
Abe (pictured) also joined the program from a somewhat obscure route: working as a parish music director at his local church. He decided to enroll as he wanted a change in his career and an intellectual challenge.
"I wanted to use the MBA to pivot into a lucrative, fulfilling career in business and the program gave me the tools and confidence I needed to do that," Abe says.
---
Learning transferable MBA skills
Starting an MBA without a background in business can be daunting, but you're probably a lot more prepared than you think, Megan explains.
"As a teacher I had to learn quickly and be adaptable which set me up well for the business school environment," she says.
The program helped Megan hone her skills in relationship building and collaboration to become more business orientated. The Broad MBA also offers students the opportunity to learn hard technical skills in areas like leadership, analytics, and accounting.
After completing core modules, students choose from a range of concentration options including Supply Chain Management, Human Resources and Strategic Management, Marketing, Finance, or Business Analytics to help them focus on their target industry.
You can further hone the learning experience by choosing electives in courses such as Global Business, Consulting, or Entrepreneurship.
"Whilst strengthening my existing soft skills and aligning them to a new career path, I learned core business skills in analysis and investment, and built my business acumen," says Megan.
Working with the MSU's Broad Palmer Career Management team, Megan practiced how to sell herself to potential employers during a series of resume development workshops and an etiquette dinner. She also learned by pitching to alumni and corporate partners who provided her with feedback.
"I was able to walk into interviews feeling very confident and prepared which is half the battle", she says.
---
Launching multinational careers after the MSU Broad MBA
Right from the start of the program, the MSU Broad career management team work closely with students to understand how their skills can be transitioned for a role in business.
Abe planned to pursue a career in management consulting when he started the MBA, but he wasn't sure how to get there.
"The careers team helped me recognise skills I already had that would transfer well into a consulting role: decision-making as a leader, management skills, and organization," says Abe.
He also got the chance to engage with industry professionals and attend recruiter panels during bootcamps run by the careers service. The experience helped him launch a new career as a management consultant at Big Three consulting firm, BCG.
"The chance to network with consultants gave me an insight into a career at BCG and what I needed to strive for to work there—I was offered a role quickly after graduating," says Abe.
It was at a recruitment panel at the very start of the program where Megan met her prospective employers at Johnson & Johnson, a multinational healthcare company.
"When interviewing with Johnson & Johnson, they recognised the unique value of my previous experience as a teacher and offered me an internship and then a permanent role," she says.
She feels the careers team helped tailor her skills for the role, preparing her for negotiating on commercial terms, engaging with stakeholders, and developing client relationships.
---
Now well underway in their new careers, Megan and Abe are happy they took the risk to enroll in the MBA and risk pursuing a big career switch.
"Broad was the perfect place for me to make this big career move—they valued my experience, highlighted my transferable skills, and created an environment where I felt confident to take risks," says Megan.
Related Content: