There's never been a better time to launch a high-impact career. Growing awareness of environmental, social, and governmental (ESG) issues have created a shift in business, more than 90% of S&P 500 companies now publish ESG reports according to McKinsey.

Increasingly today's companies need to work for their stakeholders, as well as their shareholders. That means business for a purpose: with a focus on people and the planet, and not just profits.

For David Harlley, CEO and social entrepreneur, business with purpose means growing the economic and social prosperity of Sub-Saharan Africa. Third Way Capital, which he co-founded in 2020, is an impact-focused venture firm investing in small and medium size businesses in the region.

David, who enrolled in the International MBA (IMBA) program at IE Business School before launching the firm, feels having a purpose at work has helped him develop both personally and professionally. It's also been a great way to gain job-satisfaction.
---
Launching a high-impact career
David began his working life as an engineer. He studied mechanical engineering during his bachelor's degree before spending a number of years across different roles in the sector.
"I started out in mechanical engineering, I didn't love it, even the switch to business was tough for me because I could only see business in terms of making money and profits," he says.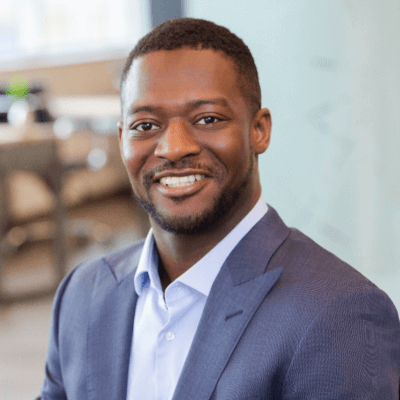 To help shift into a new path, David enrolled in the IMBA to learn about how business skills can be used towards impactful ventures. The program helped him build a well-rounded business acumen, and gave him the confidence to pivot his career.
"Coming to IE was key to taking that long-term view towards business," he explains. "A holistic view was definitely set in my DNA and that allowed me to enter the business world with confidence that I could do some good in the world."
In 2016 after graduating, David launched Think Startup Africa, an organization offering coaching and support to help African entrepreneurs. He also began curating online content covering topics such as 're-imagined capitalism' and 'business for good.'
Enjoying the more purpose-driven work, David later decided to move into impact investing with Third Way Capital, where he could play a part in shaping the future of numerous African countries by investing in the region's emerging sectors.
---
Gaining job satisfaction with a high-impact career
Business across Africa is on the rise. Within a continent of more than a billion people, rapidly growing industries include essential domestic sectors like real estate and food—the food sector grew by around 4% between 2021 and 2022.
Third Way Capital invests in startups in these sectors. Agro Kings Ltd, for example, is an agricultural venture aiming to disrupt the market for importing rice in Ghana, while also providing food security for local people.
Investing in this type of venture requires Three Way Capital to be closely connected to the region. This means being active in local communities and listening to people's problems.
"We should never impose our understanding of what is impactful for our community or business, we should be working with them to build an impact that's sustainable, that lasts, and actually makes their lives better," says David.
He feels being closely connected to these communities ensures he gains immense job satisfaction—more than he achieved in his engineering career. "Making money and profits, from an emotional standpoint, that just wasn't my drive," he says.
---
Achieving personal and professional development with a high-impact career
Alongside being rewarding work, investing in dynamic, high-impact startups also gives ample opportunity for professional development within a rapidly evolving industry.
"Impact investing didn't even exist 10 years ago," David says. "How do you plot a career that leads you to a place that the world doesn't actually have and doesn't recognize?"
Working within an ecosystem of investors and founders who all share a passion for solving fundamental problems, David also feels that his new career has helped shape him as a person.
"Being in a place of continual self-reflection and self-discovery, pushing yourself to learn new things, surrounding yourself with people who are similarly wired—that for me is the recipe for continually being able to move forward and evolve," he adds.
A long way from the mechanical engineering career he'd planned during his undergrad, David says he's proud of the journey he's taken. Working towards a purpose in Africa also means that his family are proud of his job, something he says drives him to continue pushing forward in his career.
"Ultimately, whatever you do, it's those relationships that make sense of why you're doing it. The reason you try to create a better world is so people can enjoy simple things."
Related Content: