Ogeoma Mbaraonye already had two degrees under her belt when she joined the MBA—in energy management and law.

After studying both her bachelors and Juris Doctor (JD) at the University of Oklahoma, she felt immersed in the community of the school and eager to see what more she could gain.

That's when she decided to take on the MBA at the University of Oklahoma Price College of Business and add to her growing skillset. This gave her the chance to hone in on her interest in business as well as offering career flexibility.

"The MBA is a combination of so many things—it's networking, it's getting to meet people from different backgrounds, it's being exposed to different subjects," she says. "I wanted to pursue it. It was a chance to add something else to my degree."
---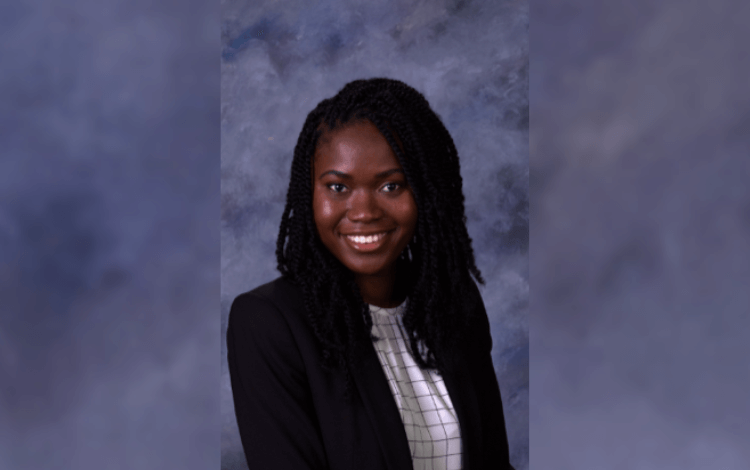 ---
Why Oklahoma
When it came to deciding where to do her MBA, there was no competition in Oge's mind. She did her bachelor's and law degrees at Oklahoma, and it made sense to stay on for her MBA.
University of Oklahoma Price College of Business is an AACSB-accredited school, and US News ranks it in the top 100 business schools in the US.
The 16-month full-time MBA program is a broad program covering standard business fundamentals as well as offering opportunities to specialize in areas like entrepreneurship, finance, and digital technologies.
But it was also the close-knit nature of the school that attracted Oge. There are 5,500 students at the Price College of Business, and students make strong connections with their peers and professors.
"OU is really a family," Oge says. "I came here when I was 16. I already have siblings here. Even the MBA program and working with Eddie Edwards who is the program director—it feels like family."
---
Collaborating online
Oge enrolled in her MBA program in August 2020, in the midst of the global Covid-19 pandemic. As a result, the first semester of her course was mostly taught online.
However, she says that support from the program directors and her fellow MBA students made the experience effortless.
"I had the funniest set of colleagues," she says. "I'm not extremely extroverted but you would see them over Zoom in classes and they would always make me laugh."
Even though her MBA cohort wasn't able to take classes on campus until later in the program, there were plenty of opportunities to do that all-important program networking.
"The program still had things over Zoom like speakers for us to interact with. One time they even planned a virtual escape room for us," Oge adds.
---
---
MBA curriculum
Oge had already experienced the close-knit, family feeling of studying at the University of Oklahoma, and this open and collaborative atmosphere extended through all of her MBA classes, too.
"There was no competition, in a crazy way," Oge remarks. "Everybody wanted to collaborate and do well."
As well as an atmosphere of collaboration, Oge admires the professors at Price for actively pushing students to achieve their goals and get out of their comfort zones. She particularly recalls one financial modelling class, a subject she was totally unfamiliar with.
"It was something that I didn't think I could do," she admits. "But I had a professor that wanted to actually teach it and not care about the grades—it was just about how you are going to improve."
This strong culture of supportive learning is part of the reason Oge felt welcome at OU's Price College.
"Going to school and having professors that really took an interest in you and pushed you out [of your comfort zone] is really amazing. I just felt so welcome, like people are looking after me."
---
Landing a role at Goldman Sachs
The University of Oklahoma MBA program requires students to complete an internship as part of the course, and Oge says that the college supported students to connect with possible companies, as well as alums and other professionals.
It was a connection with someone who worked in personal finance at Goldman Sachs that led to Oge applying for, and landing, an internship at the company.
"It was really because I had an MBA that had great alums," she says.
Her internship eventually led to a full-time role as a Credit Risk Analyst at Goldman Sachs, a role in which Oge is continually utilizing her MBA skills, including technical skills in analytics and business strategy.
However, Oge also credits her MBA with providing her with the confidence to make a difference in her role.
"Being confident in my abilities to show up every day and know that I can do the work is also from my program, because that's what I was trained to do," she adds.
Related Content: