Microcredentials are short courses that help you upskill in a particular area. They're short, flexible online programs, and can be studied at any point in your career.

Many top business schools are now offering microcredentials. According to a recent Association to Advance Collegiate Schools of Business research, almost half of business schools now provide them.

So, who are these courses for, where can you study them, and what do employers think? Here's what you need to know about microcredentials.
---
How do microcredentials work?
Microcredentials are designed for mass delivery, so you'll usually study online. Course length varies, and they can take anywhere between four weeks and eight months to complete part-time.
You can expect most of your work to be independent, but there may be group discussion opportunities through virtual forums.
Assessments are carried out through the same online platform you use to access course materials. Some business schools will also connect you with a tutor so you can discuss what you've learned in real time.
Although microcredentials are designed to let you upskill in a single, specific area, some courses are stackable—which means they're credit-bearing and can be counted toward a larger degree program
At Illinois' Lewis University for instance, credit-bearing microcredentials in areas like finance, digital marketing, project management, and organizational leadership, can count toward the school's 30-credit hour MBA program.
---
Who are microcredentials for?
Microcredentials are highly accessible by design, so you can study one at any point in your career. You can use these courses to give your early career a boost, expand your current remit, dip your toe into unfamiliar areas, or prepare for a new job.
Many microcredentials don't require a formal application or a specific background, and there are dozens of different subjects to choose from. Most microcredentials are also very affordable, starting around the $100 mark, and stretching toward $20,000 for longer options with more hands-on teaching.
---
Microcredentials or business degree?
If microcredentials can advance your career in a short time-frame, should you drop your plans to complete a business degree and study these short courses instead?
Despite their advantages, microcredentials might not be the best option if you're hoping to make bigger changes to your career, such as switching industries or entering leadership roles.
One major drawback of microcredentials is that they don't give you much of a chance to develop the soft skills—like teamwork, people management, and agility—required to be successful in today's business landscape. Plus, networking opportunities are limited.
For this reason, Caryn Beck-Dudley—CEO of AACSB—sees microcredentials as a complement to postgraduate business degrees, rather than a replacement.
"I don't see it as in lieu of a degree, but rather a skill-up or add-on," she explains.
microcredentials can also get you ready for longer business school programs. Future MBA students with non-business backgrounds might choose a few microcredentials to get them up to speed before they enroll, for example.
---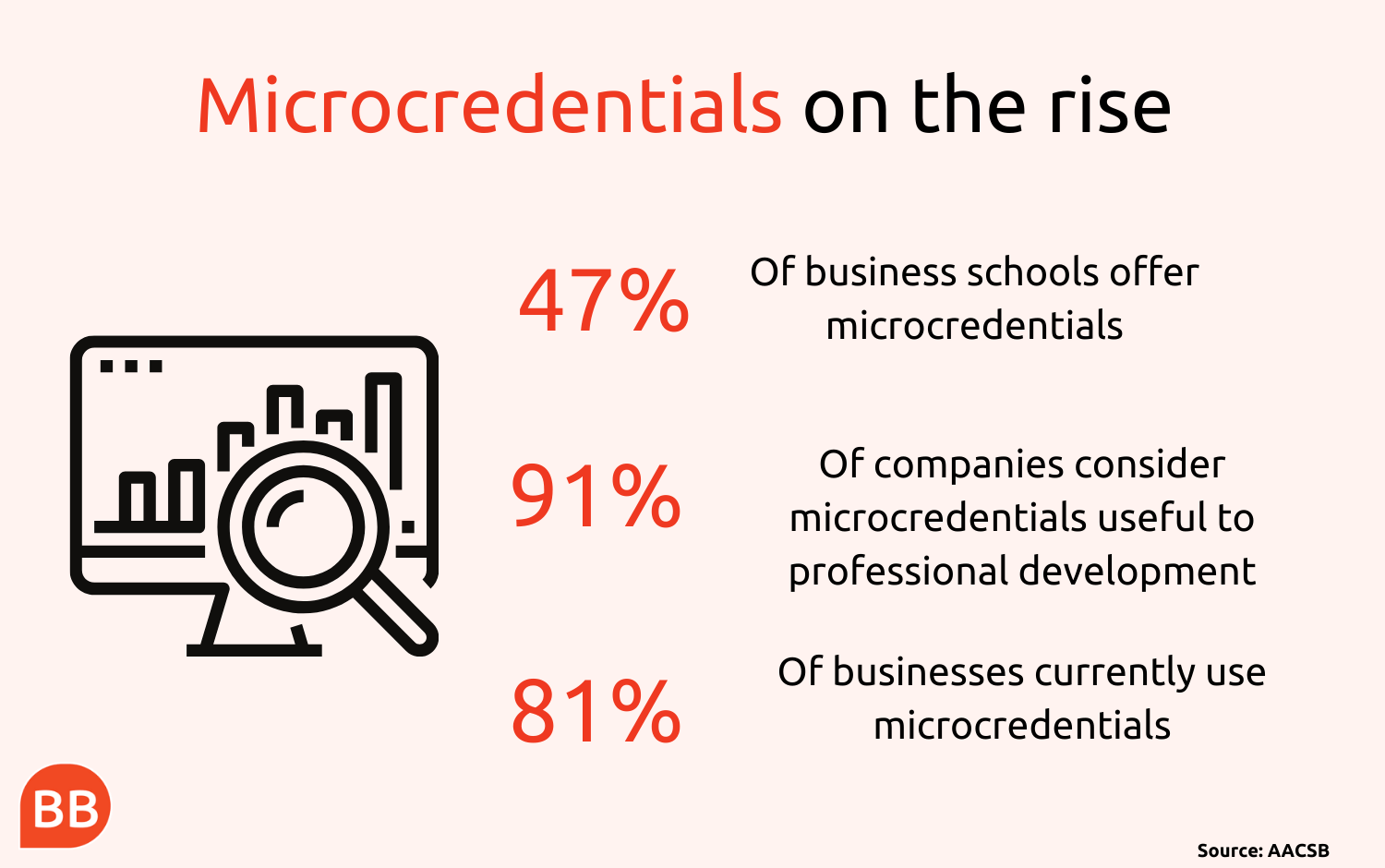 ---
What are some microcredential examples?
If you're considering microcredential courses, there are plenty of options to choose from—and new courses are being developed all the time.
Business-related courses can cover everything from coding, to statistics, to leadership strategy.
"We're seeing a lot of experimentation," Caryn comments. "Communications is a popular option, as is statistics, and project management."
A growing number of schools are also experimenting with more general courses, such as accounting and mathematics.
Mexico's EGADE Business School recently launched a series of microcredential programs in areas including negotiation, leadership, innovation, and digital marketing.
Content is delivered asynchronously, and taken directly from EGADE's full-time programs. At $90 to $190 per course, the price point is also highly accessible.
"We identified an opportunity to share with the community all the knowledge that our faculty was generating," explains associate dean, Laura Zapata.
"In two clicks, you get all the knowledge you're looking for and the opportunity to develop specific skills."
Other schools that offer microcredentials include Adelphi University's Robert B. Willumstad School of business—which has launched advanced graduate certificates in business analytics, marketing analytics, and digital marketing.
Meanwhile, Georgia State University's J. Mack Robinson College of Business, with flexible graduate certificates in AI, disruptive innovation, and fintech.
---
What do employers think of microcredentials?
Completing one or more microcredentials is a clear signal of your competence. Plus, having these qualifications on your resume shows that you're an active life-long learner—a big plus from an employer's perspective.
AACSB research revealed that 91% of companies consider microcredentials useful for employees' professional development.
"I think employers view them favorably," says Caryn. "They really help with career development, because they allow you to explore new areas."
Tech companies in particular value microcredentials highly, she adds, and embrace them more readily than other industries.
---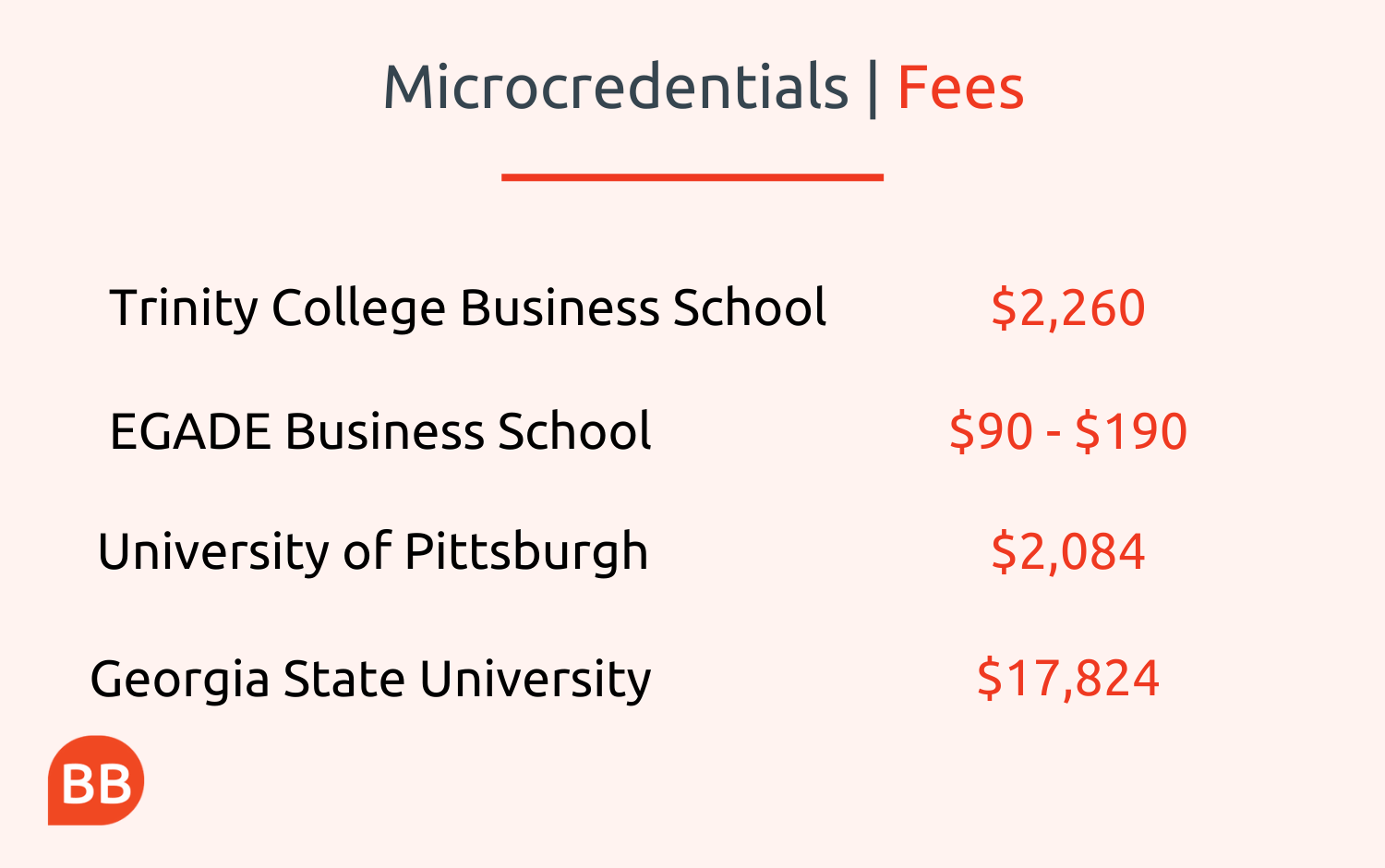 ---
What's in the future for microcredentials?
Caryn expects even more business schools to introduce microcredentials in the coming years.
Covid likely sped up the process, she adds, as workers had more time to experiment—and felt the pressure to show their value in a tough jobs market.
"I think in the next few years it will be rare to see a business school that doesn't offer microcredentials," she predicts.
These courses look set to become an important piece of the puzzle when it comes to keeping yous skill set up-to-date and future ready, and standing out to employers. AACSB research shows that 91% of companies think microcredentials are useful for professional development.
"When you look at the future of work, the rate at which we have to retool isn't getting any slower," Caryn concludes.
---
Next read:
Almost Half Of Business Schools Now Offer Microcredentials