The Online MBA market is growing. We saw a rapid rise during the coronavirus pandemic—there were 50 more Online MBAs accepting GMAT scores in 2020 than in 2016—but demand is still increasing as we emerge from the pandemic.

In 2022, 356 schools signed up to the annual US News Online MBA Ranking, which provides a comprehensive list of the online MBA courses offered by US business schools.

Online MBAs tend to cost less than full-time MBAs, as covered in our Online MBA Guide 2022, and don't require students to give up their jobs or salaries. Here, we look at how much the best online MBA programs in the US cost today.
---
Considering an Online MBA?
Download our Online MBA Guide 2023
---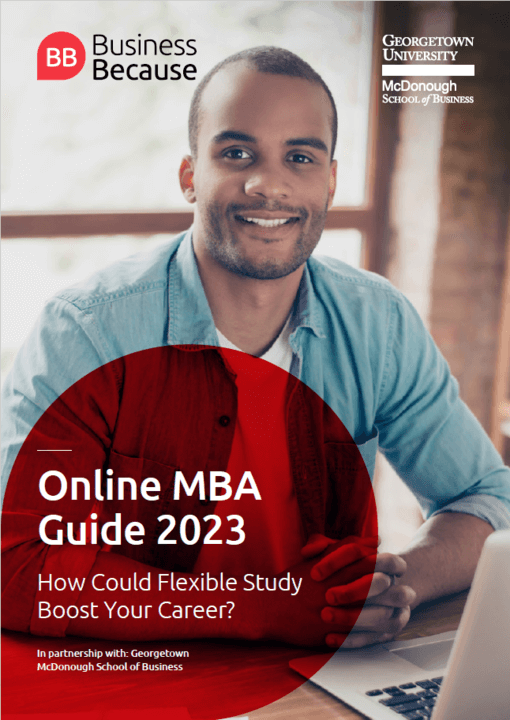 ---
Best Online MBA Programs
The top online MBAs, according to US News, have seen some change in 2022 after the top three remained the same for the last three years.
In 2022, University of North Carolina's Kenan-Flagler Business School keeps its place at the top, while Indiana University's Kelley School of Business and USC Marshall's School of Business—ranked third and fourth last year—rise to place joint first.
Carnegie Mellon's Tepper School of Business finishes in fourth while the University of Florida Warrington Graduate School of Business and University of Washington Foster School of Business are joint fifth.
Last year's big surprise was Rice University's Jones Graduate School of Business, which rose from 123rd in 2020 to enter the top 10 in 2021. The school's Online MBA, which was only established in 2018, finished in 20th this year.
While in previous years there have been many schools tied for places, raising questions over whether US News' methodology can differentiate schools enough, the top 10 includes 11 online MBA programs compared with 15 in 2021.
Unlike other MBA rankings, US News does not survey students or graduates to compile its list, with the data instead collected from business schools themselves.
---
Top 10 Online MBAs: Tuition Fees
---
Online MBA cost
Prices for the top five courses range considerably, with Warrington offering an affordable course at $58,000, while Tepper costs substantially more at $140,000. Kelley is another cheaper option at $78,246, while USC and Kenan-Flagler cost $108,083 and $125,589. This means that two of the top three courses in 2022 are also among the most expensive.
Enrolling at University of Texas, Dallas, Naveen Jindal School of Management also costs a premium, with fees amounting to around $107,000. But there are more affordable options among the top 10.
Two schools offer very affordable courses around $30,000. Wisconsin MBA Consortium offers a program at just under $29,000, while Arizona's Eller School of Business Online MBA costs $27,520. The fact that these programs are among the best in the US suggests that price is not indicative of quality when it comes to Online MBAs.
When choosing a program, students should also consider career progress in terms of salary achieved and salary increase after the program; the strength of the faculty's teaching and research; and the quality and diversity of the cohort.
Cheaper tuition fees may increase the return on investment of the degree, which can be calculated by taking the average salary achieved by graduates and deducting the tuition fee. This, of course, will stack up over time.
---
Beyond Online MBA rankings
While growth is slowing, the market for Online MBAs is still increasing in 2022, with 43% of programs reporting a growth in applications according to the Graduate Management Admission Council (GMAC).
There are already a large number of affordable online MBA programs available, both in the US and around the world, but with Online MBAs now an established option at business school, it's likely that cheaper options will continue to emerge in future.
Among the cheapest programs to be included in the US rankings this year were the likes of Louisiana Tech University at $13,530 and Fitchburg State University at just $8,250.
While the pandemic elevated Online MBAs to new heights, as the pandemic dust settles it's clear that they're here to stay. If you want a cheaper, more flexible MBA experience, an Online MBA could be your best option.
---
Next Read:
Online MBA Guide 2023 | Everything You Need To Know About Online MBAs
---
This article was first published in January 2020 and updated in June 2022.