Download our BusinessBecause Online MBA Guide 2021, in partnership with the Jack Welch Management Institute, where we give you a full breakdown of everything you need to know about applying to an Online MBA in 2021. We walk you through the core benefits of the degree and tell you what you'll need to apply.

From our guide, you'll:

- Find out what you'll gain from studying an Online MBA

- Receive application tips from admissions experts

- Discover what you need to apply

- Get a breakdown of the best Online MBA programs in the world
---
Download the full BusinessBecause Online MBA Guide 2021
---
Your Online MBA Application
---
What you'll need
To apply to an Online MBA, you'll need to bear in mind what you might need to meet your target school's admissions requirements. Though these vary program to program, there are a couple you should be aware of.
Work experience is a big one. Most Online MBA programs attract a slightly older audience, with programs often seeing an average age of at least 30, and sometimes closer to 40. The students you'll be sharing a virtual classroom with will likely have at least three or four years of work experience. In some cases, this can extend to 16 years or more.
Most schools will ask for at least one year of work experience, with most in the region of three or four. In our list of the best Online MBA programs in the world, we give you a breakdown of the years of work experience required for each program.
Having a solid amount of work experience can also, in some instances, exempt you from providing a GMAT score, the other major admissions requirement for an Online MBA. Schools will often waive the GMAT score requirement for experienced professionals with an undergraduate degree and high GPA.
---
What to consider
When picking your ideal program, you need to think about what it is specifically you're looking to get from your degree. In our BusinessBecause Online MBA Guide 2021, we walk you through the things you need to consider when deciding which schools to apply to.
Do you want a residential component or are you happy studying 100% online? How much are you willing to pay? And how long do you want to study for?
We help you answer these questions and more as we talk you through everything you need to mull over before narrowing down your choice of programs. Our list of the world's top programs gives you information on the programs that contain a residential component, which accreditations schools have, and the length of each program.
---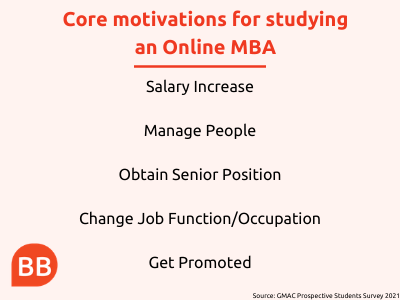 ---
Benefits of studying an Online MBA
---
There are many benefits to studying an Online MBA; in our guide we run you through the seven core benefits of opting to study online. They include:
- Flexibility. You'll be able to balance your professional, home, and social life alongside studying if you opt for an Online MBA. You'll also be able to spread your education over a number of years.

- Apply knowledge in real time. You'll be able to apply what you're learning on a week-by-week basis directly to your job. You'll likely see tangible benefits to your career progression.
- Learn to lead virtually. You spend the duration of your Online MBA building leadership competencies in an environment that likely mimics the post-pandemic workplace. During an Online MBA, you'll work in virtual teams to tackle complex business issues collectively, in real time. You develop virtual communication and team-working skills.
---
The world's best Online MBA programs
Our list of the world's best online MBA programs is out now, featured in our Online MBA Guide 2021. Download for a breakdown of tuition costs, GMAT requirements, program lengths, and accreditation.
We also tell you the minimum work experience requirements for the world's top programs, and where they each sit in the Financial Times, QS, and US News & World Report Online MBA rankings.
Read our BusinessBecause Online MBA Guide 2021 now to find out everything you need to know to apply for an Online MBA in 2021.
Related Content: