While many Online MBA programs call for several years of work experience, doing an MBA right after your undergraduate degree can set you up for long-term career success.

According to the Graduate Management Admission Council (GMAC), 91% of the world's top corporate recruiters plan to hire MBA graduates in 2021. Big-name firms like Amazon, Microsoft, and McKinsey value MBA hires for their interpersonal skills, leadership potential, and decision making abilities.

If you've recently completed your bachelor's degree, pursuing an Online MBA without a work experience requirement, gives you the flexibility to study and work at the same time.

While the average age of an MBA student is around 28, these super-flexible MBA programs—like the new 100%-online MBA program at the Lebanese American University (LAU)—mean you'll be able to complete your MBA before your 25th birthday.

BusinessBecause caught up with Abdul-Nasser El Kassar, the Online Global MBA program coordinator at LAU, who told us three reasons why you should study an Online MBA right after undergrad.
---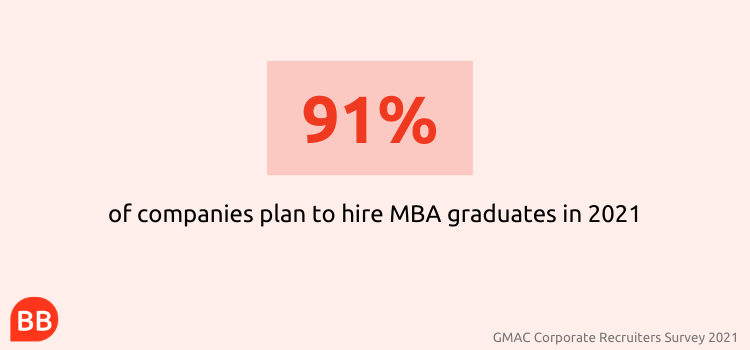 ---
1. You'll boost your network
One of the biggest advantages of pursuing an MBA is the impressive professional network you'll build. Your MBA colleagues will become your future colleagues, business partners, potential investors, and firm friends.
In an online setting, it's often easier to meet students from all over the world in an online classroom, because they're not restricted by geographical location.
If you study an Online MBA without work experience, you can expect to study alongside more experienced businesspeople who can share their knowledge and experience with you. You'll also get to network with academics who are experts in their field, and many programs offer virtual careers chats with global executives.
"Students without work experience interact and learn from tenured faculty and experienced colleagues that can bring relevant industry expertise and global business knowledge to the online classroom," explains Abdul-Nasser.
To apply to the Online Global MBA at LAU, you'll need a bachelor's degree from a recognized university. While work experience is looked upon favorably, it's not a requirement.
---
2. You'll stand out in a competitive jobs market
Heading out of an undergraduate degree, the jobs market is competitive. By doing an Online MBA early in your career, you'll get the skills needed to progress to leadership roles more quickly.
"By completing such a degree at a younger age, candidates will have better chances in competing for better and higher-level jobs. Landing such a job provides higher returns throughout a professional's career," Abdul-Nasser says.
The Adnan Kassar School of Business is accredited by the Association to Advance Collegiate Schools of Business – placing it in a select group of less than 5% of business schools worldwide. The course is also approved by the New York State Education Department, giving it the same level of approval as some of the top schools in the US.
In this program, you'll combine studying core MBA courses in strategy, accounting, economics, and analytics, with a choice of MBA electives covering topics including social media marketing, cognitive analytics, and hospitality and tourism planning and development.
---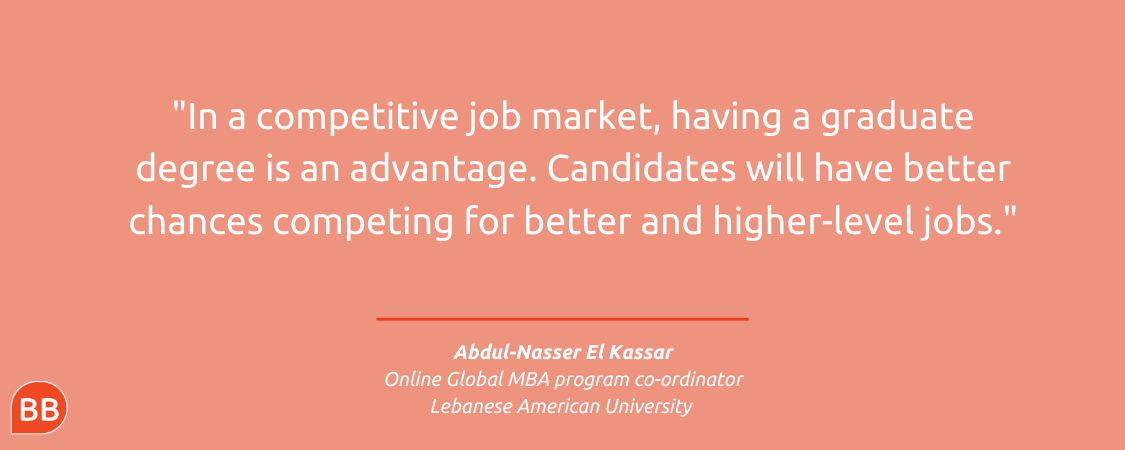 ---
The Online MBA is delivered in an asynchronous format, so you can complete your coursework from anywhere you have an internet connection. You can complete the courses in any order of your choice. Most MBA students complete the degree in two years.
There's no opportunity cost when it comes to pursuing an Online MBA, as you can continue to work and earn a salary alongside your studies. Plus, since tuition fees are often more affordable for Online MBA programs, you'll get a quicker return on your investment.
The Online MBA at LAU, for example, costs a total of $16,500, with no application fee. This is significantly lower than the fees of $100k or more charged by some full-time MBA programs.
---
3. You'll understand global business
Business has never been more global and business leaders must understand how companies operate across different cultures and countries.
The Online MBA program at LAU is a great option for young leaders without work experience looking to get ahead in the increasingly international world of business, thanks partly to its international heritage as a US-incorporated school, based in Lebanon, drawing students and faculty from around the world.
Lebanon has a rich history of cultural diversity and the program ties together a broad range of geographically influenced elements. From Islamic banking to case studies from Harvard, culture and business come together in the flexible, fully online MBA program.
"Within a culturally diverse learning community, students can master the foundations of business while interacting with scholars and professionals with revolutionizing business experience from across the globe," Abdul-Nasser explains.
Practising your abilities to work in an international team during an Online MBA puts you in a good position to manage broader diversity within teams when you graduate, as you adapt to different working styles, languages, and personalities.
And employers are on the lookout for professionals who can do just this. Grads from the Online Global MBA at LAU qualify for a range of post-MBA jobs including marketing manager, business analyst, financial manager, and sales manager.
The networking benefits combined with the ability to accelerate your career alongside a full-time job make Online MBA programs a top choice for anyone looking to pursue an MBA right after undergrad.
Related Content: