What can an economics degree do for your career? Your opportunities extend beyond just roles in banking or government; top employers across a broad range of industries place high value on the skills and knowledge covered in the Master in Economics curriculum.
For example, graduates of the Master of Economics at University of Hong Kong (HKU) Business School regularly land roles across industries including technology, consulting, and consumer goods, at top companies such as Deloitte, Bytedance, P&G, and JP Morgan Chase.
So what is it about an economics degree that is so attractive to employers? Here are four ways enrolling can prepare you for career success.
---
1. Learn fundamental economics knowledge
Key to the value of an economics degree are the fundamental concepts covered in-class.
The typical Master in Economics curriculum teaches both micro and macroeconomic theories, knowledge of fiscal and monetary policy, and an understanding of key business areas such as competition, regulation, and taxation.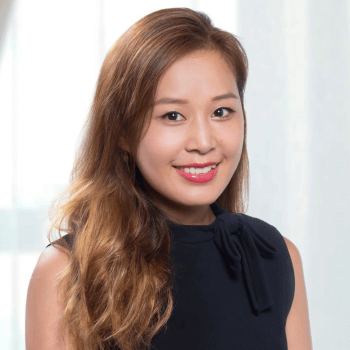 Studying these topics over the course of a year-long master's degree can provide a comprehensive understanding of the subject. This can prove valuable across a variety of business careers.
Heidi Fung (pictured), a graduate of the HKU program who now works at executive search firm, Odgers Berndtson, feels a fundamental understanding of economics provides an important framework when making decisions in business.
"Economics can be useful for all professionals and be applied to all industries and aspects of daily life," she explains.
"It's a fascinating subject that has equipped me with a macroeconomic view and made me able to utilize historical trends and current conditions to inform my business decisions."
---
2. Gain transferable skills
Economics master's grads can enhance their career opportunities by combining the knowledge they develop in-class with transferable skills gained throughout their study experience.
For example, Masters in Economics teach students to develop technical skills such as conducting data analysis and using econometric models. At HKU, students can also delve deeper into areas of their choosing during elective modules, allowing them to specialize their skillset.
For Heidi, the soft skills she developed during her Master in Economics were equally important. Practical learning sessions and business simulators required her to apply the knowledge she learned in class. This helped develop her problem solving and interpersonal skills.
"The program not only allowed me to gain the skills I needed to understand the complexities of the market, but it also equipped me with strong analytical and problem-solving skills," says Heidi.
"[That's] as well as the business acumen necessary to succeed in the professional world."
---
3. Be exposed to a variety of industries
Of course, while you may have the tools necessary to go on to work within a broad array of industries after graduation, choosing your preferred sector can be challenging.
Heidi found that extracurricular events scheduled throughout the year helped refine her choices. During careers fairs, guest speaker sessions, and industry talks she was able to gain a picture of what working in different sectors involves from day to day.
"You have a better idea of what the differences are between each job and industry, and you can identify what you like and don't like," she says.
Various finance-led sessions helped Heidi develop an understanding of the myriad intricacies of the sector, from private equity to investment banking. Today, this knowledge is essential in her career, which involves finding executive level talent to fill roles within the financial industry.
"I have a thorough knowledge of how the whole banking system and financial sector works, so it's a lot easier for me to complete my tasks, find people, and go in the right direction," she says.
---
4. Develop a professional network
Embarking on your career after graduation can be daunting, particularly when it involves working with a high-profile company in a pressured environment.
A key benefit of enrolling in a degree at business school is the networking opportunities this provides, which can make the transition from classroom to the workplace easier.
Securing a role that dealt with large client companies, as well as industry leading executives, required Heidi to utilize her interpersonal skills and ability to manage client relations.
She feels the various networking opportunities at HKU provided valuable training on how to interact with different stakeholders effectively.
"I didn't expect the program would be so useful in my day-to-day life. Meeting people outside of my network was very useful because my daily routine involves meeting with CEOs, presidents, and HR (human resources) chiefs."
While the role makes use of her industry knowledge and skills, Heidi's understanding of economics is also beneficial when dealing with finance executives as she is able to speak the language of the industry.
"They are very interested in the subject of economics," she explains. "Before I studied the program, I didn't know anything about things like how monetary or fiscal policy affected the whole economy.
"I think it is important to recognize that the field of economics is constantly evolving, and the skills and knowledge required to excel in this field are constantly changing, my advice to everyone would be to study and learn more in order to make sure that they are well equipped for the future."
Related Content: