In this Applicant Question, the team at interview and case study prep firm, Management Consulted, explain the ins and outs of management consultant salaries.
If you're considering a career in management consulting, you've no doubt wondered how much you can expect to earn. We have good news for you: consulting has some of the highest starting salaries anywhere—especially at the post-MBA level.
At Management Consulted, we put together an annual report with salary figures from candidates joining management consulting positions in 2021. Today, we'll dig into the data.
---
Management consulting: an overview
Before we dive into the juicy numbers, what does consulting entail? In short, management consultants are problem-solvers for organizations. They are hired to help provide strategies to improve the strategic, financial or operational health of a company.
Consultants make recommendations backed by data (think hundreds of Excel spreadsheets) to top-level executives (think CEO, CFO, etc.). While management consulting isn't for everyone, it is a career that gives you cutting-edge business training, outsized impact in your early career, and commensurate compensation to boot. No wonder that thousands attempt to break in each year!
---
Read: MBA Rankings: US News Vs Bloomberg Vs The Economist
©Tuck Facebook
---
What do b-School grads earn in management consulting?
Before you get to Manager level, there are two main compensation tiers inside the industry: pre-MBA and post-MBA (post-MBA includes PhDs and other advanced degree holders).
At McKinsey, Bain, and BCG, MBA grads receive a base salary of $165,000. A few boutiques top this base salary number, but for the most part, most other firms pay a little bit less than MBB.
Business Master's grads fall into the 'pre-MBA' category. Master's salaries at the MBB level start at $90,000. You can expect similar starting numbers at any brand name firm for Business Master's grads.
Alvarez and Marsal has the highest base pay at this level ($105,000), while EY comes in at the lower end of the scale ($72,500).
Keep in mind that the above numbers represent base salary only, not signing bonuses, performance bonuses, or other non-cash compensation like paid time off and pension contributions.
Salaries also differ from firm to firm, so dig into the salary report for more specific figures.
---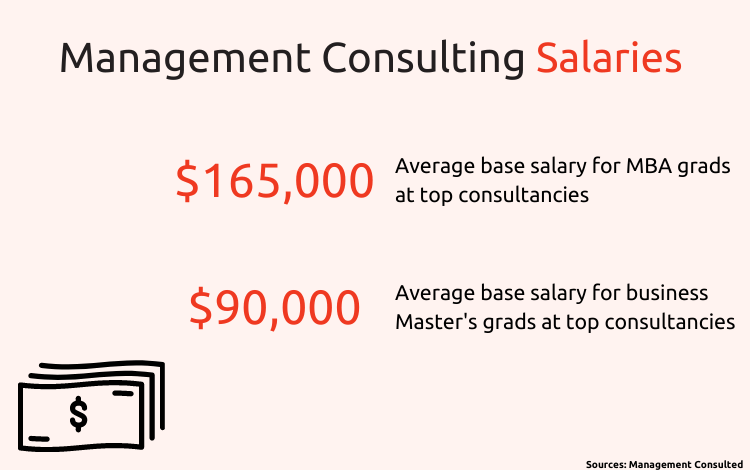 ---
3 top tips for landing your dream consulting job
1. Craft a killer resume
You won't get in the door for an interview without a bomb resume.
Your resume should be specific to what firms are looking for and include your academic pedigree, work experience, and interesting extracurriculars.
Focus on measurable results, quantify your impact (use numbers whenever possible), and use strong action verbs for your bullet points.
Keep your resume to one page, and if you haven't already built your resume, start today!
2. Network, network, network
Did you know? You are over 80% more likely to land an interview invite at multiple consulting firms if you have a referral.
three to six months before you are ready to interview, you need to start the networking process. Your goal? Secure an advocate inside the firm or firms of your choice who will not only vouch for you, but help you land an interview.
We recommend writing a cold networking email if your warm network isn't strong enough. When writing these, don't write more than two people in the same office for the same position at the same time.
In addition, maintain a positive tone in the email, and don't include your resume—the email should be good enough to stand on its own. Read more about the 6 steps to writing a killer cold networking email.
3. Prep for the case interview
The case interview is the scariest part of the journey into consulting, and for good reason.
It is known as one of the hardest of any interview to pass—anywhere. That's why you need to start your prep six to 12 months beforehand. The best practice comes via working with a partner, preferably an expert case interviewer.
As with anything, practice makes perfect. Ask your case partner for feedback on your performance, and then drill down on your weak areas. If you struggle with math, run through mental math drills. If frameworks are your weakness, do structure drills.
The case interview won't be easy, but with the right practice, you can ace the case and land an offer.
While salary is an important aspect of identifying where you want to work in management consulting, it's not the only thing you should pay attention to. We recommend candidates consider work-life balance, culture, and exit opportunities. If you decide that consulting is the career for you, you will be rewarded handsomely—in more ways than one!
---
Next read: Consulting Salaries For MBA & Master's Graduates
Bain Consultant Salary | What Could You Earn At Bain & Company?
---
Main image used under this license