Learning new skills and a sizeable salary bump are among the many reasons people sign up for a Master of Business Administration or MBA. However, with a range of schools offering the prestigious postgraduate degree, how do you choose the best school for your studies?
If you're considering an MBA in California, the next key questions you'll need to ask are what is the cost of an MBA? Also, does the full-time, in-person format suit you—or would you prefer to continue working and study part-time and online? Or perhaps you would prefer a hybrid or 'flex' MBA that offers a combination of both?
Beyond these questions, it's vital to understand a school's unique selling points to decide which is your best-fit program. Another consideration is the business connections and specialisms that a school has, and how you'll be able to leverage these to your advantage.
To help inspire and inform MBA candidates, at the recent GMAC Annual Conference in San Diego, BusinessBecause asked representatives from 10 business schools across California what is unique about studying an MBA at their institution.
Here's what they said:
---
Rady School of Management, University of California San Diego
STEM-designated MBAs from world-class faculty right next to the Pacific Ocean
"What are our unique selling points? First, Rady's quantitative and analytical approach. At Rady, our MBA and specialty master's programs are STEM designated; we are one of the few business schools to have this designation across all of our master's programs.
"Also, our world-class faculty: Rady faculty have trained and taught at the top five business schools, including Harvard, Chicago Booth, Kellogg, MIT and Stanford. They are world-leaders in their field and committed to helping students succeed.
"Lastly, our location! San Diego offers unique career opportunities in the life sciences and technology fields. We are the third largest bio-tech market in the country. In addition, UC San Diego and the Rady campus overlook the cliffs to the Pacific Ocean in La Jolla—great weather year round."
Silvia McCallister-Castillo, executive director MBA programs
The lowdown
Length of MBA: 21 months
Tuition and all fees per annum: $62,274.99 (non-resident); $53,122 (in-state) per year
Work experience for entry: Three to five years of experience preferred
Average salary post-MBA: $103,969
Read the BusinessBecause Rady Application Insider
---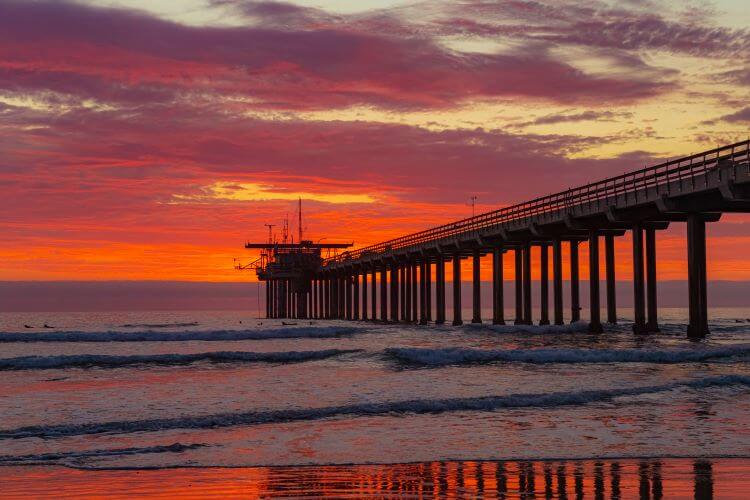 Scripps Memorial Pier, San Diego ©Rady School of Management
---
A. Gary Anderson Graduate School of Management, University of California Riverside
Proud of its diversity, supply-chain expertise, and new School of Business building
"UC Riverside is the most diverse of the University of California campuses in terms of backgrounds of domestic students, including historically underrepresented groups. In addition, women represent 54% of our MBA cohort. On the international front, we have students from about 36 different countries (including Iceland this year and Liechtenstein last year!).
"Our location in Southern California is a massive supply chain hub for the United States. About half of the country's imports enter through the ports of LA and Long Beach and are then move inland to our region for warehousing and distribution via one of the three airports that lie within 25 miles of UC Riverside. Amazon, FedEx, UPS along with hundreds of consumer brands have major facilities locally—in the more than one billion square feet of warehouse space in the area, positioning our candidates well for landing jobs. Naturally, we have many faculty with operations and supply-chain expertise who teach in our supply-chain concentration in the UC Riverside MBA.
---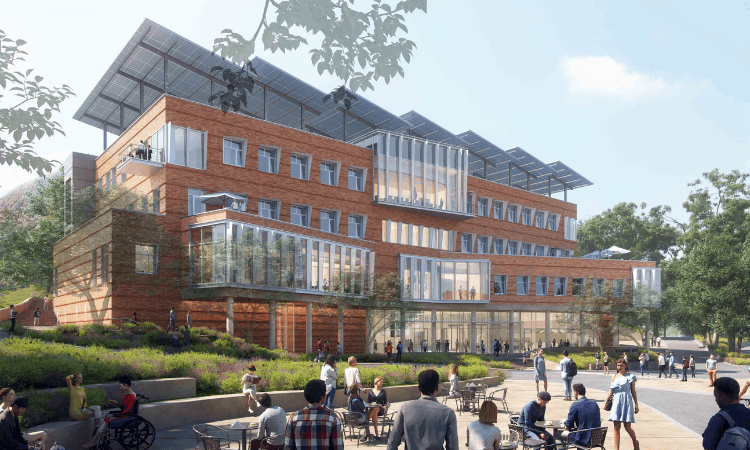 ---
"We are also opening up a brand-new school of business building (pictured) in 2024, an $80-million, state-of-the-art hub that will have advanced labs for things such as computing, finance or media production, and includes student lounges and conference-style rooms. The new building will enhance the student experience at UC Riverside further."
Patrick Latimer, associate director of graduate admissions

The lowdown
Length of full-time MBA: 21 months
MBA tuition fees (for 2024 entry): $121,434 (non-resident), $96,940 (in-state)
Work experience requirement for entry: No specific work experience requirement; 24+ months preferred.
Average salary post-MBA: $74,000 (Class of 2023)
Learn more about the UC Riverside MBA career prospects
---
Stanford Graduate School of Business, Stanford University
Learn from world-leading academics and alumni—and enjoy cross-curricular options
"The Stanford MBA offers a mix of intuitive and quantitative topics, taught through a variety of methods including experiential learning opportunities. To complement the case study method, we have role-play simulations including building a physical prototype product in class—it gets MBA students to both think and lead in real-time.
"Stanford has world-class faculty (including three recent Nobel Prize winners in economics) who develop theories and principles that are then executed by practitioners. We pair academic faculty with leading practitioners, often alumni, who have a track record of the industry and so they can talk about how they implemented the different theories that students are learning from faculty.
"Studying at our business school, you're also a part of the bigger ecosystem of Stanford University—a world-class institution, in the heart of Silicon Valley. It's a place where students can tackle problems and about 85% of our students will take classes 'across the street' in other schools such as medicine, engineering, or the new School of Sustainability. It's an opportunity to think more broadly about problems. Around 20% of our students are joint-degree candidates—it is a fantastic opportunity to not just limit yourself to a business education, but look more broadly during your two years in business school."
Jamie Schein, assistant dean and director of the Career Management Center

The lowdown
Length of full-time MBA: 24 months
Total MBA tuition fees (for fall 2023 entry): $79,860 year one (approx. $159,720 for two years). See Stanford's Cost of Attendance for specifics.
Work experience requirement for entry: No specific work experience requirement; students have varied experience and senior or graduate students can apply for deferred enrollment
Average salary post-MBA: $182,272 with an average signing bonus of $33,684 (Class of 2022)
---

---
Pepperdine Graziadio Business School
Supportive community that teaches entrepreneurial mindset in faith context
"Since our launch 50 years ago, our focus has been on teaching people who work. You can learn principles and concepts and the next morning, play those out at your workplace.
"We prize an intimate learning environment, one that focuses on community, on learning and constructing knowledge together. It's Pepperdine's culture to be responsive to the needs of students—sort of a 'it takes a village' approach to ensure that students not only enroll in our programs, but progress through the hurdles. There's a lot of personal investment in their success.
"A third aspect of our school is our entrepreneurial spirit. Pepperdine as a university has been recognised as being in the top 10 universities whose graduates have gone on to start businesses. It's in our ethos, so we seek to teach and to educate with an entrepreneurial mindset. And we do that in the context of our faith heritage as Pepperdine is a Christian university. We seek to be a premier institution that combines principles of our faith with academic excellence. Our guest speakers talk about purpose, a higher one than just one's own individual success; principles of integrity and kind of having the conviction and courage in what you stand for, above and beyond just like your company's bottom line."
Arman Davtyan, assistant dean of enrolment management
The lowdown
Length of full-time MBA: 20 months
Total MBA tuition fees (for 2024 entry): $113,640 (full program cost for 20 months)
Work experience requirement for entry: Two years of post-baccalaureate experience preferred
Average salary post-MBA: $89,258 (Class of 2022)
---
University of San Francisco School of Management
A focus on learning outside the classroom in the Bay Area, in this values-driven school
"The innovative and entrepreneurial spirit that really defines the Bay Area is prevalent in our MBA programming. It's also prevalent in the experience that students have at the University of San Francisco. It's the oldest university in the city and has an extraordinarily proud and global alumni base, with more than 100 countries represented and all 50 US states, with the greatest concentration of alumni in and around San Francisco. The alumni network gives back in a variety of ways—mentoring, adjunct faculty guest lectures, and coming back for networking events.
"One of the unique things about an MBA at the University of San Francisco is that so much learning takes place outside the classroom. We have four guaranteed client projects in the first year. So even before you're doing an actual internship, you will have client engagements with real Bay Area companies and two further projects in the second year. Also, each spring, first-year candidates choose a career accelerator, which is a carefully designed area of work around a specific career track (such as business finance, management consulting, or customer success management). Each is led by an academic director, and accelerators include company visits and industry leaders from those specific areas coming onto campus.
We are also Jesuit school—one of 28 in the US—and located in a very progressive city that really values social justice. The 'cura personalis' or care for the whole person is embedded in the program and the school. Every one of our students go through 'management exercises', a secularised version of an ancient spiritual exercise which includes sharing their vulnerabilities. This helps them to get to know each other on such a deep level, which really helps in later teamwork."
Franklin Fletcher, senior director MBA Programs

The lowdown
Length of full-time MBA: Two years
Total MBA tuition fees (for Fall 2023 entry): $81,600
Work experience requirement: Not applicable
Average salary post-MBA: $82,500-$120,000 (Class of 2022)
---
Haas School of Business, University of California Berkeley
Collaboration, great location and wide range of electives
"For me, the stand-out is the Haas culture. We are a values-driven institution and we really are about collaboration. We have a tight-knit community that wants to support and help others grow into their best selves. We make sure that people are coming into our community feel supported. They're able to take risks, and kind of be their best selves at the end of it.
"Our location in the Bay Area offers great weather—then you also have access to other locations, whether it's nature for hikes, the redwoods or skiing in Tahoe. But the other great thing about California is the relaxed outlook, it's very different from the East Coast, which is 'go-go-go'.
"Our MBA program is 40% core foundation, and then 60% is made up of electives chosen from our 13 areas of emphasis, which helps students to really figure out a personal journey. Haas is about the intersections of things. For example, technology and some other application or interest such as real-estate technology, or technology in terms of AI, and how to integrate that into business, or thinking about business ethics. So there's a lot of opportunity to craft a programme that really helps you achieve your goals in the end."
Anthony Whitten, director of diversity admissions

The lowdown
Length of full-time MBA: 21 months
Total full-time MBA fees (2024): Two years' fees estimated at $157,684 for out-of-state, $136,430 for residents.
Work experience requirement for entry: No specific work experience requirement. Pre-experience candidates should consider the Accelerated Access Program.
Average salary post-MBA: $155,000 (Class of 2022)
---
Leavey School of Business, Santa Clara University
Leverages its location in the heart of Silicon Valley for tech and innovation expertise
"Being located right in Silicon Valley is what makes us appealing and different, as well as our focus on innovation—our MBA has a very strong relevance to the local industries. A lot of our co-curricular activities are taught by C-suites from Silicon Valley organisations, they come into the classroom and teach their expertise to our MBA students—a lot of tech, innovation, entrepreneurship education.
"The network is a USP as well. We have more than 120,000 alumni in the Silicon Valley region and Bay Area and Leavey School of business actually is 100 years old this year. What we say is 'Broncos help Broncos'.
---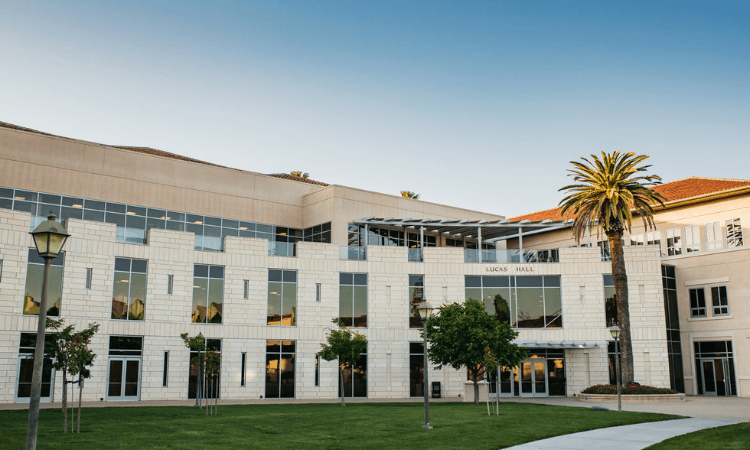 ---
"We really truly work one-on-one with all of our students, so there's a strong bond of communication between faculty and students. Our faculty at the school businesses phenomenal: they're extremely prominent in their research. They're experts, but they truly enjoy teaching in the classroom in a small cohort setting, really developing these wonderful relationships with our students. In typically max out at 30 students in a class so it's discussion, facilitated oriented, business case studies as well as experiential learning in Silicon Valley."
Joshua Rosenthal, assistant dean, graduate business programs
The lowdown
Length of MBA: MBA is part-time and can be completed in two years
Total MBA tuition fees (for 2024 entry): $89,440
Work experience requirement: Minimum three years
Average salary post-MBA: $135,300 (Class of 2023)
---
Lam Family College of Business, San Francisco State University
Well-placed campus, diverse cohort and a focus on sustainability
"Our MBA program is located in the heart of San Francisco, a block or two from the Ferry Building. So students who work downtown, and who live in the area, are able to access the campus fairly quickly plus our corporate partners are literally across the street.
"We're proud of our diversity. More than half of our students (around 55%) are women and a good number are first-generation college students. We have students who come from different industries, different backgrounds, and they all provide the richness to the program.
"We are also one of The Princeton Review Best Green MBA programs in the country, due to our focus on sustainability, ethics and corporate responsibility in our classes. They're all built in into our program."
Manuel Maranan, director of admissions, recruitment and external relations
---


---
The lowdown
Length of full-time MBA: Two years for the Flexible MBA Program
Total MBA tuition fees (for 2024 entry): $42,000 for CA residents;
Work experience requirement for entry: No minimum requirement
Average salary post-MBA: $123,000 (Class of 2022)
---
Paul Merage School of Business, University of California Irvine
Flexible MBA at a school shaped by its neighboring businesses on the 'Tech Coast'
"We have great beaches on our doorstep and it's also an area with a great entrepreneurial spirit. We are located in the heart of the Tech Coast, halfway between LA and San Diego, and about a third of Fortune 500 companies have businesses here.
"Our two strategic focuses are leadership for a digitally driven world, and inclusive excellence. These are interwoven in the classroom, in the faculty and the student body that we bring in. We also have a series of unique specialisations, or immersions, which are pretty unique to our location. We're surrounded by real estate and healthcare, technology and entrepreneurship—so we have a immersions in those four areas.
"We recently launched our Flex MBA, which gives flexible scheduling options for working professionals. You may want to do in-person classes one quarter and then take online classes the next. The Flex MBA is a mix of in-person classes and online classes. And you pick and choose as your schedule demands, and change as your as your demands change."
Melanie Coburn, senior director of recruitment and admissions (MBA & Speciality Masters Programs)
---


---
The lowdown
Length of full-time MBA: Two years
Total (2023-2024) MBA tuition fees for first year of the program: $62,835.97 (non-resident); $50,590.97 (CA resident)
Work experience requirement for entry: Minimum two years
Average salary post-MBA: $122,899 (Class of 2022)
---
Anderson School of Management, University of California Los Angeles
Focus on transformative leadership skills and addressing real business challenges
"UCLA Anderson School of Management develops transformative leaders who can drive positive change in various sectors and industries. The emphasis on leadership development and experiential learning opportunities contributes to developing transformative skills among the students.
"Our MBA's Applied Management Research (AMR) Projects involve working with real companies on addressing strategic business challenges. Students develop problem-solving, critical thinking, and leadership skills through the experience, engaging with the client as they propose innovative solutions to tackle complex, real-world problems.
"Anderson Leadership Development Program (ALDP) focuses on enhancing leadership capabilities, building self-awareness, and developing a leadership philosophy. The programming includes individual coaching, workshops, and experiential learning to empower students to become transformative leaders."
Alex Lawrence, assistant dean and director (MBA Admissions and Financial Aid)
The lowdown
Length of full-time MBA: 22 months
MBA tuition fees: $71,071 per year
Work experience requirement for entry: No specific requirement. "Quality of experience is more important than quantity."
Average salary post-MBA: $172,382