Leaders studying for an Executive MBA in the current climate know all too well how the lessons of COVID-19 will carry throughout their careers. Executives will be managing teams in new ways and leading companies through remote work—leadership, just like the EMBA, has to adapt.

Esade Business School in Barcelona has responded to the COVID-19 world of work by adapting their EMBA to suit changing students needs. Esade EMBA students can now choose between two monthly formats, bimonthly and weekly course structures to support their busy schedules, as well as online and on-campus learning.

BusinessBecause spoke to EMBA students and faculty to find out more about Esade Business School's Executive MBA.
---
Who is the Esade EMBA for?
Esade's EMBA is a 20-month, part-time program for experienced professionals.
The minimum requirement for admission is four years of work experience, but many students have more and are typically in management positions in their organizations.
Michele Quintano, associate dean of the Executive MBA, says students are exposed to changing contexts and learn frameworks and methodologies that help them optimize their decisions in the workplace.
"Students will enhance the attitudes and capabilities needed for effective and responsible leadership," he adds.
---
---
The super-flexible format of the Esade EMBA is well-suited for professionals with busy work lives. In response to the COVID-19 pandemic, Michele says Esade has introduced a hybrid learning model and a set of extra virtual activities that have enabled students to maintain their engagement with their course and class community from home.
"The online courses replicated the content delivered in a face-to-face format," he says.
Diana Augustin, a current EMBA candidate and senior manager for global brand and marketing at E.ON, says the program's online format works in her favor.
"I can just finish my work, and then in the next second log on to the livestream and start the lecture," she says. "It's much more convenient."
---
Esade EMBA Class Profile
Esade's EMBA takes students from across the globe to learn alongside each other, creating an international environment both in person and online. EMBA candidates in 2020 came from 31 countries.
The EMBA class consists of 31% women and 69% men, with an average age of 34 and on average 10 years of professional experience pre-EMBA.
Candidates have a range of academic backgrounds too: 40% from engineering, 30% from economics and management, and 16% from health sciences. 14% come with an academic history of humanities and social sciences.
---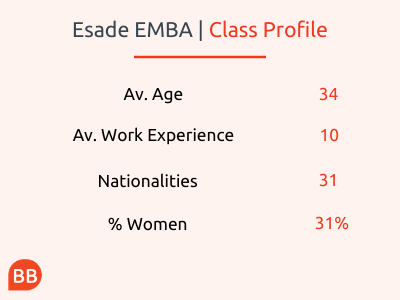 ---
Cost and admissions
The total tuition for the 2020-2021 academic year is €65,300 ($80,576), with the fee covering everything from academic rights and education materials to accommodation and registration costs for electives abroad. There is a €135 ($166) application fee.
Esade require a university degree, advanced English language, and proof of a minimum four years work experience. The admissions process is outlined in four stages:
Stage 1 – Admissions Application
Stage 2 – Required Documentation
Stage 3 – Admissions test and English examination score
Stage 4 – Personal interview with Esade's Admissions Committee
Esade require candidates to take their admissions test (TAE) upon application. An exam based on mathematical knowledge and verbal reasoning in either Spanish or English, the test is for any candidates who do not take the GMAT.
There is no minimum GMAT or GRE score needed by candidates, however the current average is 660 for the GMAT and 160.162 for the GRE.
---
Esade EMBA Students & Network
EMBA alum Jean-Eudes Birgby calls the program: "A personal and professional transformational experience.
"Life is a succession of challenges and some of them are failures. But I can say that this experience with Esade is truly an achievement," he says.
Jean-Eudes previously worked as an intelligent transportation system project manager with emovis before the EMBA. He is now a project manager with ABERTIS group after completing his EMBA in 2018.
"Esade's executive MBA is diversity," says another 2018 Esade EMBA alum, Alexey Kultyshkin.
He notes how the EMBA class were diverse not only in professional background, but in culture too. Previously based in Russia working in IT, Alexey realized didn't have the skills he needed to be a manager. He discovered the path for him was an EMBA. "Now I understand better how my company works," he says.
Alexey is an architecture and security director at Atos, a French multinational information technology service and consulting company.
Esade prides itself on its alumni network, with over 65,000 professionals in 118 countries.
---
---
Esade EMBA: Curriculum & Professors
The Esade EMBA has three core phases: awareness, build, and connect. Within each phase students take a combination of compulsory subjects from developing a strategic mindset, geopolitics, corporate finance, and growth & environmental sustainability.
Following the core phases is a specialization module and exchange. Candidates choose between elective subjects that best fit their career goals or a three-month international exchange.
From monthly formats based at either the Madrid or Barcelona campus and delivered in Spanish or English, to bimonthly and even weekly formats, there is an EMBA option for all professionals.
"Whether you study online or offline, we guarantee the same level of interaction, delivery, and learning rigor," Michele concludes.
---

The Esade Executive MBA, ranked among the world's best EMBAs by QS, provides experienced candidates with a super-flexible study experience.
With an expansive global network of 65,000 alumni and growing, EMBA candidates are well positioned to make the right contacts to advance their careers.
Esade's management of the coronavirus crisis and the different EMBA formats it offers—four structures for one program—highlights its commitment to the needs and ambitions of EMBA students.

Related Content: