Starting an MBA is incredibly daunting. Moving to a new city or country, returning to academic work, meeting new people—all of this takes some getting used to.
Except, for Nicolas Boukas, he was enrolling somewhere he'd already spent quite a bit of time.
Nicolas graduated from Concordia University's John Molson School of Business in 2004 with a degree in management and information systems. Within six months, he landed a job within Concordia University's IT department.
Eighteen years later, after moving into analyst and project manager roles, Nicolas was still working at Concordia University when he realized it was time to boost his career with an Executive MBA (EMBA).
"The honest truth is that I was wanting to do it. I wanted to be with seasoned executives, and I felt that, from a career standpoint, this was the next thing for me," Nicolas explains.
---
Gaining vital career skills
Through Nicolas' (pictured) 18-year career, he had moved from a junior IT role into a senior project management position. So, what did he expect to gain from an EMBA?
"I knew if I wanted to build more of a leadership role and become an executive, I needed to build my business acumen," he notes. "I saw other people going into this program, and I saw how they flourished."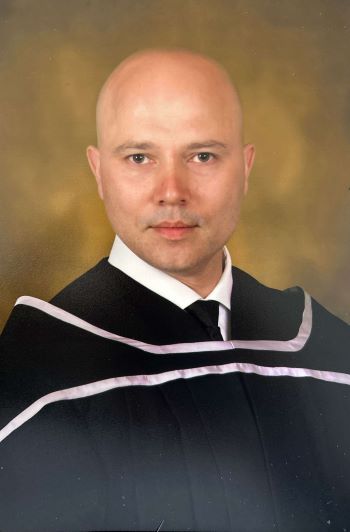 Nicolas completed the EMBA program on a full-time basis while continuing to work for Concordia University, and was initially surprised by the intensity of the work. Despite the workload, Nicolas says the program immediately impacted his business thinking.
"Before the EMBA, I had no idea how to transform the business. How do you align the business strategy with the IT strategy and who makes the decision?" he admits.
The John Molson EMBA program focuses on developing 'complete executives', so as well as deep dives into important topics such as digital transformation and artificial intelligence, students also explore critical soft skills including emotional intelligence and public speaking.
"The program promotes public speaking," he says. "I'm not perfect but I've learned how to improve my skills. Because of the program, when I give a presentation, I have a different mindset."
---
Learning from diverse peers
From a young age, Nicolas was immersed in international environments. He grew up in French-speaking Canada but moved to Greece at the age of ten.
After nine years abroad, he chose to study at Concordia University's John Molson School of Business for his bachelor's degree.
"My cousin went to Concordia, and he was always keeping me in the loop about how great the university was, and the professors were very down to earth," Nicolas says, "I saw what benefits Concordia brought to him in the long run."
Once he'd joined, Nicolas immediately noticed the school's diverse and multicultural atmosphere. Master's degree faculty at John Molson come from 32 countries, and a range of backgrounds are represented in the EMBA program.
As a result, Nicolas says he learned an equal amount from his peers. Class sizes in the John Molson Executive MBA are between 15 and 25 students, giving everyone the opportunity to develop strong relationships with their peers.
"You network with your peers who have a lot of experience and knowledge they share. For example, if someone's very good with numbers, you try to follow why they do the things they do, what they do beforehand, and how to analyze," Nicolas says.
---
Transforming your career with an EMBA
Throughout his career at Concordia, Nicolas sought career development, including project management certifications. But it was his EMBA that gave him the knowledge and skills boost to move into a senior project management position.
"I feel relaxed in my role now," Nicolas asserts. "Before getting into the MBA program, I was coached by my director on how to approach projects and stakeholder management, how to present, what to present. Now, I do it on my own."
Ultimately, for Nicolas, it's these soft skills that have really helped him bridge the gap between his previous project management roles and his new responsibilities.
"You need to make sure that you're at least 10 steps ahead of everyone, and if you see something coming, you need to be very proactive. As a result, my reflexes are better now than before."
Related Content: