If sustainability isn't at the top of your agenda as a business leader, it should be.
Sustainability is no longer just a buzzword in business. It's a key driver in success for companies. According to a McKinsey report, 76% of executives say sustainability contributes positively to shareholder value in the long-term, 50% in the short-term.
However, becoming a sustainable business leader won't happen overnight. You'll need to invest in learning the right knowledge and skills to ensure you can successfully implement sustainable strategies that align with business goals.
Here's why now is the right time to do so.
---
Sustainable strategies help organizations gain a competitive advantage
Aside from the moral obligation to tackle climate change, there is also a strong business case for implementing sustainable strategies.
David Veredas is a professor of finance and sustainability at Vlerick Business School in Brussels, Belgium.
He warns that companies must become responsible for the environmental damage that's created if businesses grow and remain competitive.
"Companies need to understand that by doing nothing, there's a risk in such companies' losing value or assets becoming stranded," says David.
A stranded asset is one that is no longer making any profit. The climate crisis is one of the main factors posing this risk, so business leaders need to learn to adapt.
David teaches a course in Sustainable Finance in the European Executive MBA (EEMBA) program at Vlerick.
The 15-month Vlerick EEMBA program combines online learning with six in-person immersion modules in different European cities. For five days in each city, students explore sustainability and business theory, work on case studies with companies, and expand their network.
For the Sustainable Finance module, students travel to Paris and learn the theory behind the valuation of sustainability.
Other immersion modules on the EEMBA program include Purposeful and Resilient Organizations in Copenhagen, Innovative and Sustainable Venturing in Dublin, and Sustainable Supply Chains in Madrid. In Brussels, the home city of the EU, students learn about Business and its Role in Society and EU Horizons.
This year in Paris, among other events, students visited impact investment fund, Delos Impact, and carbon accounting company, Carbon Alt Delete. During the trip, students learned about different concepts such as carbon accounting, and how EU legislation such as the European Green Deal is impacting how financial companies assess investment opportunities with both a financial and sustainable criteria.
Patricia Engels joined Vlerick's EEMBA program to learn more about how sustainability is transforming business and apply her learnings to her career.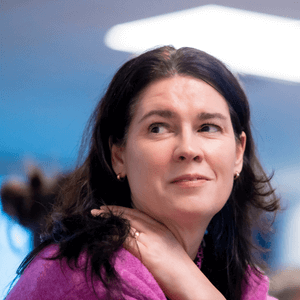 Patricia (pictured left) is the global head of talent at Boels Rental—one of the largest rental companies in Europe for specialist tools and machinery for sectors such as construction and infrastructure.
In her role she's responsible for developing talent, performance management, and creating a modern learning environment in the workplace.
"Sustainability has completely transformed the way businesses need to position themselves in the market but also in terms of attracting and developing talent," she says.
Not only does committing to sustainable strategies mitigate risk and benefit businesses financially, but it also attracts new talent in a tough labor market—especially from younger generations. A KPMG survey found 46% of job seekers look for companies with strong ESG values. One in three 18-24 year olds rejected job offers if a company's environmental values were not in-line with their own.
---
Companies have to abide by sustainability regulation
In Europe, changes in environmental regulations mean that companies are increasingly required to measure and report their impact on the planet.
For example, the EU's Corporate Sustainability Reporting Directive aims to achieve more transparent sustainability reporting. The legislation will take effect in January 2024 and impact 50,000 companies.
Another piece of legislation in the EU—known as the European Green Deal—aims to make Europe climate neutral by 2050.
"A very big part of the sustainability strategy at a company is decarbonization," says David.
One of the ways companies are doing this is through participation in carbon markets. This means that companies pay for carbon that's used and emitted via carbon credits.
These policies mean that the onus is on business leaders to implement carbon-saving strategies and make sure the business is aligned with reporting standards.
"The EEMBA program is helping me a lot in understanding what the facts and figures mean in sustainability reporting," says Patricia.
Companies can no longer hide behind greenwashing.
"The pressure in on from all angles," says Patricia.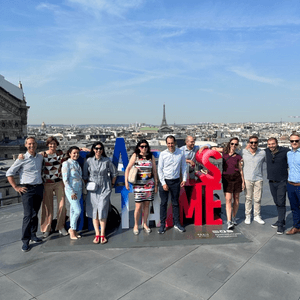 Patricia explains that her company Boels Rental is increasing its focus on sustainability and working towards its formulated targets. In her human resource management role, she needs to understand the business inside out.
"Businesses used to be defined more or less solely by financial parameters, but now it's about sustainability. Those parameters touch every angle of a business," says Patricia.
Knowing she needed to upskill in this area in order to excel in her role and become a better leader, Patricia chose the Vlerick European Executive MBA program for its unique focus on exploring business through the lens of sustainability.
Having just studied the Sustainable Finance course in Paris, Patricia will travel even further around Europe with her cohort to see first-hand how companies are implementing sustainable strategies and tackling EU regulations.
---
Being a sustainable business leader will future-proof your career
Sustainability in business is not just a trend, it's here to stay.
"If someone wants to become a leader today, they have to be sustainability component so understanding what it means and how to implement it," says David.
Investing in learning how sustainability fits with business strategy will ultimately future-proof your career, believes David.
It isn't just about learning the theory, but also putting it into action to get real results. At the end of the EEMBA program at Vlerick, students take part in the Knowledge in Action project which focuses on a business case from their company.
"I will be able to put all my learnings into a real-life project that I will implement in my role. That's what I wanted to gain from this program: to be able to create actionable change in my career," says Patricia.
---
Since this article was published, Patricia Engels has changed roles. She is a talent and leadership development coach for her own firm, Engels International Coaching.
Related Content: