About twice as many people are now working remote compared to before the coronavirus pandemic. But not all home workspaces are created equal.
Between unstable internet connections, loud families, tight spaces, and other distractions, working from home is uncomfortable—if not impractical—for many people.
That's where Out of Office Spaces comes in. The startup was launched by a team of MBA students from INSEAD, who encountered firsthand the challenges of at-home study when coronavirus forced their classes online.
"There are so many distractions at home, you don't have the same ergonomic setup you'd have at an office or library, and it's easy to lose the distinction between work and personal life," explains Anna Miklas, Out of Office Spaces CEO, and one of six co-founders.
Anna and her teammates, Edward Tsim, Johannes Anrijs, Aarthi MC, Laura Rivera Ortiz, and Trusha Chanda (below, right), are the winners of the BusinessBecause MBA Startup of 2021, for their innovation in a crisis. Here's how their startup emerged from the INSEAD MBA.
---
Business as a force for good
The Out of Office Spaces team each had entrepreneurial aspirations when they started the MBA at INSEAD, but little did they know a global crisis would spark an idea sooner rather than later.
When INSEAD's campus closed to prevent the spread of COVID-19, Anna found herself struggling to concentrate at home.
On the brink of booking a hotel room so she could study in peace, she had a brainwave: others must be in the same situation as her, and hotels were struggling to find occupants. It was the perfect match.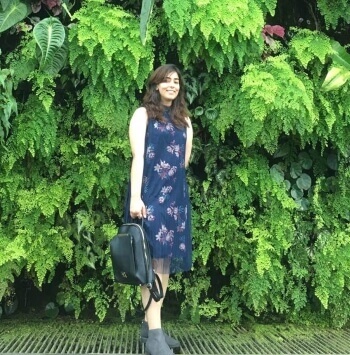 She quickly formed a team with peers facing the same issue, and Out of Office Spaces was born. Around the same time, INSEAD had just announced its COVID-19 Innovation Competition.
"The competition's slogan: turning a force majeure into a force for good, really drew us in, and it was very in keeping with INSEAD's philosophy of business as a force for good," Johannes—the team's COO—reflects.
After presenting their business plan to a group of INSEAD judges, Out of Office Spaces was announced the winner. Since the competition, the company has continued to develop.
---
Highs and lows
Being an entrepreneur is a "rollercoaster," Anna says. Fortunately, INSEAD alumni and faculty have offered guidance at every step.
"We've tapped into a vast alumni network of more established entrepreneurs, and also spoken with INSEAD's entrepreneurs in residence, who were able to guide us and become mentors," she explains.
One of the main challenges the team have had to overcome is working out their unique value proposition. A few other companies were offering similar services, so it was crucial for Out of Office Spaces to stand out.
To do this, they decided to focus on B2B services: working with employers who have shifted to remote work, rather than individual workers.
They have also pivoted to offer a range of spaces, designed for meetings and co-working as well as private work.
"No other company was offering that," says Johannes.
---
Shaping the future of work
As they continue to face the challenges that come with running a startup, the team find themselves drawing on advice received from their INSEAD mentors.
"One piece of wisdom that really stuck with me is the fact that time is of the essence right now," reflects Aarthi, the team's CMO.
"There are a lot of solutions coming up to this problem in a lot of geographies, and the company that can scale the fastest will be able to make the most of the opportunity."
Scaling the company is their current goal, as hotel partners quickly come on board. Their research has found that many employees are keen to continue working remote, at least sometimes, when the pandemic is over—meaning plenty more opportunities for long-term growth.
"Now is a very exciting period," says Anna. "We launched our operations in the UK early in September working with hotels in central London.
"It's been an incredible journey and we're so grateful—we believe we can take this opportunity to make life a little better for remote workers," she concludes.
---
Read about other cutting-edge ventures in our...
MBA Startups To Look Out For | 2021 Coronavirus Special
The Out of Office Spaces team, from left to right: Johannes Anrijs, Aarthi MC, Anna Miklas, Laura Rivera Ortiz, Edward Tsim