A global trend towards nationalism has worrying implications for business schools, leaders, and businesses of the future, warns a new white paper from the Graduate Management Admission Council (GMAC).

The paper, Early Warning Signals: Winners and Losers in the Global Race for Talent, comes in conjunction with GMAC's latest Application Trends Survey Report, which reveals that international applications to US schools are down 13.7% from 2018.

The paper, issued alongside an open letter to President Trump, emphasizes the important role that highly-skilled immigrants play in stimulating innovation, increasing competition, and creating jobs.

Stifling this, the paper stresses, could be highly damaging to the economy.

"We believe that the free flow of student mobility allows economies around the world to be at their most dynamic and competitive," insists Sangeet Chowfla, CEO of GMAC.
---
Anti-immigration, anti-globalization sentiment
Declining global student mobility is largely down to what Sangeet dubs an "anti-globalization narrative" around the world.
This is clear in the rise of nationalist, anti-immigration governments and policies.
A third of people who voted for Brexit in 2016 stated that they did so for immigration reasons, the white paper says.
In Asia, the message is the same—29% of Indians believe there should be less immigration, and 16% believe there should be none at all.
"We are in a world when pressures are more nationalistic," Sangeet says.
"There are obstacles to the inflow of talent in countries like the US and the UK, and then other countries which are trying to control the outflow of talent."
---
Listen to GMAC CEO Sangeet Chowfla predict the future for graduate management education:
---
A letter to President Trump
Bill Boulding, dean of Duke University's Fuqua School of Business (pictured below), acknowledges the reason behind these changes.
"The instinct is to put up barriers to protect people within your borders—but what it does is harms those people," he explains.
"If you really want to help, then open your borders to talent—that's what will be value-creating and job-creating in your economy."
Bill is one of 50 deans of US business schools who have signed an open letter, issued alongside the Early Warning Signals report, addressed to President Trump and other US political leaders.
The letter references the three million STEM jobs that the US has created and yet is unable to fill.
It reads— '[These jobs] speak to the vibrancy and opportunities available in a healthy, growing economy. Yet the fact that those jobs are unfilled – and that the US is not producing enough people with the skills to fill them – is not just a negative, it's a crisis.
'We are needlessly capping our growth and can do better.'
One strong recommendation is for a 'Heartland Visa'—a special visa targeted at certain areas of the US.
This is aimed at increasing growth and stimulating the economy in US states which are experiencing the worse effects of globalization and the economy's shift away from manufacturing.
---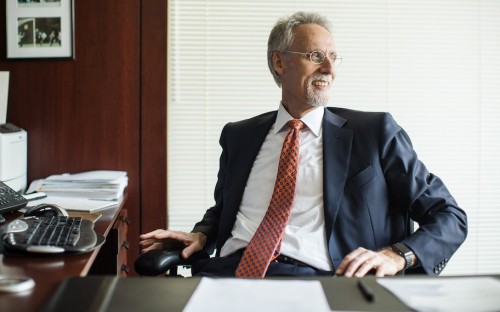 ---
Policy recommendations
The Early Warning Signals paper includes some key recommendations about how to address these problems globally.
It stresses the need to change the perception of high-skilled migrants and what they contribute to the economy.
This includes emphasising the value of high-skilled migrants—notably their ability to fill the STEM jobs vacancy and create new jobs through innovation. In the US, the report notes, 44 of 87 companies valued at over a $1 billion had at least one immigrant founder.
It also recommends extending the post-study work visa period to offer more certainty around post-graduate employment to high-skilled applicants.
In many countries this is already coming into effect. The US recently extended the optional practical training (OPT) period for STEM-based graduates; the UK recently reverted back to the two-year visa extension for international students.
The quality of business education, for both domestic and international students, relies on international diversity. With GMAC's latest white paper, Sangeet hopes to trigger a wider debate about the benefits of globalization.
"In business education, you learn as much from each other as you do from the professors," he insists. "If you don't have a diverse cohort, you are missing out on this learning
"[But] we are talking about overall economic impact in society, rather than just business schools and applications. We're trying to get a broader dialogue going."