The number of business school students who land jobs before graduation rose to 86% in 2022, according to a Graduate Management Admission Council (GMAC) survey released today.

The Enrolled Students Survey of 1,718 graduates from almost 300 global business schools revealed increasing demand for business school students—only 80% of grads landed roles in the previous year.

Demand varied by region: 91% of respondents from schools in the Asia-Pacific region said they'd secured roles before graduation, up from 78% in 2021. Among European graduates, 90% landed jobs compared with 75% previously.

"With the volatile economic conditions and organizational challenges brought on by the pandemic, well-rounded and prepared business leaders and managers are especially in favor in the current job market," said Matt Hazenbush, director of research analysis and communications at GMAC and author of the report.

He added that the survey showed that "there is no doubt that graduate business education provided students a powerful leg up for their careers."
---
Salary impact of enrolling at business school revealed
The survey, which quizzed respondents on their business school experience, job search, and compensation, also revealed the extent to which enrolling in a graduate business degree can influence your pay packet.
Across respondents from all 57 participating countries, the median total compensation package—including salaries and bonuses—increased by 29% between enrollment and graduation.
Graduates in North America saw an above average increase in compensation of 50%. The median compensation for US-based grads rose from $80,000 pre-enrollment, to $120,000 after graduation.
Respondents in 2022 also rated the overall value of their degree higher than those who graduated in the previous year. The proportion of students who rated the value of their degree as 'good to outstanding' rose from 83% to 85%. .
This increase was felt most in the Asia-Pacific region, where the number of favorable ratings rose from 75% to 86%, largely due to the perceived value of the full-time MBA which saw 'good to outstanding' ratings rise by 18%.
---
READ: Great Resignation Fuels Demand For Business Education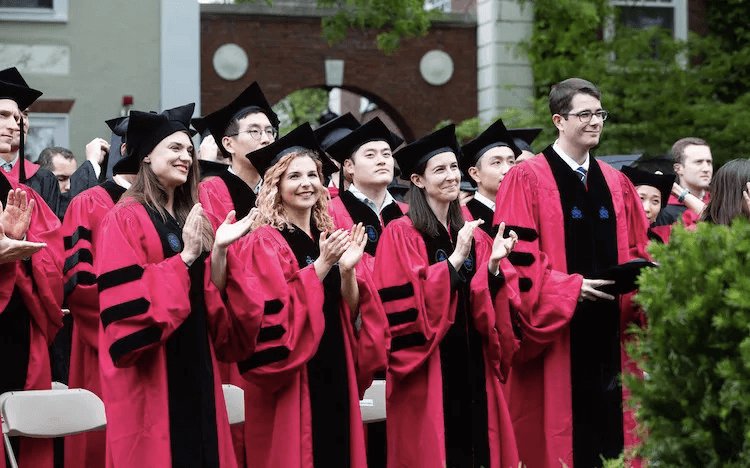 © Harvard Business School Facebook
---
B-school graduates successfully switch careers
The survey also found an increasing number of graduates were using their degree to pivot careers.
Among grads for whom making a career change was one of the top three motivations for enrolling, 57% said they'd successfully made a career switch. That rose to 66% in Latin America, the Middle East, and Africa, while in North America the figure was 61%.
There were fewer career switchers in Europe and the Asia-Pacific regions, though both still reported more than 50% success. A majority (56%) of graduates who aimed to gain a promotion also reported they were successful.
The survey revealed increasing numbers of students used social media platforms like LinkedIn during their job search. The proportion of grads using social media rose from 27% to 37%, overtaking networking (28%) and friends and family (35%) as a key job search method.
As students achieved their aims, satisfaction with schools' career services increased from 73% in 2021 to 83%. Opinions on student services also improved, with 85% of respondents giving their student services a favorable review.
---
Next Read:
Business School Students Prioritise Jobs Offering Remote Work