On his first day in his new role with the Royal Bank of Canada (RBC), Matthew Colphon greeted his team virtually, from home on his computer. He's been working remotely ever since.
Matthew is the senior product manager for unsecured credit lines at RBC, a role he took on in June after spending just over three years in the bank's strategy team.
He says the COVID-19 pandemic is like a global case study on how to adapt to scenarios we don't know or haven't experienced before. Onboarding new staff virtually has become the norm. It takes resilience and grit, he says, to continue to add value to an organization during this time.
Even before the pandemic employers were looking for adaptability and flexibility in their MBA hires. Since coronavirus has completely shifted the way we work, professionals increasingly need to show resilience.
---
Why resilience at work is important
Resilience, explains Ivan Yuen, associate director of MBA careers at the University of British Columbia's Sauder School of Business (pictured below), is something employers use to measure a person's long-term leadership potential. When we speak of resilience, we're speaking of a person's ability to mentally or emotionally cope with a crisis, or to quickly return to a pre-crisis state.
Employers' recognition of resilience as a crucial trait among employees has increased during the pandemic, Ivan says. It's been stressful moving from the office to working from home and seeing your family and working lives come closer together. Adapting and thriving in this environment shows an employer that you can deliver value during challenging times.
---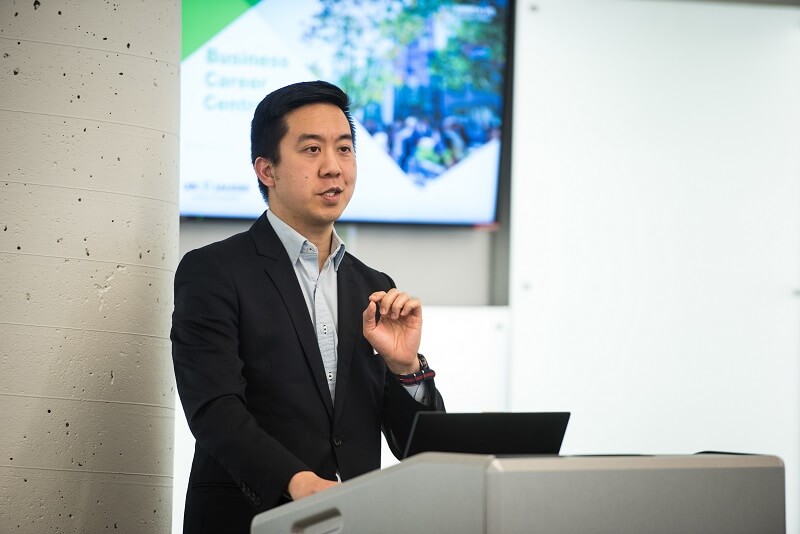 ---
Matthew, who completed his MBA at UBC Sauder in 2015 and worked as a consultant at Bain & Company before joining RBC, says the MBA equipped him to creatively solve problems he hadn't seen before. This served him well when taking on a new role at RBC this year.
"I think resilience is important for an individual to be able to deliver, but it's also important to teams as a whole, so you can deal with any large challenges that come up, adjust your plans, push your egos aside, and make sure you're delivering something of value."
---
Developing resilience on the UBC MBA
On the UBC MBA, students learn quickly how to work in a group environment, how different cultures interact, and how different personality styles respond to different styles of leadership.
The school uses the Emotional Capital Report (ECR), a leadership development tool created by emotional intelligence training company, RocheMartin, with clinical psychologist Martyn Newman.
MBA students benefit from UBC Sauder's approach to strengthening core EQ competencies such as resilience for long-term career success, and learn how to measure their own emotional intelligence.
"[The MBA] focused on developing your awareness and teaching you how to talk to people, how to understand people's motivations, and work not just in a project group but with other stakeholders as well," Matthew (pictured below) explains.
---
Related Content: