There's an app for almost everything nowadays. Fancy a takeaway? DoorDash. Booking a vacation? Airbnb. Need to get somewhere quickly? Uber.

These apps have made most of our life instant, on demand, and easy. But who's next?

From energy and investment, to social networks, there are a flurry of apps that business school professors think will become the next big thing this year. Here are the apps they say you need to look out for in 2021.
---
LO3 Energy
New York based energy lending company, LO3 Energy, is to energy what Airbnb is to vacation rentals.
Using an energy sharing platform, LO3 Energy turns small scale energy producers—ranging from people with solar panels fitted to their homes to small businesses who produce their own energy—into "prosumers" who can pool, trade, buy, and sell their energy inside a microgrid.
---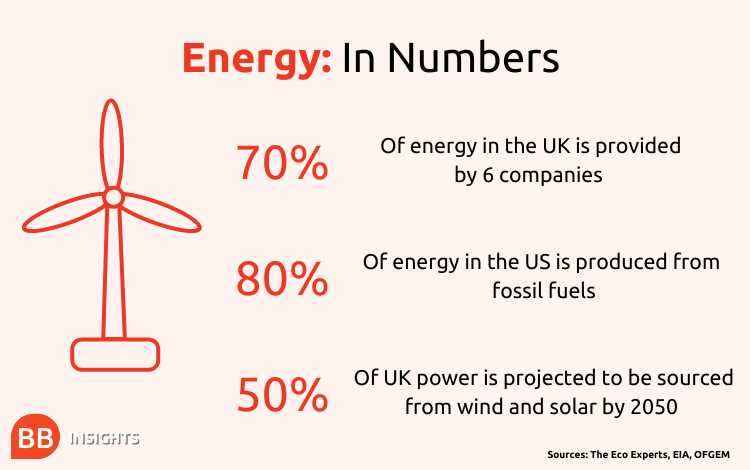 ---
LO3 Energy has launched microgrids in the UK, Japan, Colombia, and Australia after trialing the technology in Brooklyn in 2016. Notable investors now include energy conglomerates like Shell, Siemens, and Sumitomo.
The microgrid uses cutting-edge blockchain technology to allow direct energy transactions between individual prosumers. It eliminates the need for big energy providers. The rise of smart meters in homes, which numbered 98 million in the US at the end of 2019, makes this technology possible.
LO3 Energy has caught the eye of Laurent Muzellec, founder and director of Trinity Business School's Centre for Digital Business.
"You have new houses with solar panels built on top, and people can see how much energy they generate, when they use that energy, and when the excess gets put back on the grid," he explains.
The next step, adds Laurent, is for people to say, 'I'm generating a little bit of extra electricity, I'm not using it right now, so I'm going to sell it to my neighbor via an app'.
As this technology grows, and the drive for renewable energy continues, microgrids are likely to become more popular. LO3 Energy, thinks Laurent, is one to look out for.
---
Robinhood & eToro
Amateur investing is a growing phenomenon, and trading platforms Robinhood and eToro are driving the change with a combined user base of around 25 million people. They're set to be bigger in 2021, thinks Terence Tse, professor of entrepreneurship at ESCP Business School.
The platforms make trading more accessible by using a model of zero trading fees and low account minimums—the amount needed to join. Robinhood doesn't require any investment to open an account.
The result is a blended experience of part trading platform, part social media. The platforms have proven popular over the last 18 months. eToro grew by 427% in the first four months of 2020.
The rise in popularity of both apps coincided with the coronavirus pandemic. Lockdowns resigned people to their homes, and in the US, government cash payments gave some consumers money they otherwise wouldn't have had.
---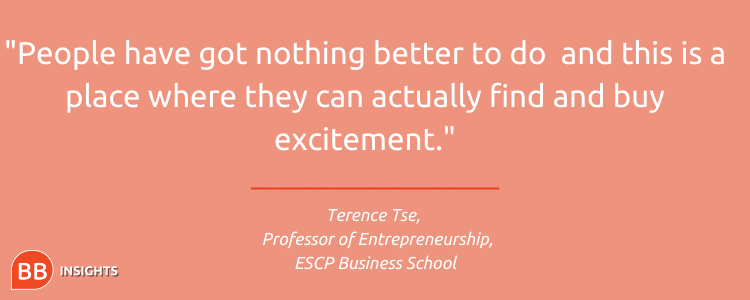 ---
It created the prime environment for online trading to take off, thinks Terence. "People have got nothing better to do and this is a place where they can actually find and buy excitement," he says. "It has become a social activity as much as an investment activity."
Promotion of trading as a social endeavor has been criticized. Some have said it encourages risky investments. But there is no doubting the soaring prominence of social trading. Robinhood was valued at $11.2 billion in August 2020, while eToro's valuation tripled between 2018 and 2020.
Since this article was first shared in January, Robinhood announced it is filing to go public via an initial public offering (IPO) later in 2021. The news comes after the company revealed its revenue more than tripled in 2020 to $959 million, becoming profitable for the first time.
The number of active users now stands at 31 million, far higher than the 10 million people estimated to be using the app at the start of 2021. The app's meteoric rise sees Robinhood targeting a valuation of at least $40 billion when it launches on the stock market.
---
Nextdoor
Terence (pictured right) has also pinpointed another app to look out for in 2021: Nextdoor.
Nextdoor acts as a social network for neighborhoods and connects people who live nearby, allowing them to communicate, share, or trade their goods and services. So far, one in four neighborhoods in the US are on the app and there are more than 260,000 neighborhoods registered worldwide.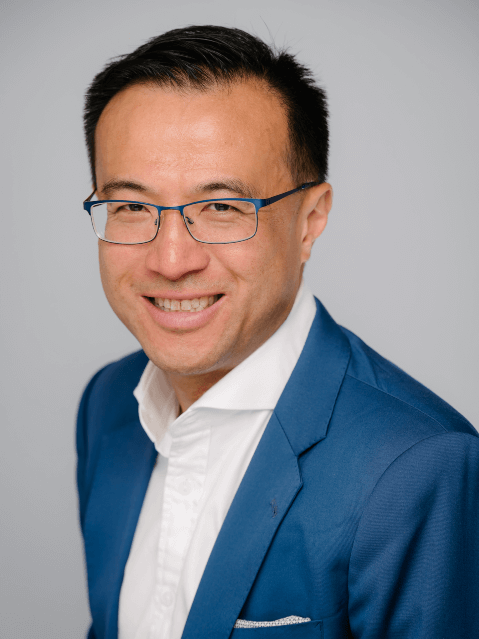 The app's popularity has increased during the coronavirus pandemic. It reported an 80% increase in user engagement during the first two weeks of March 2020 as lockdowns began to be implemented across the globe and people began to rely on local communities for support.
Arguably more important for the future of the app is the goods and services trading element it offers. This makes Nextdoor part of the sharing economy like Airbnb and Uber and could see it benefit from the long-term changes brought on by the virus.
"While the economy is suffering people will be more careful with spending money, and will hesitate before buying things they will only use once or twice," says Terence. An app that allows you to borrow tools like a ladder from your neighbor likely looks more appealing if money is tight.
Working from home has also increased during the pandemic—a trend which is likely to stay in some form—and this could help the app.
"We can all benefit from having more space at home, it is now the place you have to be most of the time so the more stuff you have, it is only eating up your living space," Terence adds.
Terence's prediction has been proved right again; Nextdoor first revealed plans to be traded publicly for the first time in October 2020, and revealed at the beginning of July 2021 that it plans to launch publicly on the stock market this year
The launch will be via a merger with a special purpose acquisition company (SPAC), making it the latest private company to become part of the 'SPAC boom' which took off at the beginning of 2021. Nextdoor says it is targeting a valuation of $4.3 billion.
---
WhatsApp Business
Steve Muylle, academic director of the Online MBA at Vlerick Business School, thinks the spike in e-commerce during the coronavirus pandemic has set up one company very well to tap into the demand from consumers: WhatsApp Business.
---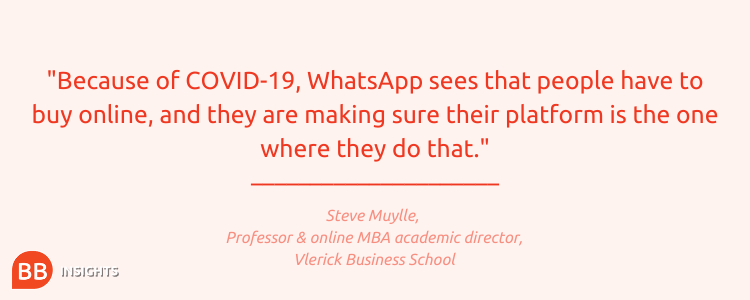 ---
WhatsApp looked to branch out when it launched its business app in 2018, helping to connect small business owners with their customers. The app expanded in December 2020 by adding the cart feature, which allows consumers for the first time to shop and checkout all within the WhatsApp Business app.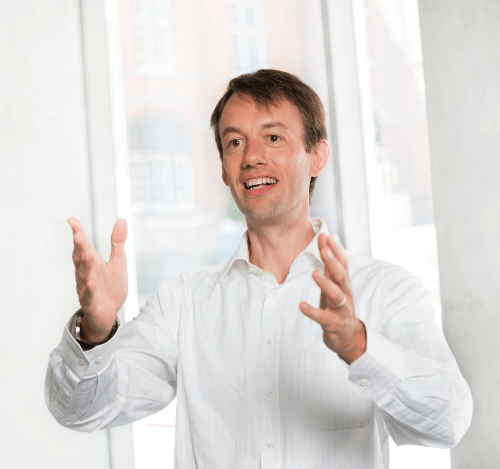 That's part of the business' strategy to catch customers first, Steve believes. "Because of COVID-19, WhatsApp see that people have to buy online, and they are making sure their platform is the one where they do that," he says.
The concept differs from e-commerce sites like Amazon, which act as a third party where businesses can have their products featured for customers to buy.
"It's a digital platform that develops a solution for the producers and consumers, and becomes the intermediary that connects them directly," Steve (pictured right) explains.
A 2019 US survey found more than a fifth of people said they planned to make at least 40% of their purchases directly through producers by 2024, a trend which WhatsApp Business looks set to capitalize on.
---
MasterClass
A focus that goes beyond cost is why MasterClass stands out for Linus Dahlander, professor of strategy and director of research at ESMT Berlin.
"Online education is partly about providing good education at a much lower cost, but you also need to be someone who manages to create a new experience online," he thinks.
---
---
That's why he believes Masterclass, the San Francisco based startup that offers courses taught by the likes of celebrity chef Gordon Ramsey and bestselling author Dan Brown, is one to watch in 2021.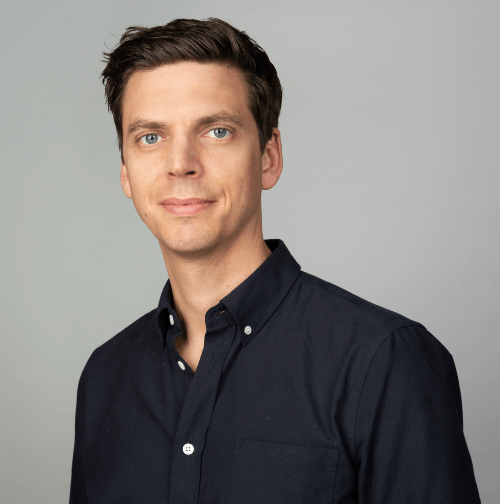 Following the likes of Udemy, Coursera, and Udacity into the online education space, the company is looking to tap into an industry that has grown by at least 900% since 2000.
The app offers over 100 courses taught by high profile tutors, giving Masterclass a unique offering that could allow it to stand out in a crowded market.
"I don't think many online education companies have been great at what they are doing so far, but Masterclass is worth logging on to because on some levels it is actually pretty good," says Linus (pictured right).
The app has raised a total of $240 million in investment since its establishment in 2015 and reported a doubling in revenue from 2018 to 2019, although the company refuses to share specific figures.
With greater emphasis now being placed on lifelong learning, and investment in online education growing, it will be difficult for startups to stand out in a crowded market. Offering tennis lessons taught by Serena Williams might just be the way to do it.
So, from e-commerce and online education, to trading-made-easy and clean energy, the coronavirus pandemic has impacted who will be the winners and losers when it comes to the apps to watch in 2021.
The companies that exit the pandemic on a high will be those that can move quickly to fill the space created by consumer demand for instant gratification. It seems that in apps like WhatsApp Business and Robinhood, some are already well on their way there.
---
This article was first shared in January 2021.
---
Read next:
Cryptocurrency | What You Need To Know
---
BB Insights explores the latest research and trends from the business school classroom, drawing on the expertise of world-leading professors to inspire and inform current and future leaders