Short-form digital content provider, TikTok, catapulted into the lives of Gen Zers and Millennials as a form of entertainment and escapism during the COVID-19 pandemic. It was the most downloaded app globally in 2020.

Although TikTok initially gained notoriety for starting viral dance trends through 15-second clips, the social media platform has increasingly seen a rise of entrepreneurial 'influencers' sharing their business wisdom with TikTok's 689 million active monthly users.

Since the platform can also function as a powerful and cost-effective marketing tool for small business owners and entrepreneurs, many TikTokers are eager to maintain a strong following by providing bite-sized business tips to their audiences.

But how sound is the advice from some of the most prominent TikTok entrepreneurs?

To find out, BusinessBecause asked entrepreneurship experts from top business schools to review the advice from three trailblazing influencers.
---
---
1. Tori Dunlap - @herfirst100k
Money expert and entrepreneur
Followers*: 1.5 million
Advice:
What mistake should you avoid as an entrepreneur?
"When I first started my business […] I was so concerned with every single part of what I thought a business should be. 'I was like, I need a logo, I need a website, I need brand colors, what website platform do I even choose? Where [...] do I start?'
"And what ended up happening is that I was so concerned about how to start and where to start, that I never actually got started. We tell ourselves that things need to be absolutely perfect in order to launch or in order to start. But here's the thing, things will never ever be perfect. Done is better than perfect."
While this business advice from Tori Dunlap—one of the top personal finance experts on TikTok and founder of financial guidance company, Her First 100k—could be applied across most industries and initiatives, it is particularly relevant to entrepreneurship.
When starting a business, entrepreneurs need to think quickly and smartly to avoid becoming overwhelmed with minor details.
Antoine Leprêtre (pictured right), the director of Incubateur HEC Paris, the school's incubator based at Station F, the world's largest startup campus, wholeheartedly agrees with Tori's statement.
"Most people fail without even starting. Your logo and name doesn't matter initially and will change over time. What's critical is to understand the customers' pain point and see how you can quickly help solve their problem," he says.
There are plenty of tools at your disposal to make starting a business easier, such as logo templates, user-friendly websites that don't require coding expertise, and even name generators.
"Entrepreneurship is first a mindset and an execution game to find the right resources to grow," notes Antoine. He also suggests that only when the entrepreneur has proven that their solution fills a gap in the market should they consider the surface-level design of a business.
So, sweating over the small stuff may only prevent the growth of your venture, making this strong advice from the TikTok entrepreneur.
---
---
2. Terrance McMahon - @terrancemcmahon
Retired CEO and best-selling author
Followers*: 249.6k
Advice:
What product should you sell?
"Get creative, what can you trade with the world? That's the first thing, and that's a service most likely, an information service ideally or consulting. Google [...] what you're thinking in your head, and you're going to come up with some reviews.
"Look at the companies and look at two things. Look at the bad reviews—that's what the industry needs, that's what people are complaining about—and look at the good reviews. You want to take people from being unhappy in that bad place and build a program of four or five steps to make them happy. Invert the reviews into a product."
At first glance, this advice from experienced CEO-turned-influencer Terrance McMahon seems like an original and insightful way of boosting your idea generation. But there are some caveats to consider.
Rashmi Menon (pictured right), lecturer in entrepreneurship and entrepreneur in residence at The University of Michigan's Ross School of Business, says "reviews can be a good place to assess customer sentiments about an existing competitor, however, it is dangerous to use this as your primary source of data."
She says that the danger of relying on reviews for business ideas is that these reviews can be tainted by fake reviews, paid reviews, and reviews skewed by political opinions or grudges.
As a result, entrepreneurs will need to speak with their target customer base directly to assess their needs and wants. This method offers the most effective means of understanding an audience.
Paul Cheek, lecturer at MIT Sloan School of Management and entrepreneur in residence at the Martin Trust Center for MIT Entrepreneurship, says that reviews can be a good starting place for idea generation, but suggests that this advice must be approached cautiously.
"From the start, entrepreneurs need to focus on the value they can create for a very specific group of target customers," he says.
Entrepreneurs are unlikely to gain any in-depth insight from reviews alone, so it might be better to approach reviews at a later stage after completing market research.
---
---
---
3. Sandy Lin - @smallbusinesstips_
Business owner and entrepreneur
Followers*: 361.4k
Advice:
Want to start a business, but don't know what to sell?
"1. Figure out what you're passionate in.
2. Identify a pain point in the niche.
3. Solve that pain point.
4. Do your market research to ensure there's a need in the industry.
5. Survey your target audiences."
TikToker Sandy Lin started a boutique lifestyle business at 19 and now has young entrepreneurs flocking to her page to hear her success story. She often breaks down her advice into simple takeaways accompanied by dance moves.
In terms of the usefulness of her advice here, Paul from MIT Sloan (pictured right) believes that focusing exclusively on what you're passionate in for inspiration might not be the most effective way to devise a business idea.
"Entrepreneurs can start a new business from a problem they have identified, a new technology they have developed, or simply an idea they have," he asserts. "In each case they must be passionate about the venture they're setting out to build."
Moreover, the order of Sandy Lin's advice could be altered to better direct aspiring entrepreneurs.
"Primary market research with the target customer should be used early in the process. This approach allows the entrepreneur to validate that the problem is large enough before they look to solve the pain point," says Paul.
Creating a solution in advance of identifying customer demand could lead to wasting time and money on a product that will ultimately fail.
---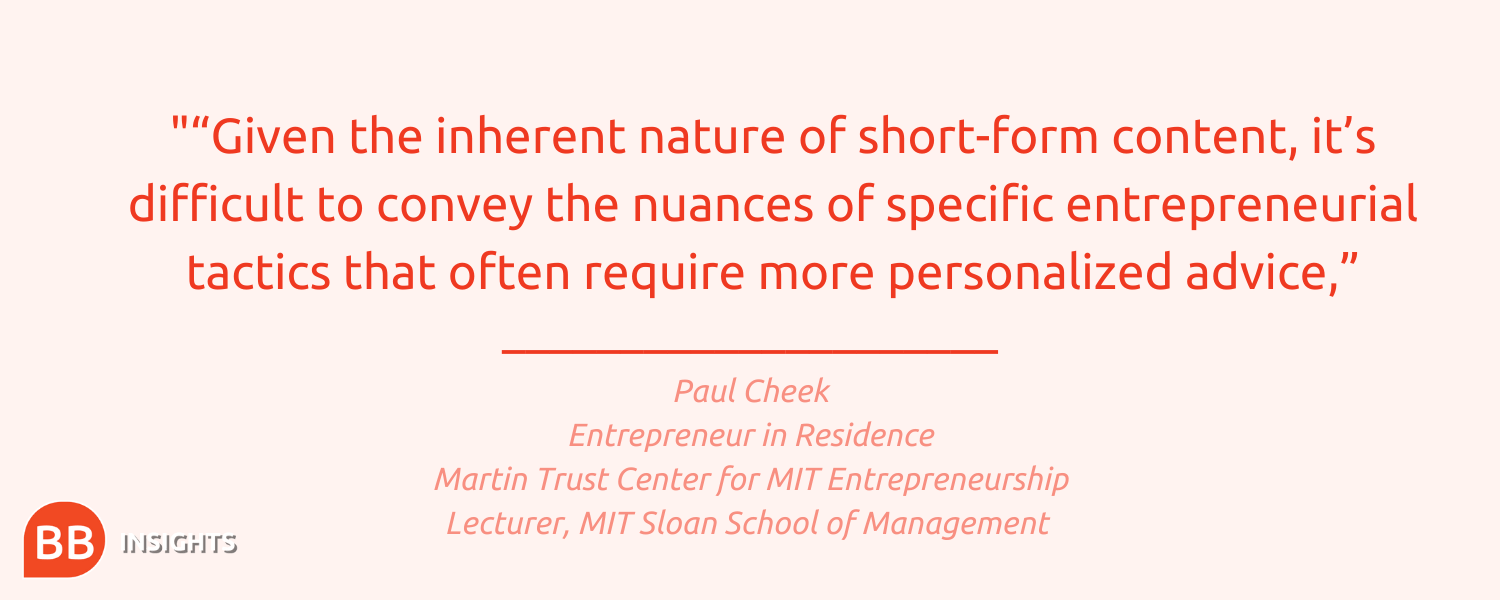 ---
TikTok may not be the best resource for finding the substantial and well-researched business advice that you might expect to hear in a business school classroom. After all, there's only so much that content creators can discuss in 60-second clips.
"Given the inherent nature of short-form content, it's difficult to convey the nuances of specific entrepreneurial tactics that often require more personalized advice," notes Paul from MIT Sloan.
Yet, these TikTok entrepreneurs may inspire and empower TikTok's predominantly Gen Z and Millenial users to embark on an entrepreneurial journey of their own, or develop their existing entrepreneurial skills.
The community of business influencers on TikTok offer a powerful and accessible support system for young entrepreneurs, and although the advice should be approached with caution, there are definitely pearls of wisdom out there.
The influencers featured in this article were contacted for comment.
---
*TikTok followers accurate as of 25 May 2021
---
Next Read:
How Millennials & Gen Z Are Pushing Brands On Diversity And Inclusion
---
BB Insights explores the latest research and trends from the business school classroom, drawing on the expertise of world-leading professors to inspire and inform current and future leaders
---
The main article in this image was used under this license.